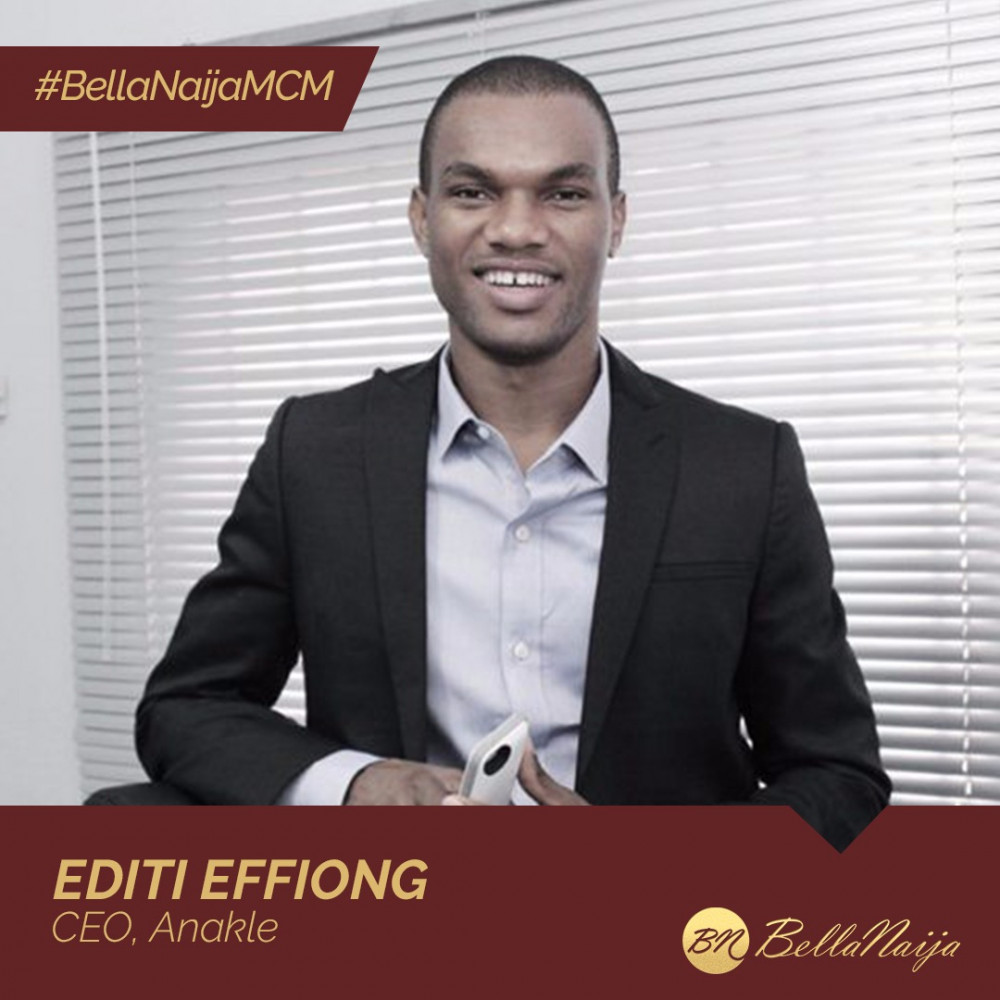 This week, our #BellaNaijaMCM feature shines the spotlight on Editi Effiong, the Founder/CEO of Anakle Limited, one of the leading tech businesses in this part of the globe. It describes itself as "a digital agency, building experiences for online and offline audiences."
He is also the founder of Anakle Labs, which he describes as "an investment company and incubator for technology businesses."
Editi's story is an interesting one. Out of curiosity, he taught himself how to use a computer with the system in his friend's house. Later on, his parents got a desktop PC for his family. With the desktop computer in his home, Editi learned how to use MS Paint, MS Powerpoint and MS FrontPage (which he said changed his life).
Prior to this, he had learned how to use free web services to build WYSIWYG websites. How did that happen?
An 18-year-old Editi and his friends were waiting for one last friend with whom they had planned to leave the house together for an outing. When the friend arrived, he apologised for his lateness and told them he was building his website.
Editi told TechCabal that that was his "lucky day." He had been curious as to how websites were built, and here he was, standing with someone who is already doing so. He asked the friend how it's being done, and he shared the information. Editi proceeded to try it out himself.
In a matter of days, his website was done. And it was a website advertising a web development business which he said was birthed after his friend's revelation days earlier. Mind you, he didn't even know how to code!
In one week, Editi got his first client who paid N8,000 for a new website he built without spending a dime. A month later, the same client paid N12,500 for another website.
At this point, Editi knew it was not a drill. It was happening. He was on to something and he needed to move fast!
He decided to write a 9-page proposal with his "company's" letterhead changing "I" to "We" in its content. Editi detailed the importance of websites and how his company can help businesses get their websites ready. He also had business cards which he printed on cardboard paper and cut neatly with scissors. He sent this document to some companies and in a few weeks, got a call.
A hotel in Calabar needed his services. Prior to seeing the person in charge, Editi had decided to charge N75,000 for the job. On getting there, he changed his mind, and ended up signing the deal for N300,000. Yet, no coding experience.
Using MS FrontPage, Editi produced a demo, and then proceeded to learn HTML. He got his first laptop from that job.
Having worked as Country Manager for XEQ Technology, and then as Product Manager for Thompson & Grace Group, Editi decided to start Anakle in 2010. The brand specialises not just in web and app development, but also digital marketing, social media & online reputation management, as well as user experience design.
Anakle is well known for creating viral campaigns on social media, chief of which is the Brideprice App of 2014, the Call Your Mum App of 2015, and its Things Come Together ad for Wikipedia in 2017.
Anakle also gives back to the society through its Forward by Anakle platform that organises training bordering on digital marketing, user experience design, photography, among others, for SMEs in the country. It also shares digital marketing advice on its blog.
Editi also recently built a computer lab for the primary school he attended in the 90s.
Editi has been featured on CNN, BBC, and CNBC.
We love stories of how people have created businesses from virtually nothing, or with little resources. Editi's is one of them, and we celebrate him today.