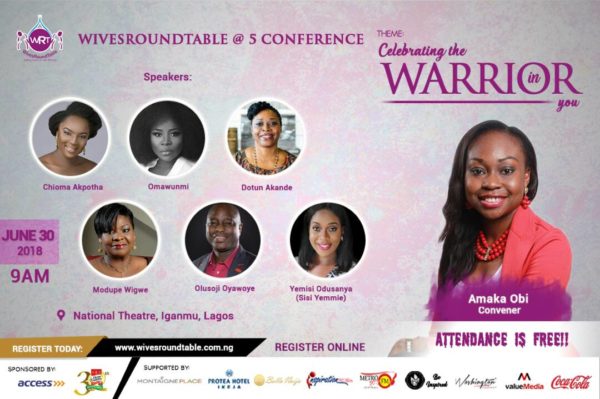 It's no news that women are phenomenal beings! They nurture. They care. They carry. They birth. A woman can go to any length to care for someone she loves. She also can do anything to fight for something she loves.
Women are fighters!
Women are tenacious!
We are WARRIORS!
And this is why we invite you to join us at the Wivesroundtable at 5 Conference themed Celebrating the Warrior in you!
Date: Saturday, June 30th, 2018
Time: 9.00 am prompt (No African time)
Venue: National Theatre, Iganmu, Lagos.
Attendance – ABSOLUTELY FREE!
(However, registration is compulsory. Please go to www.wivesroundtable.com.ng/events to register and CONFIRM your registration. At this event, we would be having outstanding women who have fought and are still fighting grave odds but are still standing strong.
Omawunmi, Chioma Akpotha, Sisi Yemmie, Dotun Akande and Modupe Wigwe will be sharing their amazing stories with us. While Olusoji Oyawoye will be telling us what it feels like being married to a #WarriorWoman
Come let's celebrate all women who have stood through thick and thin in the pursuit of their dreams.
Come let's us celebrate women who succeeded despite all odds.
Come let's celebrate strong women.
Come let's celebrate ourselves.
We look forward to seeing you there!!
——————————————————————————————————————————————————————————————————-
This content has been published for free as part of BellaNaija.com's commitment to youth, education, healthcare and community development as part of our corporate social responsibility programme