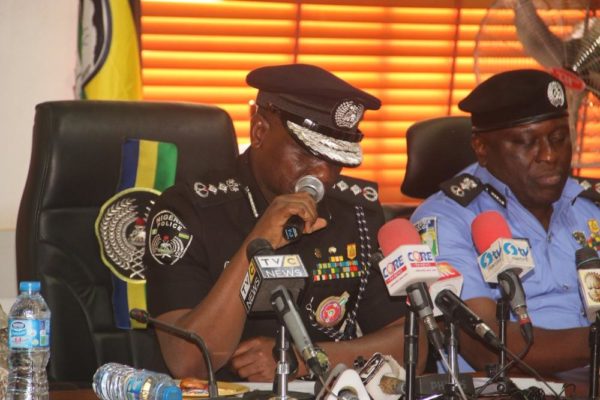 It was December last year when Nigerians started clamoring for the Special Anti-Robbery Squad (SARS) to be scrapped.
Several social media users, female and male, shared stories detailing abuse they experienced at the hands of SARS officers.
More damning than the stories was the evidence people had: bank transfer statements, videos.
Despite the Nigeria Police Force's efforts to reform the squad, it seems absolutely no change happened, and people are still being harassed.
People have again began sharing their stories, detailing how they were extorted by SARS officers.
Even celebrities have shared their personal experiences, from Praiz who was accosted when he was riding in an Uber, to Reekado Banks when he was around friends. There was Cool FM's Do2dtun, producer Sarz, Dr Sid because of his hair, singer Jhybo because of his cover art on his phone, and even Ruggedman at Jaywon's birthday party.
Yomi Shogunle, the head of the Police Public Complaint Rapid Response Unit, has described the movement as a "scam."
Don't fall for #EndSARS scam 419.
Why not use same energy to end the real police brutality & high controversial police killings in your country?
Your very Chicago has one of the worst police brutality records in USA reference Department of Justice Report https://t.co/G1IzML2pI4 https://t.co/9N2E38Sw4f

— Abayomi Shogunle (@YomiShogunle) June 10, 2018
Despite his comments, people are still demanding that the squad be scrapped. See some of the complaints and demands below:
You know why this is deeply sad? This man has called #EndSARS a scam. With the mountain of evidence available. It is quite unfortunate. https://t.co/Kx6rTYubvr

— Name: (@DamiElebe) June 10, 2018
I'm leading the next #ENDSARS camping in Lagos & I'm ready to finance it as well. If you reside in Lagos, please come out for this protest, don't be a coward. Together we are stronger. We will match from Lekki to Tinubu's residence in Ikoyi. @segalink @SympLySimi @ReekadoBanks.

— PEREZ (@__perez94) June 10, 2018
Osinbajo knows Lasisi Elenu ,Charles Okocha, knows how to quickly arrange photo ops with tech boys but conveniently knows nothing about #EndSARS, a real & existential threat to the lives of many young people. Just like he knows nothing about the persecution of #BBOG. Funny guy

— Babanla (@biolakazeem) June 9, 2018
In Sept. 2016 we launched our report "You Have Signed Your Death Warrant" detailing atrocities committed by #SARS across #Nigeria. Over to years after this report #SARS continuous to be a unit of torture & extortion of #Nigerians. EndSarsAtrocities #EndSars

— Amnesty Int. Nigeria (@AmnestyNigeria) June 9, 2018
It goes beyond sars. It's the whole police force…the astounding impunity and brutality. If a young man has not been harassed by the police in Nigeria, he has not been born. #EndSARS

— F.SHAW (@FshawKingFisher) June 10, 2018
Dear Buhari Media Team, you are citizens before government staffers. Your fellow citizens are getting killed by SARS on a daily basis. Take it as a personal advocacy to give the feedback to President @MBuhari. That police reform needs to happen now. #ENDSARS

— Ahmed Rufai Isah (@AhmedRufaii) June 10, 2018
Is there anyone still doubting how cruel & brutal SARS officials can be? This is a video from last year of SARS officers assaulting & beating a guy with stick & keg as they try to force him to enter their car.
Don't you think these guys deserve to die miserably?#EndSARS pic.twitter.com/5EOZTdyXCv

— Kindly-Follow-Back (@Naijadailyfeed) June 10, 2018
Also, some of these policemen aren't actually even SARS or high ranking Police Officers. So I ask – what is the criteria for handing a law enforcement official a GUN? I've seen and encountered drunk policemen with GUNS! #EndSARS #EndTYRANNY #EndAbuseOfPower

— Simi (@SympLySimi) June 9, 2018
Guys, please always ensure to have a means of identification on you before going out and never have heated arguments with SARS officers if they stop you, insist on going with them to their station, be smart and stay alive. #EndSARS #ReformPoliceNG

— Oluyemi Fasipe 🇳🇬 (@YemieFASH) June 10, 2018
SARS is a disease.
Diseases should be treated.

Police is our friend but they lie.

We fear for robbers & yet the people who should be protecting us still harass, rob & kill us.

These men in black have no joy, they're causing more harm than good. They'd be eliminated!#EndSARS

— Madeleine (Her XLNC)🧙‍♀️🇳🇬 (@badgalmaddie_) June 10, 2018
The #EndSARS campaign is not an anti-government or anti-buhari campaign, it is neither personal nor political, I expect every reasonable Nigerian to join the campaign.

We can not continue to watch criminals in Police uniforms maltreat people they are paid to secure.

— Oluyemi Fasipe 🇳🇬 (@YemieFASH) June 10, 2018
The 'e no concern me' attitude of Nigerian youths towards others is the reason why SARS will keep getting away with their crimes.
If only like 20 youths will stop and ask why each time they ask one youth to enter their van, they won't be so powerful. #ENDSARS @segalink

— Bearded Genius (@streetzMVP) June 10, 2018
I just heard a very sad story. A friend's cousin was hanging out with his friends and SARS pulled up and carried all of them. The beating they received put the guy into a Schizophrenic state and he has been confined to a Psych ward. How does this even make sense? #EndSARS

— Blaq bunnie (@adaaghanya) June 9, 2018
Tomorrow June 12, is a good day for Nigerian youths in different parts of the country to march to executive and legislative offices to protest on #EndSARS.

And if President Buhari is serious about the symbolism of June 12, he will put true action to his words.

— AYO SOGUNRO (@ayosogunro) June 11, 2018
Would be wild if it is not actually the political elite that motivate a shutdown of the Nigerian system but the excesses of their attack dogs such as #SARS. I hope the #EndSARS campaign grows beyond the police and deals with the political system that enables police brutality.

— AYO SOGUNRO (@ayosogunro) June 11, 2018
I joined voice on the #EndSarsAtrocities this morning, this evening @PoliceNG from Ugborikoko Division in Warri, Delta state led by the DPO arrested me alongside over 52 other innocent citizens this evening. We were loaded like sardines. @AmnestyNigeria #EndSARS

— AreebaBoss (@Tega_Paul) June 10, 2018