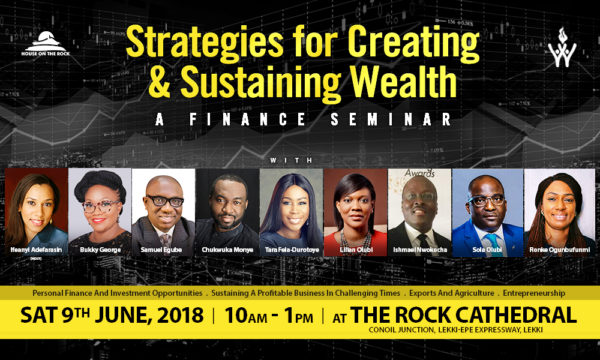 In the world we live in today, especially given the current enterprise environment and cut-throat competition, your education and business exposure is not complete without requisite financial literacy because whatever you cannot measure you cannot manage. Many times when we engage in business development, we seem to be more engrossed with making money instead of learning more about managing and even multiplying it.
This Saturday, 9th June 2018, the Woman To Woman ministry of the House on the Rock church brings you a very practical Finance Seminar themed – Strategies for Creating and Sustaining Wealth. Holding 10am prompt at The Rock Cathedral, Conoil Junction, Lekki-Epe Expressway, Lekki Lagos. Speakers include business connoisseurs and financial experts- Tara Fela-Durotoye – CEO, House of Tara International; Samuel Egube, Chairman AltAssist Limited; Bukky George, CEO,  HealthPlus Nigeria and CasaBella International; Lilian Olubi CEO, Primera Africa Securities Limited; Sola Olubi, Senior Banking Professional; Ronke Ogunbufunmi CEO,  Farmgate Agro Allied Company; Chukwuka Monye, Managing Partner, Ciuci Consulting; and the Host, Pastor Ifeanyi Adefarasin, Co-Pastor House On The Rock
Workshop sessions include:
Personal Finance and Investment

Sustaining A Profitable Business in Challenging Times

Exports and Agriculture

Entrepreneurship
Date: Saturday, June 9th, 2018
Time: 10.00 am
Venue: The Rock Cathedral, Conoil Junction, Lekki-Epe Expressway, Lekki Lagos.
It's free but registration is required at www.houseontherock.org.ng
So, are you a budding or veteran entrepreneur? An employee who is looking to earn extra income? Or you just want to learn how to manage and increase what you have. Come learn business and financial strategies as this Seminar is carefully designed to share very practical market intelligence and insights that will enable you optimize your resources and leverage your competitive advantages.
Remember, it holds at The Rock Cathedral, Lekki Lagos at 10am prompt on Saturday 9th June 2018. It's a FREE event but registration is required at www.houseontherock.org.ng
See you there
—————————————————————————————————————————————————————–
Sponsored Content