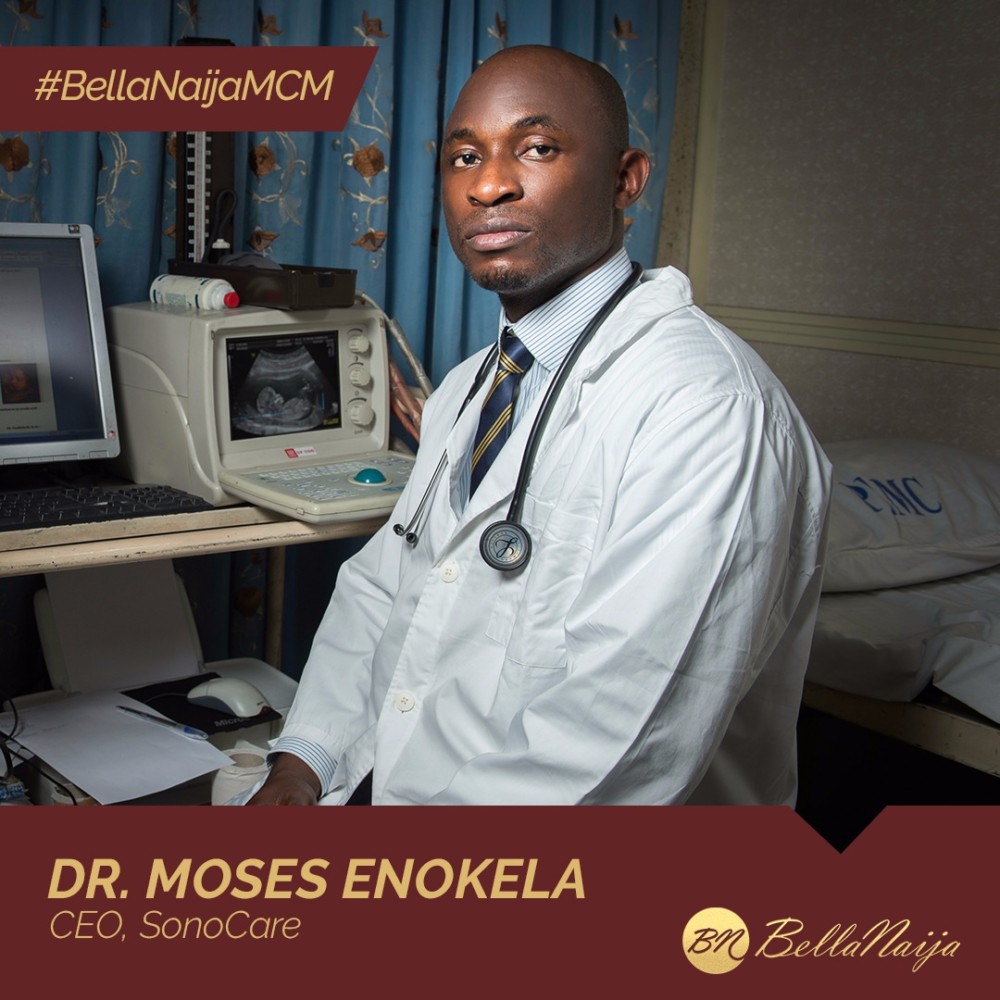 Our #BellaNaijaMCM this week is Moses Enokela, a medical doctor who decided to tackle an important need in the Nigerian healthcare sector.
Two events pushed him to start his company – SonoCare:
A baby was one day taken to the hospital, crying. Because she couldn't tell what was wrong, she was difficult to diagnose. So the doctors discussed treating her for typhoid, which they did. Only that the problem was not typhoid. The baby continued to cry and she was taken back later that evening. Upon touching her stomach, the crying increased and Enokela decided to run a scan. They discovered she had swallowed a metal ball and proceeded to get it out.
Sadly, the second situation didn't have a happy ending like the one above. An elderly man was brought to the hospital critically ill and Enokela and his colleagues wanted to carry out an examination imaging to properly diagnose the situation. But they did not have the equipment to get that done. The man was referred to another centre to have the scan done, but he passed before they got there.
Enokela wanted this to change, so he started SonoCare, a "mobile diagnostic imaging company dedicated to providing quality healthcare in the diagnostic imaging industry."
Enokela's focus is on maternal and child health care in underserved areas. One in 13 women in Nigeria die during pregnancy and childbirth and 99% of this is in rural areas. By providing mobile diagnostic services in these areas, Enokela helps to reduce the stress of travelling several hours to get to a diagnostic imaging facility, which they even cannot afford.
He describes SonoCare as "a mobile diagnostic medical imaging solutions provider in Nigeria leveraging technology and innovation in an ambitious effort to address the scourge of maternal and infant mortality in Sub-Sahara Africa."
Prior to founding SonoCare, Enokela started Fertile Hope Fertility & Reproductive Health Support Initiative, a social media platform for public education and fertility/sexual health support services, providing free public enlightenment, consultations and counselling for affected individuals.
He still runs the platform.
Enokela was part of the 2015 cohort of the Tony Elumelu Entrepreneurship Program (TEEP), a Windows #Insiders4Good fellow, and one of the participants of the inaugural Obama Foundation's Leaders: Africa program.
"He is a social change enthusiast/entrepreneur contagiously passionate about transforming the African healthcare landscape, especially in maternal and infant mortality," Obama Foundation says about Enokela.
We celebrate Enokela for his contribution to improving healthcare delivery in Nigeria by starting a social enterprise with the potential to impact and save millions of lives.