P&G set to shut down $300 million Plant in Ogun State 1 Year after Commissioning | UPDATE: Firm says it's Only Exiting Production & is "Here to Stay"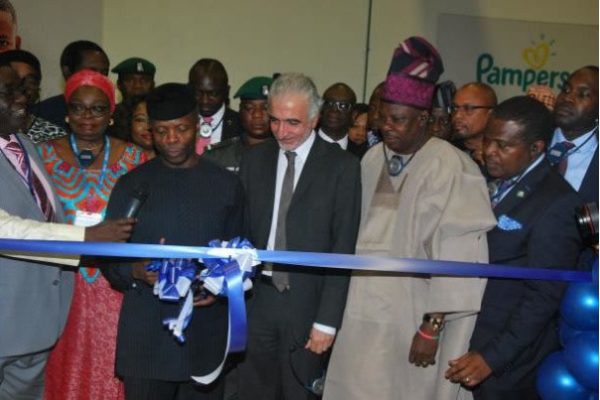 Only a year after commissioning what is said to be the largest non-oil production plant in Nigeria, P&G is reportedly set to shut it down.
The plant, located in Agbara Industrial Estate, Ogun State, had been commissioned in 2017 by Vice President Yemi Osinbajo, and had cost a reported $300 million.
According to Premium Times, the plant, which produces Always sanitary pads and Pampers diapers, is set to be shut down after running at a loss.
A company source who spoke to Premium Times said, "About 30 staff will be left who may either be outsourced or deployed to our only remaining plant in Nigeria," with 120 to be laid off.
A top official of the company who spoke to the paper said they were shutting down because of the cost of importing raw materials and their unwillingness to manoeuvre the system.
It is so expensive to import these raw materials which are not produced in Nigeria. Other companies take the short cut by maneuvering the system, but we cannot.

Our competitors invested much less in their factory, can maneuver their way in the system, and thus produce and sell for much less. We cannot do that. Our investment in Agbara is arguably the largest single investment by a non-oil firm in Nigeria. But we just have to shut it. The loss is much.
UPDATE
P&G has released a statement concerning the news above, stating that the correct information is that it is restructuring its operations in Nigeria.
See the statement signed by its Director Global Government Relations & Public Policy, Temitope Iluyemi below:
We are aware of the media publications quoting incorrect information about the closure of the P&G Agbara Plant site and hereby issue the correct facts of the plant restructuring project.

P&G is restructuring its Nigeria manufacturing operations to deliver a more effective business operation for now and sustainably for the future. This will entail an exit from production in its Agbara plant. We will strengthen our manufacturing operations in the Ibadan plant, scale up our contract manufacturing operations, as well as continue to invest in our local talents.

P&G is a foremost global consumer goods providing world class products sold in over 180 countries worldwide. This is purely a business decision for a sustainable and innovative business operation in Nigeria.

P&G is a model investor in Nigeria investing economically and socially and investing in technology transfer in partnership with local suppliers, agencies, contract manufacturers and the Government to deliver key development objectives of inclusive growth. We have been operating with world class standards in Nigeria for over 25years, we believe in Nigeria's potential and are here to stay for the long haul developing our Nigerian talent.
Photo Credit: Premium Times