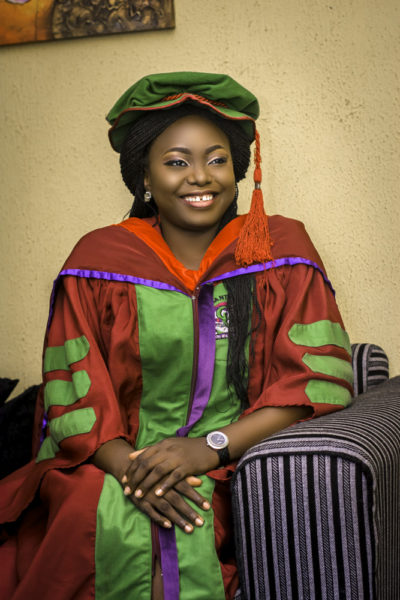 In July 2018, the BellaNaija Features team decided to take a closer look at academia in Nigeria. We recognize that the current state of our educational system leaves a lot to be desired. However, in spite of all the difficulties, Nigerians still go through the system and manage to excel in their field of studies. Even more commendable are Nigerians who go over and beyond graduate level, by attempting and completing post graduate degrees. It is for this reason that we decided to specially recognize and celebrate people who completed their PhDs in Nigeria.
It is no mean feat to obtain a Doctorate any where in the world, and to do it in Nigeria means you rock!
We're kicking off the Naija Doctorate and Proud series by celebrating Opeyemi Akinyemi-Babajide. Opeyemi is a lecturer and researcher in the Department of Economics and Development Studies, Covenant University, Ota. Ogun State. Nigeria. She specializes in Energy and Policy and Environmental Management.
Speaking on her inspiration for getting a PhD, she said it was in a quest to "gather additional knowledge and skills to acquire solutions to some of the challenges to power and energy in Nigeria and Africa. A doctorate programme opens one up to a number of skills and knowledge outside ones' area of research through conference attendance, workshops and seminars."
During her Masters programme, she caught the research bug and was hooked. Stating that getting the PhD was not her first choice, but the love for research was intense. She also realized she could use her work to impact young people.
***
Tell us what you do and how long you've been working in this field.
I am a Lecturer and Researcher in the Department of Economics and Development Studies, Covenant University, Ota. Ogun State. Nigeria. I have worked in this capacity for about six years since November 2012 when I started my doctoral programme at the same University. I am married to the love of my life Ayodeji Babajide whose support I cannot deny pulled me through this journey. We got married September 2017 after my Ph.D convocation.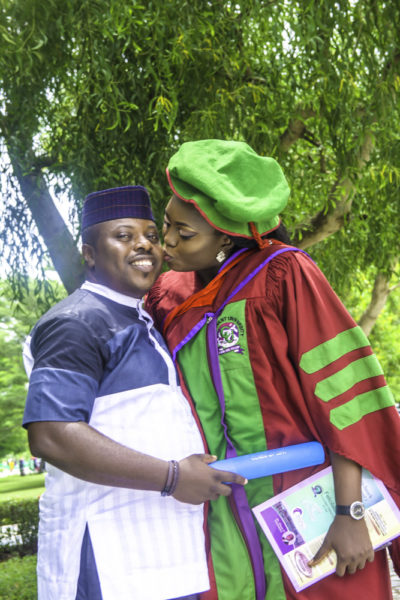 What inspired the choice of your field of research?
My Ph.D degree is in Economics with specialization in Energy policy and Environmental Management. Initially when I started the programme in 2012, I was not sure which area of Economics I wanted to focus on, but I knew I wanted an area that will solve an urgent problem Nigeria in particular and Africa in general.
Initially, I was working on climate change, but had to change direction after a year, after presenting the first part of the work in Abuja at a conference. The comments made me realise doing a climate change research in Nigeria was not an easy feat due to data and a number of other issues. There were a lot of issues about data and I just felt frustrated, so I went back to the literature and made some wide consultations. I finally settled for the energy sector and how it influences quality of environment.
Currently, a major part of my research is on green growth transition in Sub-Saharan Africa for Sustainable Development, especially as it relates to the role of the energy sector.
Now the big question…why did you study for your PhD in Nigeria?
This is an interesting question but I will answer it as best as I can. After my NYSC in 2010, one of my University Lecturer who was also my Project Supervisor called me that my University just started their Post Graduate programme for external people (it was initially for Faculty of the University) and encouraged me to come and start my Masters programme.
I told my dad, and as a University Administrator that he is, he jumped at it and told me to go and do all I needed to do. Even though the fund was not readily available, I went ahead with the programme, especially since I was yet to get a job and was not retained by my place of primary assignment. I did my Masters and it was for 18 months. It was during this time I took interest in a Ph.D, maybe due to the academic environment I was in. I made up my mind that since my desire was to become a management consultant, I most definitely will need a Ph.D at some time in future. So I asked myself why don't I just do the Ph.D now that I am young (I was 24 at the time). I saw a lot of older people doing Masters and Ph.D with me then and I saw many of them struggle with it, especially as it has been a long time many of them finished school and you know how technical economics can be at post graduate level.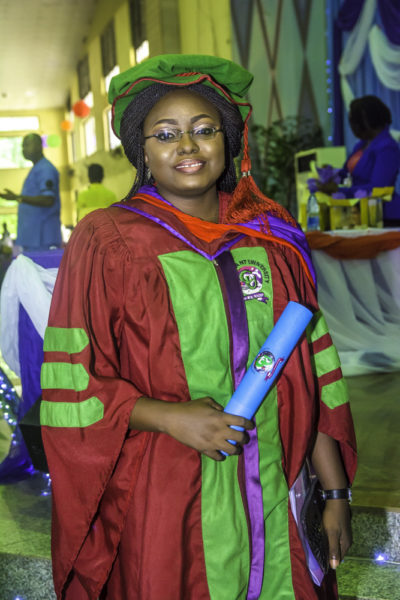 My University offered me a job after the Masters to come do my Ph.D as I was the best graduating student in the Department, so I accepted since I didn't have to pay, but just serve the University for a number of years, depending on how long it took me to complete the programme.
Yes, I desired to travel abroad for it, I will not deny that, but the process to getting a scholarship was getting too long and I felt I may not meet the target I set for myself (to have a Ph.D before I turned 30). Besides, the programme curriculum was very good and was run in similar way to many of the Universities abroad (my University had MoU with many Universities abroad and understudied there post graduate programme extensively). A year after my graduation I have no regret for my decision. I have interacted with many who did their programme abroad, I did not miss anything significant (my opinion). Except, probably, I might have finished earlier.
What was the cost implication of the entire programme?
As I mentioned earlier, I was supported by the University in exchange to working with them for a number of years. It was more like a bond, so I did not pay for the programme.
How would you describe your experience getting your PhD in Nigeria?
This question brought back a lot of emotion. Getting a Ph.D in Nigeria is not easy at all. It takes focus, commitment and determination, even in a private University. But I must say it is getting better, at least in my University. I have colleagues who completed theirs in three years. The University now has a rule that the Ph.D programme is for three years and maximum five years. If you don't finish after 5 years, you are asked to withdraw from the programme.
Relating to my experience, after my coursework which was for about a year, I worked on a research topic for over a year before I changed topic. My supervisor at the time introduced me to relatively new methodology that he wished to develop young people in the area. According to him, it was the direction the world was going. It was a very complicated methodology with only two people in my University working in that area. A lot of people discouraged me that it was too technical and that I may not finish the programme in time. However, one thing that struck me was that there were really no female in this area. The ones that attempted it, dropped out along the way. For me, this was a challenge: if men can do it, nothing stops women from doing it as well? Especially if it will helps us understand better some of the challenges of our society and know the best fiscal policy that works. So I began my research, connected with one of the leading Professors in this area who was at the University of Ibadan, Professor Adeola Adenikinju, God bless this man for me. He is indeed a father.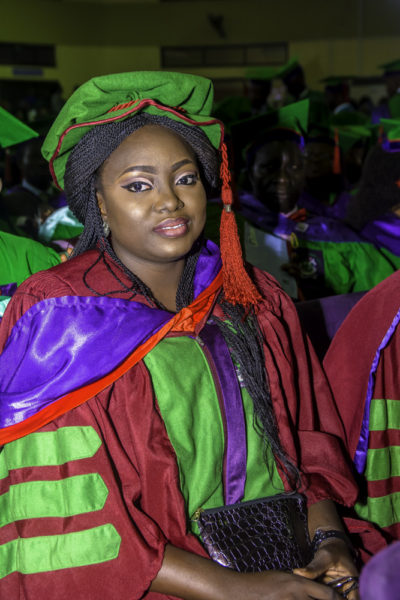 He encouraged me and was excited to see that a young lady was taking interest in using Computable General Equilibrium Modelling. He supported me all through my Journey and I had a training at the Centre he oversees in UI. So that was how once or twice a month, I travel from Ota in Ogun State to Ibadan doing research. So many sleepless nights, the tears every time I reached a roadblock. There was the mockery that who sent me message? Overall, I kept pushing, kept reading and studying. I was always on the internet for latest publication on the work, on YouTube watching videos on using CGE modelling. At a point, I was at a stand still for about six months; my model wouldn't run, showing me 3,500 errors at times. I was always looking for ways to correct these errors so I could get my result.
Meanwhile, my thesis was on removing energy subsidy and environmental quality, and government was already talking about removing subsidies on fuel, so if I didn't conclude my research in time, I was facing the problem of policy-relevance. But I am grateful help came for me when I cried on to God to show up. He sent help for me from Canada. Dr. Veronique took time to go through my model and gave me tips on how to correct the errors as it relates to Nigeria, without meeting me – just by emails. Wonderful Woman. In three weeks, I had my results and three months after I was done with my final defence. It was a rough and tough journey, but God saw me through and he had greatly rewarded my hard work with the things he is making my hands handle. To God be the glory.
Wow! Well done. Please walk us through the process – from picking a research topic, to finding a supervisor, the methodology and thesis
The process is now faster and smoother than during my time. The University management had addressed a lot of issues. In picking my research topic, I researched on areas that were not fully explored and that interests me. This is important because when the journey gets tough, it is the passion that keeps one going. But it is advisable to speak with the Department first before starting the programme to be sure there is an expert in the area you want to do your research. The Department appoints supervisors, so I had my supervisor at my Masters level, Professor Philip Alege be my main supervisor and an Associate Professor (Now a full Professor) from Mechanical Engineering, Professor Oluseyi Ajayi as my Co-Supervisor. I must say they were indeed fathers to me and made the Journey easy, God bless you, Sirs.
While Professor Alege managed the economics aspect of the thesis, Professor Ajayi provided guidance on the energy component of the research as he was an expert in renewable energy technology.
The process involved having coursework, where I took some courses, thereafter, I present my proposal and when approved, go on to start field work where I gather data to be used and do my analysis. When l had my results, I was approved to go for my Post-field presentation (these presentations must be at both the departmental and college level, same with the proposal presentation and the results of the presentation must be approved by the Board of Post Graduate School and in some cases, the University Senate). For every stage, there are forms to be filled through which approvals to proceed to the next stage is given. This is where time is taken, these forms can only be processed once a month as that is when the board meets, any error in it, it is sent back, then you wait for the next month.
After the post field presentation, if there are no major issues, the corrected version from comments harvested at the presentation, is sent to three external assessors. If there are major issues with the work, the candidate goes back to the field. After receiving reports from the assessors, I made necessary corrections and a revised copy is sent to the external examiner who is an expert in the field of the research. After the examiner had satisfactorily gone through the work, he gives a date that he will be available subject to the approval of the Post graduate school and the Viva held. It is at the viva (which is the final presentation of the thesis) that you are pronounced with the degree but conferred the degree at the convocation ceremony.
Do you currently work in academia? Please provide details of your industry
Yes, I currently work in the academia as a Lecturer and Researcher. I teach mainly third year and final year students (theories of growth and development, econometrics, intermediate microeconomics and macroeconomics and petroleum economics; occasionally I teach history of economic thoughts and structure of the Nigerian economy). I also write papers that are published in high impact journals. I also engage in consultancy and trainings for organisations, one of which is the United Nations African Institute for Economic Development and Planning.
Sounds like you're doing incredible work. What are the advantages of your doctorate?
The advantages are numerous. It gives you a wider perspective to issues and the skills of research helps you to analyses issues better with facts. Personally, it has provided platforms for me to interact with great minds through conference attendance, participation in raining, seminars and workshops. Through networking, there is further personal development and better opportunities.
What did you learn overall from the experience?
I have learnt patience and dedication. It is important in this journey, even when doing the programme abroad. It is also important to know the reason for deciding to do a Ph.D programme.
What are some of the things you would have done differently, in retrospect?
There's nothing much I could have changed. Maybe decided early on certain things which could have made me finish in three years instead of four years. UI was indecisive about some things at the initial stage.
What advice would you give someone thinking of getting a PhD?
Understand why you are doing the Ph.D. It can be tedious and very demanding, especially when combining it with a business or job. Don't just do it just because your parents wants you to or your friends are going for it. A research based Ph.D demands writing papers in journals to publish your findings and rigorous research. Many are not willing to do this and wants a short cut. So, decide from the beginning to give it all it takes, and the stress will pay off in the future.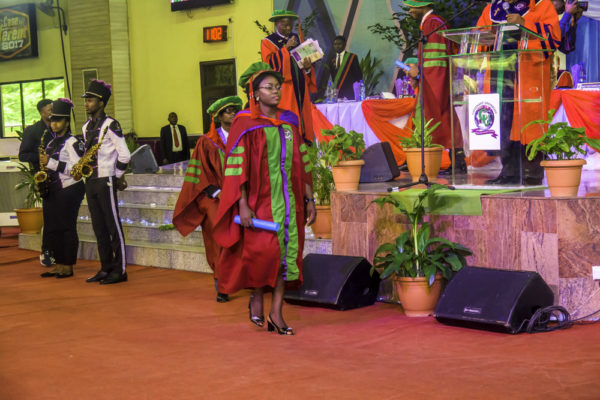 What advice would you give people in the Nigerian academic stratosphere on how to improve the quality of the process in Nigeria?
There is no advice I will give that had not been given before. We have been saying these things for a long time. We know what to do; action is what is lacking.
No doubt finance is key, it is important to do quality research such as subscribing to online Journal database. But in this part of the world, we will rather invest 50million naira in having a physical structure than use it to pay for subscription for online database that provide access to millions of journal articles of researchers from all over the world.
Also, there is need for improvements in data management. Without sufficient data, research becomes difficult. Even when you decide to do a primary study to gather the data yourself, the subjects are not willing to provide required information, especially firms. They are often uncooperative. They don't want to have anything to do with researchers, despite the fact that results from such studies can support them through our recommendations and reports to government and policy makers.
Hmm, we hope we can get some positive change with this series. Opeyemi, do you have any final words for us?
Thank you again for the opportunity BellaNaija. I LOVE YOU.
We love you too, Opeyemi. BellaNaijarians, if you enjoyed reading this, please share with your friends. If you obtained your PhD from a Nigerian University, we'd love to share your story. Please click HERE to find out how to reach us.