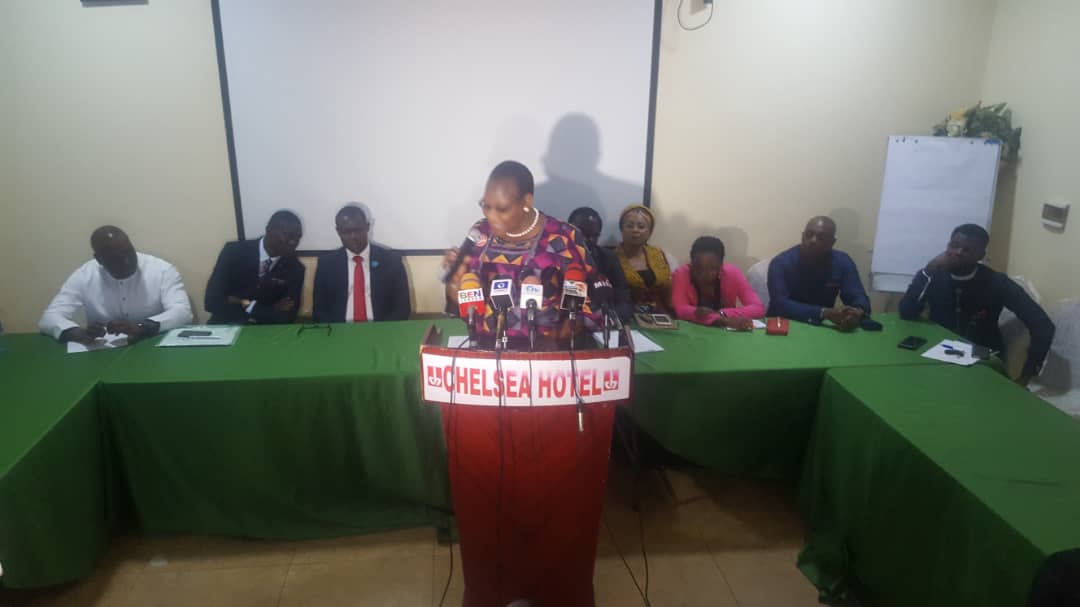 One of the trending topics on Twitter NG was the emergence of Fela Durotoye as the consensus candidate for the Presidential Aspirants Coming Together (PACT).
Following his election, Professor Kingsley Moghalu, a member of the coalition announced that he's still in the race, citing the supremacy of each member's presidential pursuit, as stated in PACT's MoU.
"The arrangement had unraveled even before the final selection of the consensus candidate. Only seven aspirants participated in the final voting out of the original 18 aspirants, mainly because many of the aspirants had withdrawn from the process," Moghalu had said.
Former minister of education and activist Oby Ezekwesili, who was invited to be an observer as well as announce the result of the election, gave her account of how it went down on Thursday.
See below:
The PACT – Presidential Aspirants Coming Together had 13 Aspirants at their Opening today. They did inform the Media & audience in the hall, ahead of their voting process, that Yele Sowore and 4 other Aspirants had moved on at different time since they launched their initiative.

Those 13 that were there today including Kingsley Moghalu and Fela Durotoye made LOFTY STATEMENTS of their collective vision to go together& vote AMONG THEMSELVES, one Consensus Candidate. Before they signed their MOU, -2 – Ahmed Buhari & Aliyu quietly walked away leaving 11.

The 11 then finalized their MOU & SIGNED, BEFORE VOTING among themselves: Kingsley Moghalu, Thomas-Wilson Ikubese, Fela Durotoye, Sina Fagbenro-Byron, Mathias Baba Tsado, Ayodele Favor Oluwamuyiwa, Victor Ani-Laju, Godstime Sidney Iroabuchi, Clement Jimbo, Elishama Ideh, Felix Nicholas.

The 11 Presidential Aspirants in the first stage of the Process, Voted for any ONE of their 10 co-Aspirants. 2 voted for Kingsley Moghalu, 2 voted for Fela Durotoye – 2 voted for Mathias Baba Tsado. 1 for Ideh 1 for Iroabuchi 1 for Ikubese 1 for Favor Olumuyiwa 1 for Fagbemi.

Thus consistent with the Process they agreed among themselves, Kingsley Moghalu – 2 votes, Fela Durotoye – 2 votes & Tsado – 2 votes qualified as the 3 top contenders for the second stage voting. They agreed that the 3 aspirants would recuse themselves for their 8 co-aspirants to Vote.

The 8 co-aspirants became 7 when Nicholas Felix quietly left but it did not stop the 3 top candidates – Kingsley Moghalu, Fela Durotoye & Tsado from continuing with the Process. So, their 7 remaining Co-Aspirants voted: Durotoye 4 Moghalu 3 & Tsado 0. They all rose & hugged.

After their claps and hugs, the now 10 Co-Aspirants of Presidential Aspirants Coming Together – PACT – left for the next floor of venue to brief the media and their guests on the OUTCOME of the Votes they cast among themselves. Only 9 ended up at that Briefing. Moghalu had left.

I was called on to present the Outcome of the Presidential Aspirants' Voting Process that they had invited me as a "Supporter of Democratic System in Nigeria" to OBSERVE. I did and left. I subsequently saw the tweets on their PACT from Kingsley Moghalu and wondered.

As a group of new-type Presidential Aspirants who started and drove their own initiative -PACT-; agreed & signed their MOU and followed through their Process with Participation by those that Voted yesterday; I hope they can all get back together and discuss their disagreements.

I have no iota of doubt that Citizens have a STRONG HUNGER for an Alternative Political Leadership Class in our country to emerge at all levels of Elective Offices. For all those who believe they are part of that Alternative Leadership Class, Citizens shall be observing.
Photo Credit: @eienigeria