Jameson Irish Whisky unveils its 'Smooth Taste, That's Why' Campaign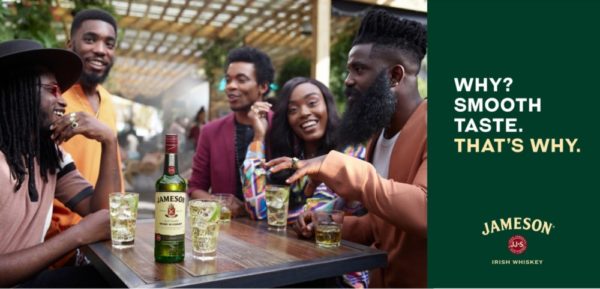 Jameson Irish Whiskey has unveiled its 'Smooth Taste, That's Why' campaign featuring the best of the Alté scene. The cool and edgy campaign features brand influencers across music, fashion, and lifestyle.
The campaign will launch across thirteen billboards around Lagos and Abuja and features talented artist, BOJ, fashion influencer, Jess Chibuze, lifestyle influencer, Muyiwa Aigbe popularly known as Aarbenco, celebrity barber, Kayzplace and Jameson brand ambassador and lifestyle influencer, TEEZEE.
John Jameson created a whiskey like no other, he didn't stop distilling after the second time either, he went further distilling Jameson three times to achieve the smooth taste that the brand is famed for. It is this relentless drive for quality in taste and attitude that still defines Jameson today.
"Our Smooth Taste, That's Why Campaign' is a fresh and engaging emotive creative that is set to continue to support our aim of building our brand presence in Nigeria. The campaign connects us back to our brand roots and we have chosen to partner with influencers who love and consume our brand and have supported our journey in the market." We are looking forward to the positive response we believe this campaign will have across the market". Craig Van Niekerk, Marketing Director, Pernod Ricard Nigeria.

—————————————————————————————————————————
Sponsored Content