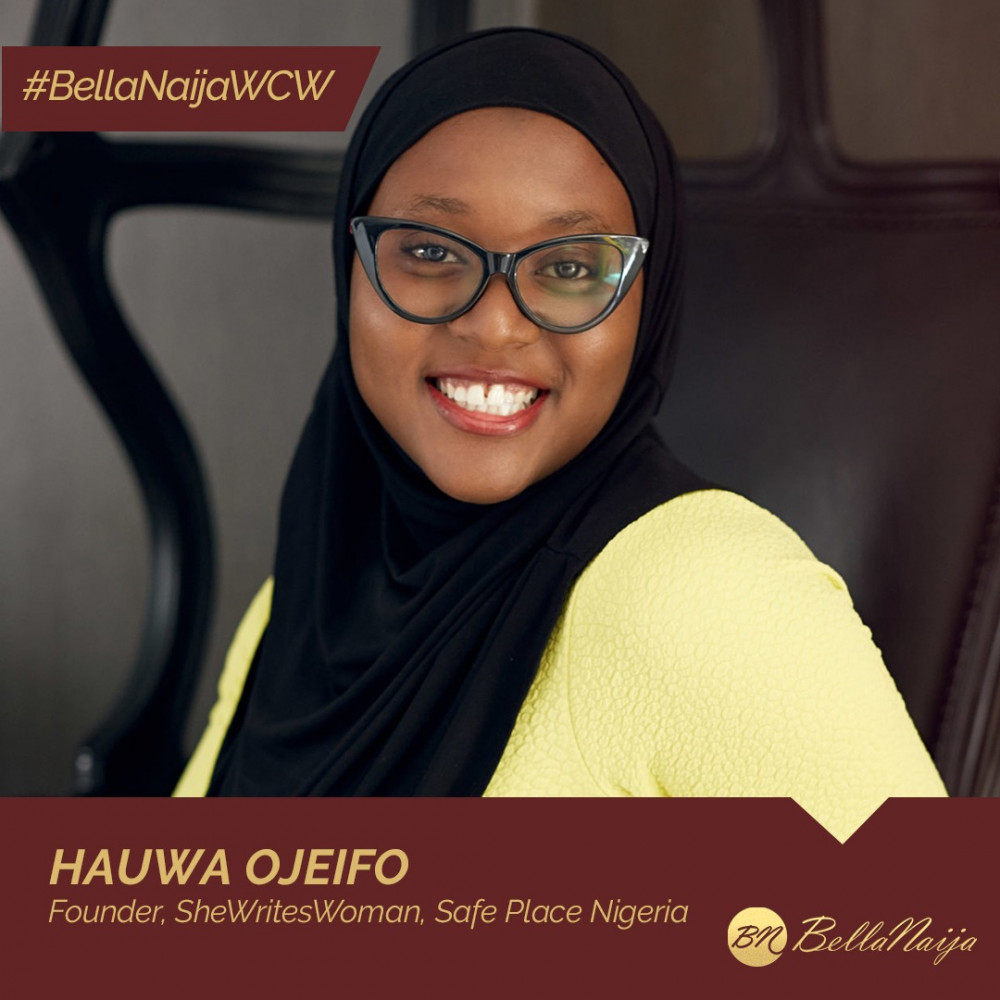 So many of the world's most impactful platforms and initiatives have come from an individual or a group who went through a tough time, survived and want to help people going through the same.
Our #BellaNaijaWCW this week Hauwa Ojeifo is no different. She's one brave, strong woman, who, despite all she's been through is turning her mess into a message of hope, love and support for people.
Hauwa, a rape survivor, was diagnosed with bipolar and post-traumatic stress disorder (PTSD), psychosis and suicidal idealisations in 2015, and she founded SheWritesWoman as an outlet for herself.
But she wasn't the only on going through mental health challenges. Soon enough, people, women especially, could connect with her stories and she had to make it a lifeline for these women going through one form of mental, emotional and behavioural disorder or the other across Nigeria.
SheWritesWoman is a movement of love, hope and support for women living with mental disorders in Nigeria.
SheWritesWoman initiated a privately-held 24/7 mental health helpline in Nigeria to provide mental health first aid, information on finding mental health care around the individual, and caring for a loved one living with mental health challenges and referrals to mental health professionals.
The platform also initiated Safe Place Nigeria, a walk-in hospital "for life issues" focused on providing love, hope and support.
Hauwa describes herself as a Mind and Mental Health coach, and Neuro-Linguistic Programming, Emotional Freedom Techniques therapy practitioner.
She is an ambassador for One Young World and a recipient of the Queen's Young Leaders award 2018 by the Royal Commonwealth Society and the Queen Elizabeth Diamond Jubilee Trust.
She is also one of the recipients of the first MTV EMA Generation Change Award.
She was a nominee in the 2017 The Future Awards Africa (TFAA) Prize for Advocacy and was named in the Leading Ladies Africa 100 Most Inspiring Nigerian Women list of 2018.
She holds a BSc in Business Administration from Bells University of Technology, Ogun State, and an MSc in Investment Banking & Islamic Finance from Henley Business School, University of Reading, England.
Hauwa had worked in the financial industry for years before deciding to focus on SheWritesWoman.
In Nigeria, where physical healthcare delivery is virtually in shambles (except you can afford private hospitals or go on regularly medical vacations), then you know mental health is given little or no attention.
Another thing is the misunderstanding and myths attached to mental health in Nigeria; majority of the population would rather see their religious leaders for "cleansing" or "deliverance" than find a psychiatrist.
Hauwa's SheWritesWoman is helping to combat the issues above and we're rooting for her.