Make this Festive Season Memorable with DStv Pop-Up Channels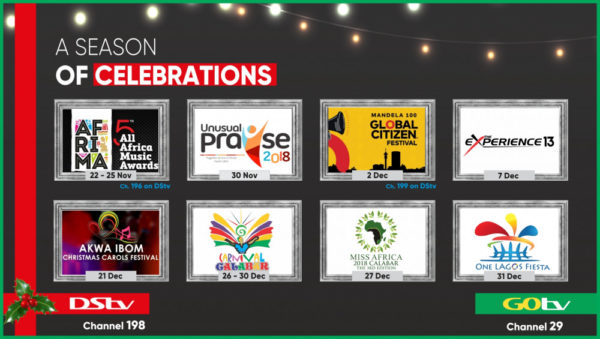 Everyone's been waiting literarily all year long for the festive season. It's time to share joyous moments, eat lots of food, exchange gifts and spend amazing moments with friends, family, and loved ones.
The more the merrier.
Talking about more, DStv has  more than enough for everyone this season with a number of Festival Events Pop Up Channels- Here you can Identify with people who are contributing to building their community's values and practices while celebrating the legend Mandela as you watch the MANDELA 100: Global Citizen Festival, on Sunday, December 2nd, on DStv channel 199.
There is so much more to watch on popup Channel 198. Check them out.
On Friday, November 30th, let the spirit of the season take you over as you enjoy the Unusual Praise event with Tim Godfrey, Chioma Jesus, Midnight Crew and other anointed ministers of GOD on popup Channel 198.
Wouldn't it be awesome to reverence God with your Family and others across the globe as it is happening live? Great! Experience the EXPERIENCE with Don Moen and other anointed ministers on Friday, December 7th.
Have fun with your family as you participate in the Akwa Ibom Christmas Carol on Saturday, December 22nd, get the glimpse of the Calabar culture on Calabar Carnival on Wednesday, December 26th- Sunday, December 30th and promote the concept and idea of Oneness on One Lagos Fiesta showing on Monday, December 31st, all on popup channel 198.
If you're on GOtv, you're not left out of the fun- You can catch all the events shown on DStv channel 198 on GOtv Channel 29.
If you want to be part of all this fun and excitement just subscribe to DStv or GOtv this season and enjoy the best entertainment has to offer.
—————————————————————————————————————————————
Sponsored Content