Glory Edozien speaks to the master of Couture bridal fashion Yemi Osunkoya of Kosibah Creations on the top tips for choosing your wedding dress
It's the dress every woman wants to wear… The dress we pray we wear just once. The dress that will make us the centre of attention and the object of desire in the eyes of the one we love….it's the WEDDING dress.
Wedding season is upon us again and everyone knows that choosing that all-important wedding dress can be quite a daunting experience. What style would suit me? How much should I spend? What are this season's best buys? Who are the main wedding dress designers? Where do I get a stock list of the best wedding dress designers? These are just some of the questions that every bride to be asks.
Because we at Bella Naija only give our readers the very best, BN correspondent Glory Edozien spoke with revered bridal couture genius Yemi Osunkoya of Kosibah Creations to get the intricate fashion details every bride needs to know before buying that all essential wedding dress.
Kosibah's top tips for choosing your wedding dress
TYPE OF DRESS
First step is to think carefully about what kind of dress you want. Do you want an off the rack dress, a designer dress or a couture dress. There are huge differences between these three. An off the rack dress, is usually bought 'as seen'. There can be no alterations made in store. While with a designer dress, you can usually make alterations, provided the store provides such services in the first instance. A couture dress is made from scratch, and is always designed to suit the bride with any changes being made as the dress making process progresses. This means you can combine elements of different dresses to suit your body shape and individual style.
KEEP YOUR OPTIONS OPEN
Try to keep an open mind and try on different types of dresses. While it's not necessarily a bad thing to have a particular style in mind, trying on different dresses will either reinforce your initial ideas or broaden your mind to other styles that may suit you better.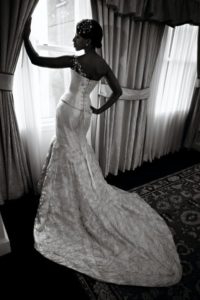 UNDERSTAND YOUR FEATURES
With every woman there are aspects of our body we want to enhance and aspects we want to minimise. This is the same with the wedding dress. You should have a clear picture in your mind of aspects of your physique you want to enhance or de-emphasise i.e. hips, waist, shoulder, and neckline and choose a dress that suits those needs.
This is also important in terms of skin tone. Avoid colours that are too harsh against your skin but don't choose one that blends so much into your skin that you become invisible! For example, ice white can be tricky with darker tones while ivory suits most complexions.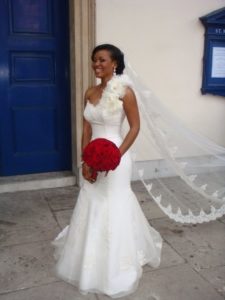 BE COMFORTABLE
It is essential that you are comfortable with whoever or wherever you choose to buy your dress from. This is especially relevant if you choose to go down the couture route.  Make sure you feel free to ask all the questions you have and ask to see examples of what they have done before. With some designers and all couture dresses, buying your wedding dress will involve a few meetings with the designers, so it is essential that the 'relationship' starts off on a good footing and that you enjoy the process.
THINK WEDDING UNDERWEAR
Picture this: its your wedding day and you're wearing the most beautiful wedding dress ever, and all of a sudden your chief brides maid tells you she can see your red bra strap sticking out from the back! And so you have to take off your dress and change your underwear!!! To avoid unnecessary drama on your big day, make sure that you take your wedding underwear with you while dress shopping.  Especially if you are going for the sweetheart/boob tube look, as different bras emphasise your bust line at different points. However, Yemi is quick to point out that with all Kosibah bridal dresses "YOU DON'T NEED A BRA".
It is also a good idea to take along your wedding shoes or at least a shoe with the likely length of heel you are going to wear for your big day. This will help avoid standing on your tiptoes, analysing the appropriate length of the dress. Only to find out on the big day, that the dress is a couple of inches too short!
AND YES …..LESS IS DEFINITELY MORE
Your wedding dress should definitely be a statement piece. But buying a dress with ruffles everywhere is a no no! So instead of being a sold out fashionista, Yemi advises that you choose a dress that is directional in terms of its style. That is a dress that plays a nod to the fashion season but is still a classic any day, anytime!
THIS YEARS BRIDAL STYLE
More ivory coloured dresses with coloured sash. The asymmetrical bow with the hand crafted brooch attached is the 'twist' at the back. As seen in picture below. For more examples of this season's bridal fashion and for a wider range of Kosibah's Couture range, please see link below.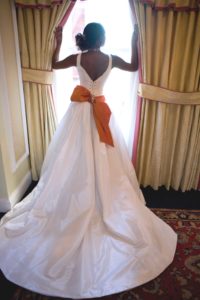 All dresses featured in this article are from the Kosibah Wedding Couture range. Please see the following link for more information on Kosibah Creations