Our Wedding Story is one of our most treasured BN features. Though we regularly feature weddings on BN, on occasion, we are so enchanted by a couple's story that we delve deeper into their relationship and wedding journey. Thanks to Ann & Emeke for sharing with us and we wish them all the best in their marriage!
___________________________________________________________________________________________
The Couple – Dr. Emeke Nwabuzor and Ann Chukwumah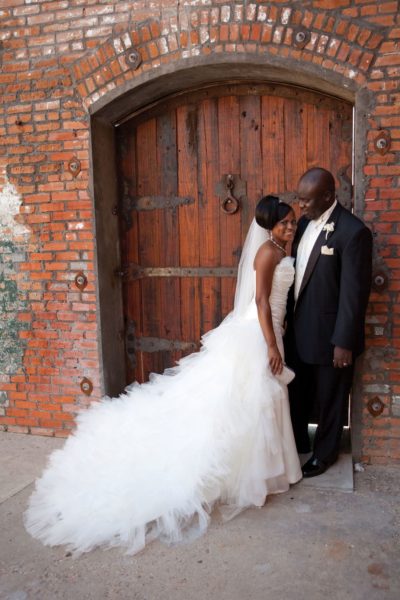 _____________________________________________________________________
Ann & Emeke's Story
Sunday, October 9, 2005, 1:36am
Hello Ann Chukwumah, how're you? I guess a little introduction will be in order.
My name (from the email address) might be familiar but I don't think we ever met but you might know my younger brothers. Your brother, Obi, called me once sometime last year from Houston, but somehow we lost contact. I would like to re-establish contact with him and please ask him to send me an email or could you please give me his email address? I'm sure you're wondering how I stumbled across your email address, right? I came across your high school 'Yahoo group' and saw your address…. So do help get my message across to your brother and please reply to this email at least to let me know you got it. Maybe with time we might get to know each other, from a distance and WITH ABSOLUTELY NO STRINGS ATTACHED! For now, to you, I'm still a complete stranger. Hopefully not for long.
Take care, be good and remain blessed.
~Emeke
This is where it all began. An email. I wasn't looking for a new friend. I had finished graduate school a few months earlier and was focused on interviews, career goals, and getting my foot in the conflict resolution field. I didn't want or need this diversion. I investigated and verified that Emeke was indeed part of the Nwabuzor family and that he knew my brother Obi before responding to his email. I told him, "I'll definitely put you in contact with Obi. You're right, your last name does sound familiar, but I can't remember any faces. This is Obi's email…and I'm sure he'd love to hear from you…"
I thought this email would end all correspondence between Emeke and me.
Of course, it didn't! Emeke responded with longer emails. (I'm glad he persisted. He writes very well and I love to write and read, too.) I responded because I wanted to prove that he always wanted to be more than just friends. I also looked forward to receiving his emails. Emails were safe. I was in Hartford, Conn., and Emeke was in Tallahassee, Fla., at the time, so there really wasn't any chance of us meeting.
Wrong!!
Emeke wanted to meet during the Christmas holidays because from the emails he thought I was "an interesting person with a nice sense of humor and a lovely personality." But I wasn't ready; I used distance as an excuse.
The following year, I moved to the Dallas area and Emeke moved to Houston for a few months because of some coursework. I didn't want him to visit in January because I still needed to settle in to my new surroundings. (In all honesty, I couldn't get a hair appointment close to the time of his visit.). I wanted to meet in March, but again I'm glad Emeke persisted. We decided to meet for the first time on Valentine's Day. We enjoyed a nice dinner, played games at Dave & Busters and ended the night talking into the wee hours. The next day we explored Dallas by hopping on and off the trolley. We ended our getting to-know-you hop day date at the Dallas Museum. We spent some more time together before Emeke left for Houston. We officially started dating about a week or two after his visit. (Emeke claims that we started dating on Valentine's Day so now we celebrate both days—his date and the real date.) In essence, lengthy emails turned to lengthy phone calls which led to numerous visits. As time passed, we settled into new careers— me teaching and Emeke a residency program. Emeke moved to Nashville, Tenn. The distance was not easy on us and Emeke's schedule wasn't as flexible as mine, so we had to learn how to compromise and be creative with time and holidays. The distance has made us better friends first and absence does make the heart fonder!
As time passed, we fell deeper in love with each other.
In addition to my appearance, Emeke was drawn in by my personality and the fact that I took pride in maintaining and nurturing ties with my Nigerian roots and culture. "Her natural personality is what I love most about her. She's so down-to-earth," Emeke says. I admire and love Emeke's sense of calm that he exudes before, during, and after a crisis. He's my calm before the storm. His honesty is also refreshing, I can always count on him. In the summer of 2008 (without my knowledge), Emeke got permission from my parents to ask for my hand in marriage.
Emeke then went on the hunt for the perfect engagement ring. He visited several malls, was schooled and got a degree in Diamondology and searched my jewelry box in the hopes of getting it right, yet the perfect ring eluded him.
Fast forward to the last week of September 2008.
Emeke tried a different route to get the perfect ring. That week, Emeke repeatedly got home late. He was unusually tired on the phone and our phone calls were really brief. I definitely was irritated. He explained that the late nights were the result of his attempt to help his cousin buy a ring for his fiancée, so his mom's sister could take it back to Nigeria soon. I definitely
wasn't happy that he was spending that much time helping his cousin, ratherthan focusing his attention on me.
To make it worse, he told me to help him search for rings online when all I wanted to do was talk to him since we hadn't had a decent conversation all week. I obliged grudgingly and sourly. I warmed up a little when Emeke told me to pick the three most beautiful rings from what we had seen. When I narrowed down the choices, I told Emeke to visit the malls again to make sure that the rings looked as beautiful in person as they did on the website. He refused, saying that he'd send our choices to his cousin. I got irritated with him again. That weekend, I went to see Emeke. Whenever I visit, Emeke always prepares a nice meal for me. That Friday was no exception, though I admit, the pasta he made had more love and care than his previous dishes.
Emeke proposed later that night with the sweetest words ever and I agreed to be his wife.
It was then that I learned Emeke's quest to find an engagement ring had not been for his cousin after all. He didn't choose any of the rings on the website. Instead, he picked a ring entirely different and stunning just for me.
_____________________________________________________________________
The Wedding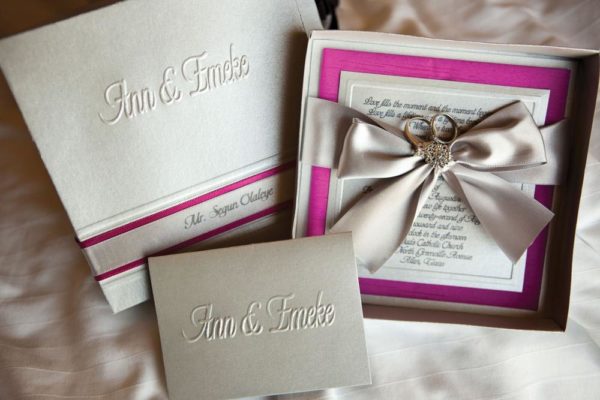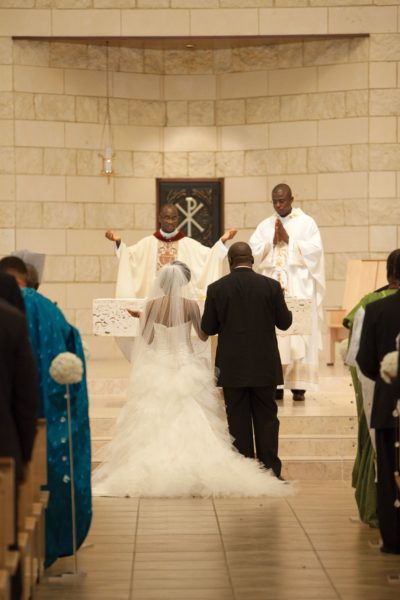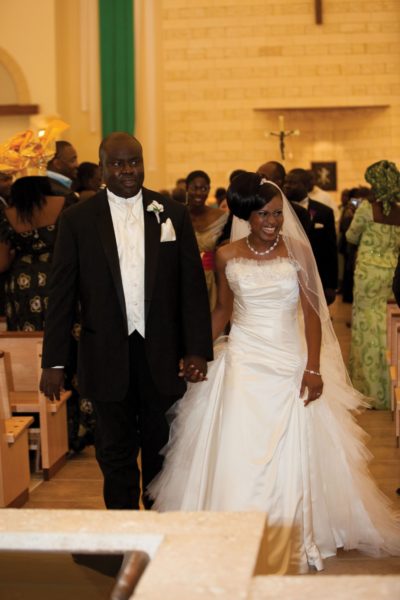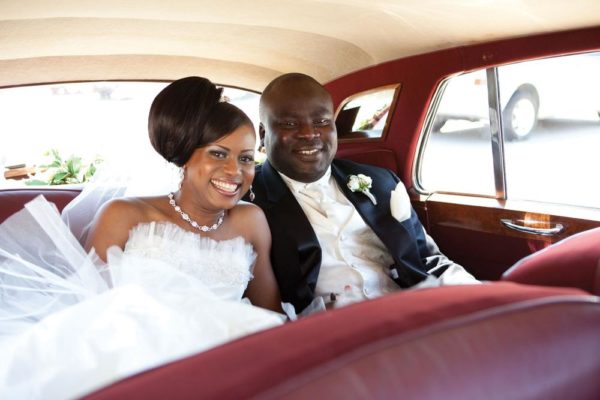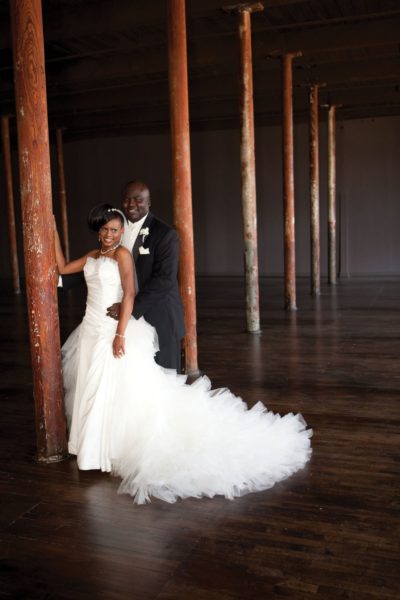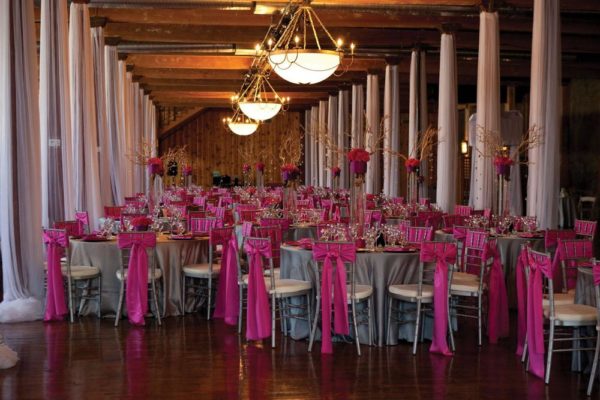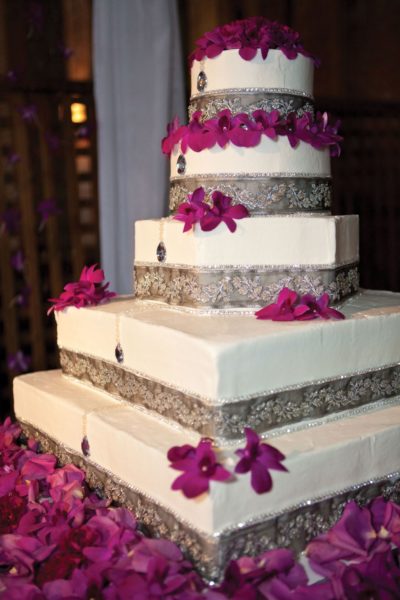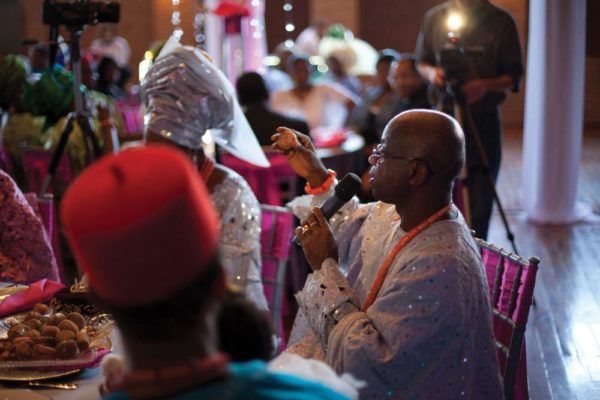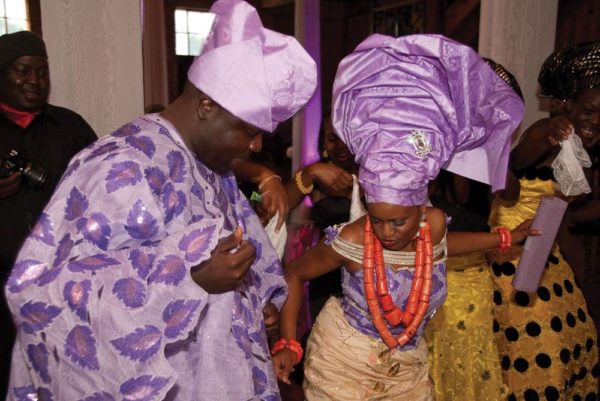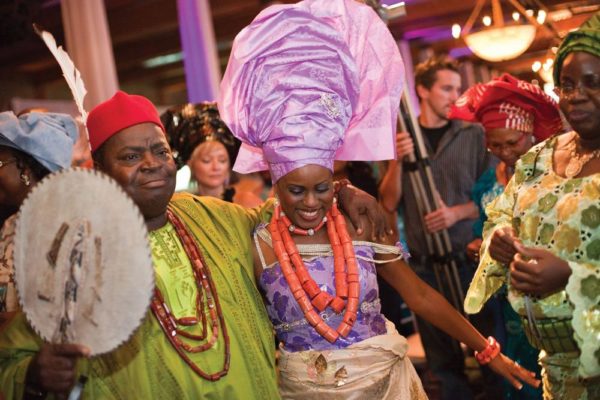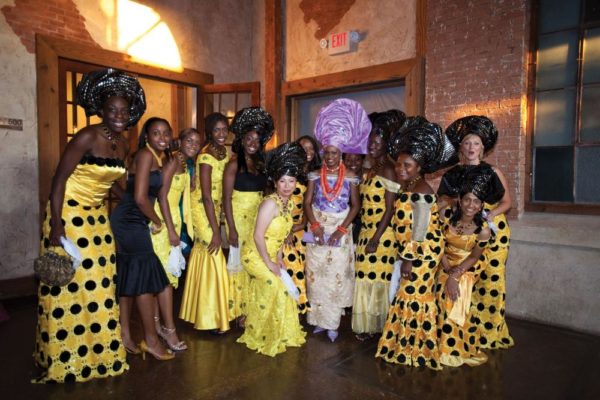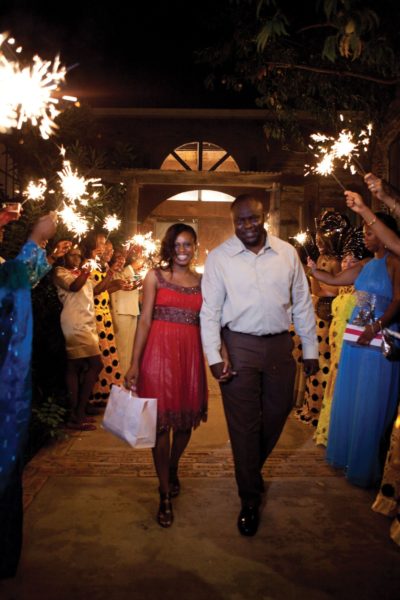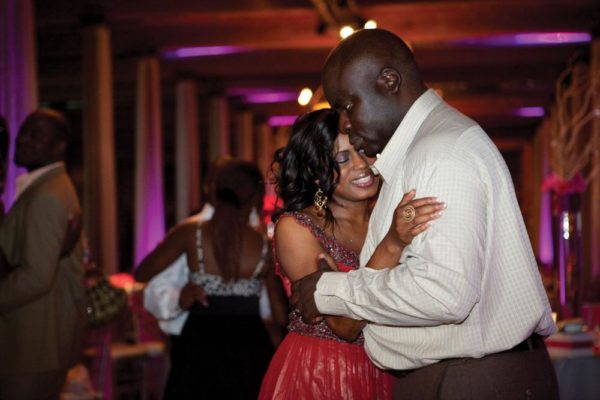 ____________________________________________________________________________________________
Wedding Details
Date: August 22, 2009
Colors: Fuchsia, Platinum and bling (crystals)!
Church Venue: St. Jude's Catholic Church, Allen TX
Reception Venue: The Cotton Mill, McKinney TX
Theme:Traditional + Modern Glam (reflection of the groom and bride's tastes).
The Traditional aspect was incorporated into the wedding through the traditions at a Catholic wedding and the traditions at the wedding reception such as the first dance, cutting of the cake, dj, etc.
The Modern Glam was incorporated through the use of the colors and the bling(crystal) elements. The couple opted out of a traditional hotel venue and instead chose a venue with a Loft ambiance/appeal. The reception took place at the historical Cotton Mill in McKinney Texas, a 99 year old building that used to be the largest denim manufacturer in the world. Guests were serenaded with live music throughout the reception. Musician serenaded bride and father to the song, "I Love You Daddy" by Ricardo and friends.
Outfits
The couple changed 3 times.
BRIDE
Wedding gown
Ann wore a unique 2-piece ivory strapless satin A-line gown with an eye-catching detachable semi-cathedral train made of the softest ruffled tulle. Swarovski crystals highlighted the soft ruffled neckline and draped the super soft satin bodice with a corsetted back bodice.
Traditional outfit
Lilac & cream with crystals
The bride's blouse was adorned with rows of swarovski crystals on the neckline and on the sequined blouse. The raw silk cream was embellished with swarovski crystals and hand-sewn gold leather leaves, in keeping with the theme of the day.
GROOM
Wedding
Emeke was outfitted in a Calvin Klein suit with ivory inserts to match his bride.
Traditional outfit
The groom complemented his bride by wearing a sequined lilac agbada with leaf patterns to match his bride
BRIDAL PARTY
The colors for the bridal party were fuchsia, platinum and iris.
Ladies were outfitted in silk shantung fabric
Bridesmaids' colours: Fuchsia and Platinum
Hostesses' colours: Fuchsia and Iris
Groomsmen: Platinum vests to complement the ladies
Host: Iris vest to complement the hostesses
Flower Girl: Ivory dress with embroidered lace detail and ivory waist, tulle ball gown skirt
Accessories for Bride, Groom, and Bridal party
CAKE: The inspiration for the cake was the bride's shoes. The cake canopy was draped in chiffon and fuchsia orchid blossoms floating in the air from the canopy.
BRIDE'S BOUQUET: Was designed to look like a super-sized version of a single rose bud adorned with Swarovski crystals. The leaves on the bouquet were spray-painted a platinum silver to reflect the color scheme for the day.
GROOM'S BOUTONNIERE: complements the bride's bouquet. Ivory spray roses and bear grass with Swarovski crystals for accent and wrapped with a platinum-silver satin ribbon.
FLOWER GIRL BOUQUET- was made of 3 pomander carnation balls attached with crystal strings representing the past, present and future for the couple
BRIDESMAIDS BOUQUET-instead of the traditional bouquet, the ladies were adorned with an armband designed with fushia orchids attached with artfully created silver wire.
GROOMSMEN: Boutonniere made of fushia orchids and bear grass wrapped in platinum-silver satin ribbon.
Church and Reception Venue Aesthetics

CHURCH
– The Altar was adorned with a mixture of white carnations and hydrangeas flower bowls in plexi glass
– The pews were adorned with carnation balls accented with crystals on plexi glass stands.
RECEPTION
– The reception venue was bathed in the colors for the day. The fuchsia lighting provided, also created the intimate ambiance the couple wanted. The columns in the hall were draped in white chiffon.
-There were 3 different designs of centerpieces.
One of the designs had tall glass vases wrapped in fuchsia ribbon with manzanita branches accented with hanging crystals and a pave of fuchsia carnations.
-For the afterparty, the hall was completely bathed in fuchsia lighting and there was an all white lounge area for guests to take a break from dancing.
-For all the candy enthusiasts, there was a candy table provided to keep the energy levels going!:)
[nggallery id=155]
___________________________________________________________________________________________
Vendors
Event planner & design: Diice Events www.diice-events.com
Photography: Melanie Johnson Photography
Photo Montage: Unique Encounters
Floral design/Cake Canopy/Columns: Botanical Art
Entertainment: The Violin Guy
Makeup for Bride and Bridal train: Segun Gele/Infinite perfection.
Hair for the Bride and Bridal train: Tiffany Clarkson for Hair A.R.K salon
Videography: Eye Imagine Entertainment
Photo Credit: Melanie Johnson Photography
Special Thanks to Nkiru of Diice Events
Unauthorized use or duplication of all photography is strictly prohibited. Thanks.