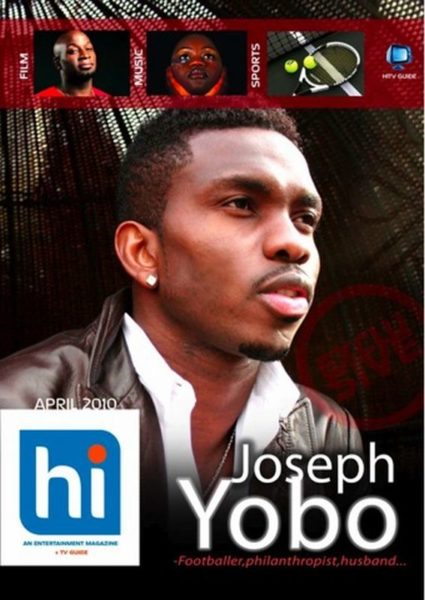 Joseph Yobo – the boy who took big strides to play internationally, leaving his family behind. The MAN – Philanthropist, and husband and father to be talks to Hi Magazine about his life & the future of Football in Nigeria, Africa & Europe.
Here are some excerpts from the interview.
Joseph Yobo on his journey to football success
It's been a long way. It was a big one, I just think it is destiny – because its
Unusual. I didn't play in the Nigerian league, which is one of the ways very few people had the opportunity to play internationally. I went to Belgium in 1998 and left for the Olympic Marsielle in 2001 and 2002 I got into the British league.
On the new Technical Adviser for the Super Eagles, Mr. Lagerback
JY: I think we are talking about a country so the opinions can be heard from one side, i think they have done the right thing bringing him in and he was the coach when I played 2002 world cup in sweden, we should have won that, but we drew a game. It's a big challenge having an experienced coach holding a team of leadership. I think it's a good thing.
On the "Semi-Final target" and the Super Eagles' potential for success at the 2010 World Cup
JY: I don't think so, the main thing is we've won the African cup of nations (in the past) which gives us big confidence and since then everything is possible in football. I just think we have to take one step at a time because we are in a group that is very difficult if we were in other groups it would've given us confidence to go into any other game, but the most important thing is that the last world cup we didn't qualify out in a good stage so if we can do better. It will be a big achievement, but when you're winning and achieving success you will look out for more and I think getting a target for now is a bit too early, maybe after we come out of the group then we will know where we're heading.
On Adaeze and their baby
HM: How's this new feeling of been a husband and a father-to-be?
It's a great thing for me, my family now means everything to me. I cant wait to be a father, it's a wonderful experience.
HM: which one would you prefer a boy or a girl?
JY: I already know but i am not going to tell you, by the time this issue it out, my wife should have put to bed.
You can read the rest of the interview on Hi Magazine website by Clicking HERE
[nggallery id=213]