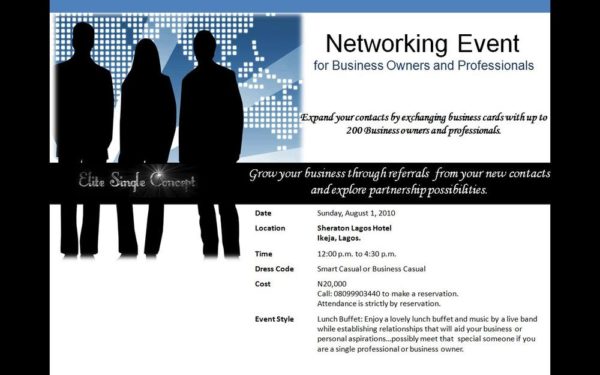 Seamlessly mix business and pleasure by attending the Elite Single Concept's upscale networking event for business owners and professionals.
Where else will you have the opportunity to:
Effectively expand your contacts by exchanging business cards with up to 200 business owners and professionals.
Grow your business through referrals from your new contacts while also exploring partnership possibilities.
Enjoy a lovely lunch buffet and music by a live band while establishing relationships that will aid your business
or personal aspiration.
Host: Elite Single Concept – www.elitesinglesclub.com
Event Style: Lunch Buffet
Venue: Sheraton Lagos Hotel
Date: Sunday, August 1, 2010
Time: 12pm – 4:30pm
Cost: N20,000
Dress Code: Smart Casual or Business Casual
Attendance is strictly by reservation
Call: 08099903440 to make a reservation.
___________________________________________________________________________________________
Sponsored Content