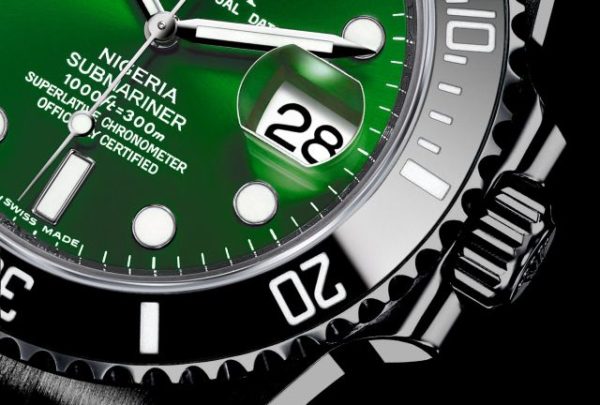 As the 1st of October 2010 etches nearer, each day seems to reveal a new "Nigeria at 50" project or product. Last week, Hennessy launched a special edition bottle for Nigeria's anniversary and now British-Nigerian entrepreneur Alexander Amosu is well-known for his brand of luxury mobile phones and suits including the famous "most expensive suit in the world". Now Amosu has announced details of his luxury product designed to commemorate the Golden Jubilee of independence in Nigeria.
The 'Amosu Rolex Submariner' was unveiled as the special limited item customized personally by Alexander, which will be made available from 1st October 2010 – the day Nigeria celebrates 50 years of independence.
The Oyster Perpetual Submariner is the quintessential timepiece preferred by societies elite and with only 50 'Amosu Rolex Submariners' in production, this highly limited watch is set to be the must have item for discerning professionals with a taste for elegance and sophistication.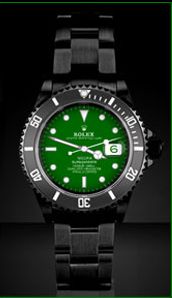 Special attention has been paid by Alexander and his team to ensure that the watch represents Nigeria impeccably. The customization of each watch showcases the luminescent indices, Rolex logo, date wheel, bezel markings second hand and dial text in white representing the white part of the Nigerian flag. The dial text will also show the words "Nigeria Submariner" in white. The date and dial will be green to represent the green of the flag.
Each of the 50 limited watches will be labeled 1-50 with number one being reserved as a gift to the President of Nigeria. Numbers 2 – 10 will be available to buy via auction on a dedicated action line on +44 7971 678 858 officially reserved in celebration of Nigeria's Golden Jubilee to top Government executives and Nigerians super elite. Whilst numbers 11 through to 50 can be bought from http://www.alexanderamosu.co.uk/jewellery/products/bespoke-watch/amosu-rolex-nigeria-50th-anniversary starting price £15,000.
For ladies, There are 50 limited edition watches in a different Rolex design also commemorating Nigeria's Golden Jubilee. Further customization is available with the use of diamonds, gold and personalization of names or company logo truly making it one of its kind.
Alexander Amosu says "This project has been months in the making. As a proud Nigerian, I wanted to do something special to mark this historic occasion and I felt that a luxury timepiece was the best way to do this… I wanted to create a timepiece that could be passed down from generation to generation, A legacy timepiece."
An interesting concept for those who want to invest in an item that commemorates Nigeria's golden jubilee.With only 50 being produced, we reckon that most of the buyers will be Rolex collectors and patriotic moguls.