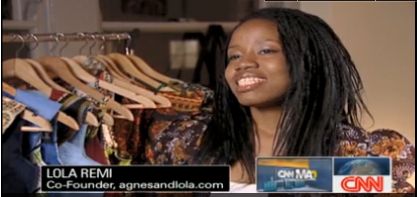 CNN International recently did a feature titled "London Fashion helping Africa". For the feature, they focused on four designers – Nkwo Onwuka of Nkwo, Hazel Aggrey-Orleans of Eki Orleans, Xaverie Bakemhe of Bot-i-Lam and Christine Mhando of Chichia London.
Though they are based in Europe, these designers are all inspired by  Africa; some also use fabrics sourced from the African continent while some produce their pieces on the continent. They also retail their clothing internationally via various stockists and websites including the recently launched website, Agnes & Lola. CNN spoke to Agnes & Lola co-founder, Lola Remi. The website launched in August 2010 and currently stocks pieces from 6 designers. According to Lola, she was inspired to start the website when she was based in Paris. She noted that young women of African origin would wear pieces made using African fabric in modern ways.
Lola also emphasized the ethical and charitable part of her business, this includes selection of labels which are ethical in their practices and the donation of a portion of Agnes & Lola's profits to non-profit organizations including Médecins Sans Frontières (Doctors Without Borders).
Interesting feature. African fashion continues to garner more international press and attention. We do hope that this translates into more local jobs in the fashion industry and increased commercial interest that will propel the fashion sector into a real 'fashion industry'.