Thanks for all your comments and analysis on the previous BN Pick Your Fave features! With the heated debates, one would think we were trying to decide on our preferred presidential candidate.
Side note, the Nigerian elections are coming up next year, please VOTE with the same fervor!

Zebra Living is one of the most commercially successful fashion labels in Nigeria. They consistently deliver pieces that you will "rock" till you drop!
"The Yinka" is one of those pieces, it is from the Lagos Dynamo collection and comes in a variety of colours and fabrics. This black and white animal print version of the dress is a perfect red carpet piece. It has this effortless yet glamorous feel. So far, we have spotted 3 beautiful ladies on the red carpet in this dress.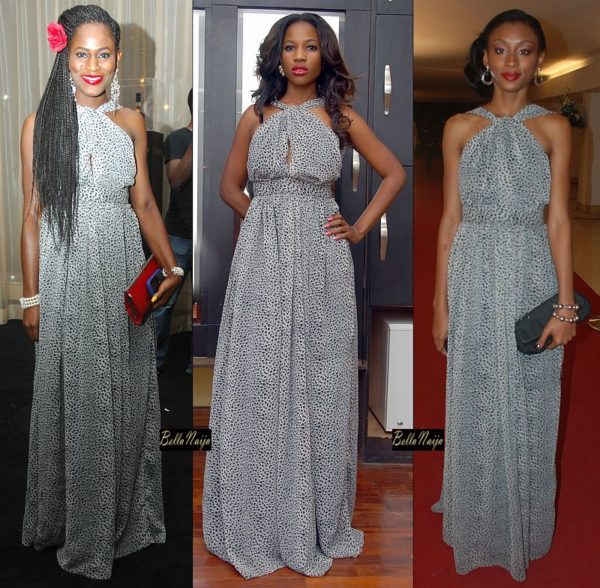 Yvonne Ekwere is one of our absolute favourite red carpet starlets because she always "brings" something new with her look. Yvonne's look at the Hennessy 50 event blends different influences but it all works! Her braided hair brings a contemporary ethnic touch, while her dress, red clutch and red lipstick brings a glam feel and finally the flower accessory adds a playful feminine element to this look.
Femi Ahmed is the 'face' of Zebra, as the brand's muse, she gets to rock pieces from the label and modelled for their last lookbook. At the 2010 SMVAs, Femi wore the "the Yinka" with pride! Totally love the waves of her hair and the red lipstick. Definitely gives the look a dollop of sexy glam!
Face of Sleek, Makida Moka rocked the dress at the Silverbird 30th anniversary event which took place in Lagos some weeks ago. Makida is another one of our fave red carpet stylistas. Her look at this event was definitely elegant. Makida closed the peek-a-boo front detail of the dress and styled her hair up in a side chignon. She accessorized with drop earrings, metallic bracelets and a black clutch to complete her look.
So…Pick Your Fave
Photo Credit: Hennessy – GDN | Bolaji Animashaun | BellaNaija.com