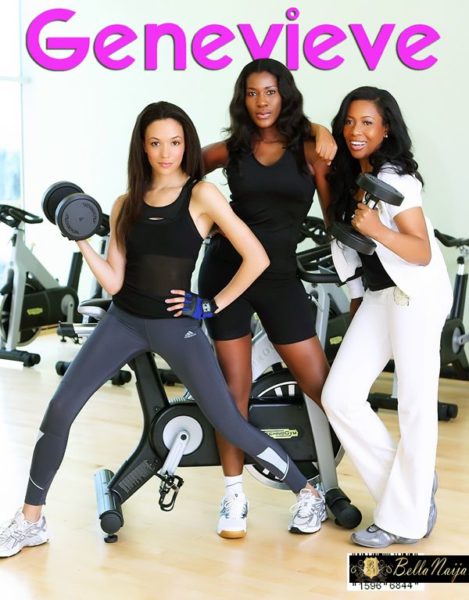 After the high note Genevieve Magazine hit with their October 2010 issue which featured designers Lanre DaSilva-Ajayi and Lisa Folawiyo in each other's designs, the magazine is back with another multi-celebrity cover.
The theme of this issue is fitness and they are presenting three generations of beautiful women who prioritize their health and fitness – Miss Nigeria 1979, entrepreneur Helen Prest-Ajayi; Actress/Producer/VVF Treatment and Prevention Advocate, Stephanie Okereke & Model/TV Presenter, Eku Edewor.
Here is a brief excerpt from the feature:
The trio of Eku, Stephanie and Helen offer an exciting blend of youth, beauty and elegance. As they engaged in some pleasant chit-chat, a light workout at the gym and posed for our cameras – all in the beautiful halls of the Four Points By Sheraton Hotel in Lagos, they painted a picture of bodylicious confidence across age differences. On our part we could not help but admire the sheer energy that trailed after each of these fit, fabulous and fun beauties like a fragrance…
**
HPA looks totally fabulous – not just for her age (51) – she looks fab full stop,  Eku looks great and Steph has really come a long way since her ghastly accident some years ago and it is admirable that she worked so hard through physical therapy and is now fitter than ever.
Photography: Oladipo Oladapo