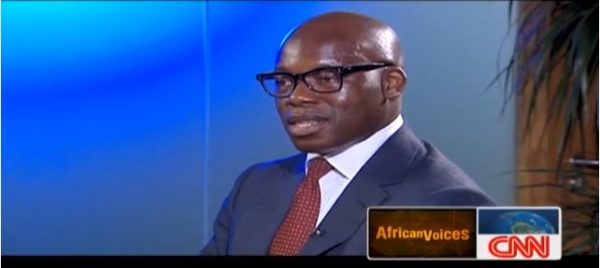 Wale Tinubu, CEO of Oando Plc, was recently featured on CNN International's African Voices by CNN's Zain Verjee. Every week, CNN International's African Voices highlights Africa's most engaging personalities, exploring the lives and passions of people who rarely open themselves up to the camera. Undoubtedly one of Nigeria's most powerful business leaders, Wale Tinubu, CEO of the oil and gas giant, Oando, has overseen the growth of his company from operating one second-hand tanker to developing a billion-dollar business. On a trip over the Niger Delta for a first-hand look at his operations, Tinubu, an inspirational character, freely shares his opinion on the African continent today. He goes on to tell of the humble beginnings of the company, doing business in Africa, restoring business in the Niger Delta and balancing the demands of family and work, also revealing the soft side of the astute businessman that he is.
A Brief Bio
Adewale Jubril Tinubu was born on 26 June 1967 in Lagos, Nigeria. A native of Eti-Osa local government on Lagos Island, he attended Corona Primary School, Victoria Island, Lagos from 1973 to 1978, Federal Government College, Odogbolu, from 1978 to 1983, Framingham College, Suffolk, United Kingdom from 1983 to 1985, University of Liverpool from 1985 to 1988, where he obtained an LLB degree with a second class upper. He later obtained an LLM from London School of Economics from 1988 to 1989, specializing in International Finance and Shipping and Nigerian Law School from 1989 to 1990. Prior to becoming the Group Managing Director of Oando Group, he served as the Executive Director, Ocean and Oil Services, 1995, Executive Director, Finance and Administration in Unipetrol, 2000 and Managing Director, Unipetrol 2001.
Career Highlights
He started his career with the family law firm, K. O. Tinubu and Co, where he was responsible for corporate and petroleum law. In 1994, Wale Tinubu, Jite Okoloko and Mofe Boyo came together to found Ocean and Oil Limited, an indigenous oil company, to supply and trade petroleum products worldwide. They started with very little capital, mostly from personal savings. In December 2001, Tinubu and his team made a shock purchase of Italian Agip Petrol's 60 percent stake in Agip Nigeria Plc, for $74 million. Again, shareholders kicked against the purchase. After an Appeal Court nullified an interim stay of execution won by shareholders at the Federal High Court, Unipetrol and Agip formally fused into one. They proceeded to brand the company Oando Plc after acquiring controlling stake in Gaslink, a gas company that is into industrial gas supply.
Expanding Frontiers and Taking Bigger Risks
Tinubu led Oando to be the first African company to get listed on the Johannesburg Stock Exchange with a market capitalization of more than three billion South African Rand. This was considered to be the biggest single listing since telecoms giant Telkom entered into the South African market a few years ago. The company also became the first Nigerian company to set up a secondary listing elsewhere. According to Tinubu at the epoch making event in Johannesburg, "A foreign listing is the logical step for Oando to achieve its Pan-African objectives." Under Tinubu's leadership, Oando has over 500 fuel stations with operations in Nigeria, Ghana, Sierra Leone, Republic of Benin and Togo. On his reasons for migrating from core legal practice into business and subsequent business breakthroughs especially in the early years, he says "I looked around and I asked myself, what area would get me in more contact with the rest of the world because I thought it was important to travel and have commercial interaction with the rest of the world. I picked the oil industry. It was a question of looking for an opportunity… I think I was 25 or 26 when we got our first big loan which was $100,000. We had to pay 10% a month in interest. I was so proud that I actually had a loan and was credit worthy. If they had asked me for 20% a month, I was quite willing to go out there and find the 20% interest… When we said we would deliver at 3pm, our ships would be there at rigs to deliver. And every time we did that they said, well I never knew it was possible to receive your fuel at the time it was requested in Africa."
Reaping the Gains of Risk Taking
Reminiscing on the significance of delving fully into business he adds, "Let me say I was lucky enough to have started the business with my colleagues at the point in time when the tide was changing because what happened was that in the year 2000, the Government decided to privatize. Privatization in certain countries like England is about raising money for the Government. In Nigeria, it's entirely about efficiency; well, more than efficiency, it was about survival… We had a nation state that was growing by 5% every year, we had a population of 140million people, we had power requirement of 15,000 mega watts, yet we produced 5,000. We had petrol queues, huge shortages, housing shortages. And the only way the Government realized we could do it was to sell the companies… The company which we acquired was SO's former downstream assets; we paid 16 million dollars for a 30% stake. The company's market value was about 30 million dollars, and we've been able to grow that business. The group has a market capital next to a billion dollars today and we've been able to achieve this literally from about 15 years of operation from start."
Doing Business in Africa
He gives a short expose on the African continent: "There is really no other frontier that compares to Africa, 'A' from the perspective of the population, the resources that are available and the demand for them and the fact that over 60% or 70% of that population is under the age of 20 which shows growth opportunities… Africa is evolving, democracy is spreading amongst the continent, good governance is increasing, corruption is certainly on a major downturn – it's just not fashionable any longer. The days when you could have all these resources and not be able to explain how you got them are gone and I think investors should realize that there is something new, which I think is special which indigenous companies are… I think fundamentally believe – you can do it. Second thing is: build very strong partnerships, and I think more than anything else, persistence; never give up. There are going to be a lot of obstacles you will face, just treat any obstacle you might face as a learning opportunity and just never give up. I think those things in a nutshell will be my own advice."
Tackling the Challenges of Doing Business
Nevertheless, it has not all been a smooth journey too. Tinubu and his Oando team have battled serious challenges to get to this point in their business history. The challenges of project financing and corruption have stood out of the pack, and he goes on about the clogs: "I think the biggest challenge always clearly was finance; raising capital to do business. The demand for infrastructure and products are so high in the country. We flare enough gas in Nigeria to power the whole of Africa, yet we don't have enough gas pipelines feeding 140million people that exist in Nigeria. We've got massive LNG plants which export gas to the rest of the world on a daily basis and bridging that gap was probably the biggest challenge we faced." He takes an optimistic stand on corruption: "Corruption becomes less of a problem when you liberalize a nation. Petty corruption is totally different from fundamental corruption. The scope for corruption has been limited…" Explaining further, he says "My country is 140 million people. Very few people have a market that size to manage. So in the old days the Government provided all the resources and was the allocator of resources, and they asked for payment in exchange. When you revert to a system which liberalizes an economy and encourages people to come and trade and build and invest, the scope for corruption practically disappears. In fact, the Government announces a project, it takes them five years to deliver it; we announce a project, it takes us 18 months to deliver it, so there's not just much scope any longer and the Government is gradually receding to what it should really be doing, which is creating an enabling environment for the private sector to take over.
Solutions for the Niger Delta Crises
Addressing the Niger Delta crises and the search for a lasting solution, he offers: "I see the business solution as being the best solution in the Niger Delta. Over the years there has been substantial neglect from the Government. A lot of money that could have been pumped into the Niger Delta was used to develop the rest of Nigeria. It's a fact- we have a brand new capital-20 billion dollars plus in infrastructure, investment has gone in….the realization has come and our Government is doing something about this… First of all, the constitution requests that a minimum of 13% of the oil revenue be invested in the 5 or 6 oil producing states. So effectively those states are getting about 25 – 30% out of the national revenues. There's also a requirement for 1% of the capital expenditure of all the oil companies to be invested in the Nigerian Delta Development Commission who in turn invest in the Niger Delta so the funding is there. What is required really is a concerted effort to insure that the years of neglect get reversed by consistent investment in those areas. The most important thing is identifying that we have a problem and agreeing to a common solution. What is required is that concerted effort year in year out coupled with the indigenisation of the oil industry which is what the Government has realised."
So what has he done to take on the role of a problem solver, going beyond mere complaints and proffering solutions? "Our company is made up of people who come from the Niger Delta. They have lived in those villages. They speak those languages. We can make an immediate impact and that is what indigenous companies really are there for and can do and that's the difference we can make… I like challenges; I like to know that we can do anything we set out to do. I'm really also inspired by the power of people. And we've seen it happen. I've seen in my company when we build things for very basic structures, and we see it happen, things that people think can't be done and gradually we all feed off one another."
Sustainability and the Future of Oando Plc
On sustainability of the successful systems, particularly a big establishment such as Oando, he is not myopic. He is quick to emphasize the need for sustainability. He says, "Succession is important. I spend a lot of time trying to make our people understand that we are only as good as being able to create our capacity- the ladies and gentlemen behind us. Successful societies have taken the best and ensuring that they multiply that best and ensure that there are many more coming. The issue I have is that we are building this company, we are building it very fast and aggressively, but are we ensuring that we are leaving the people behind to keep it going, and keep the succession."
Balancing Family and Work
On a different note; despite the huge success accomplished by most business giants, family is usually a major institution that suffers from the tight schedules and very busy itinerary. But Tinubu dares to talk about that aspect of his life and how it has often brought his softer side to the surface: "I'm finding that if I could get on a plane and go to two or three countries in two days to achieve meetings, then surely I can make it back for that big family occasion so half the time, I find I'm living on planes. I never realized how emotional I was; I'm close to tears many times- tears of joy of course- when I have to deal with my children. I'm less emotive when it comes to business. I find that there's a much softer side of me that has been revealed in the process of having children."