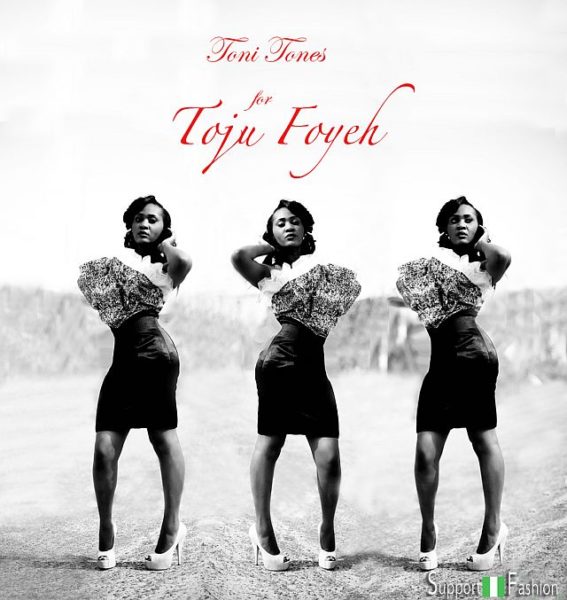 Inspired by the BuyNigerian campaign which was initiated by StyleHouseFiles; Nigerian fashion photographer, Toni Tones has made it her mission to encourage even more Nigerians to patronize Nigerian fashion brands.
According to Toni Tones, "We are introducing this campaign – Support Nigerian Fashion (SNF) with a brand new perspective. We  put a different spin on it – Yes, we all know models can look fabulous in anything, that's their job. For this 5 week campaign and will be using an everyday woman to display our Nigerian designers' lavish creations."
Over the next 5 weeks, we will be taking you through a photographic journey. Starting this week, we will publish images from each of the campaign shoots. Each shoot features pieces from a talented young Nigerian designer, modelled by the muse of the campaign, Toni Tones. Toni Tones Photography flipped the script on their creative director, putting her in front of the camera as the model/muse instead of her established position behind it.
The featured designer this week is Toju Foyeh, whose pieces having been making their rounds and catching everyone's attention. The designer was one of the BN's 11 Young, Fabulous & Talented Designers to Watch in 2011. The dramatic piece Toni is wearing is the "Dee Dress" Toju Foyeh's forthcoming "Rebirth Collection".
Here is the final word from the Toni Tones photography team, "Join us in conserving and promoting our cultural heritage, lets support Nigerian fashion product development, lets create awareness, lets show our patriotism and national pride, lets all be brand ambassadors for our great country Nigeria, lets boost our economy by giving back, support your own, Support Nigerian Fashion".
For more photos from the spread and additional details on the campaign – log on to www.tonitonesng.blogspot.com