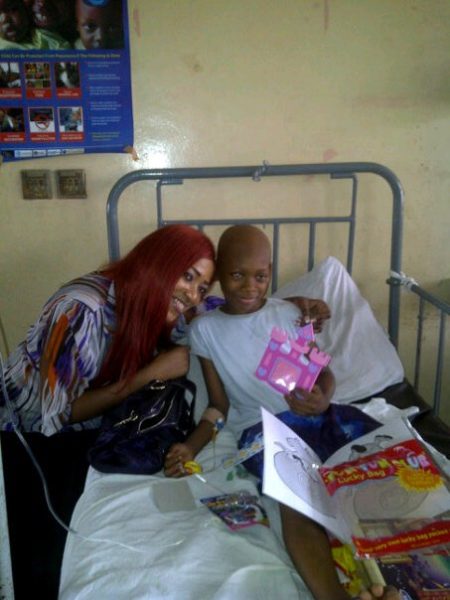 Sometimes in the midst of work and personal commitments, we forget that there are many people who do not enjoy the same luxuries that many of us have access to – Good health and a strong support system are definitely blessings that some of the most vulnerable members of our society crave for.
There are sick children in the cancer wards of our hospitals and thousands of abandoned or orphaned children in orphanages and motherless' babies homes.
We often question why celebrities publicize their charity initiatives, however we believe that it is a great way to raise awareness and funds especially in underserved areas.
This Valentine's season – on the 14th and 15th of February 2011, several celebrities decided to spread the love by visiting the children's cancer ward of Lagos University Teaching Hospital (LUTH) and then orphanages including the Little Saints Orphanage, the Red Cross Orphanage, the Heritage Homes Orphanage and several others.
Celebrities including Rukky Sanda, Denrele Edun, Gbenro Ajibade, Vivian Ejike and Kenneth Okolie visited the Red Cross Orphanage while Genevieve Nnaji visited the Heritage Homes Orphanage. They played with the children and brought them books, educational toys and other gifts. According to Rukky, she organized her aspect of the initiative to bring smiles to the faces of the children.
We pray that the children enjoyed their gifts and the presence of their guests. We sincerely hope and pray they are healed/get adopted into good homes soon. We also hope that you are inspired to do something for these children and those around you, we certainly are…
[nggallery id=268]
Photo Credit: Rukky Sanda