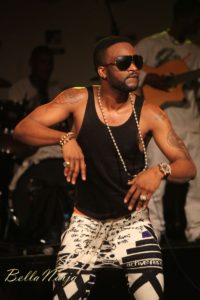 On Friday 1 April 2011 at Tribeca in Lagos, MTV Base Africa hosted "MTV Live", a live music showcase which will be making its way round Africa in 2011. Congolese superstar Fally Ipupa gave his first full live set performance in Nigeria, Fally performed a stunning live set with his full band and back-up dancers, including his signature, hip-shaking song "Sexy Dance".
2Face and J Martins and hit the stage. Both acts delivered stellar performances which got the crowd dancing and singing along. J Martins and Fally Ipupa got a chance to perform their 2010 single "Jupa (Remix)" for the MTV Live audience.
The first edition of MTV Live was themed around "Choose or Lose", MTV's voter mobilization campaign, which is designed to inspire and empower young Nigerians to exercise their right to vote ahead of the upcoming April elections. The event also included screening of "Rep 4 Naija", the music video collaboration between Nigerian musicians eLDee, Sound Sultan, Black Twang, Naeto C, D'banj and M.I.
Red Carpet
Photo Credit: Black House Media