A few hours before the inauguration ceremony which confirmed President Goodluck Ebele Jonathan as the democratically elected President of the Federal Republic of Nigeria; The First Family was the topic of discussion on Sunday morning as Nigerians browsed through their copies of the Sunday 29th May edition of ThisDay Style.
The First Lady along with the President and their two children appeared on the cover of the glossy insert of ThisDay on Sunday newspaper. However, the spotlight was on the First Lady of Nigeria, Dame Patience Jonathan.
Nigerians saw a different side of Dame Patience.
The in-depth interview by ThisDay Style editor, Ruth Osime covered all bases including;
How the couple met – "We first met at the Rivers State College of Education, Port-Harcourt where I was a student. He was my biology lecturer. Later he left for the University of Port Harcourt to pursue his PhD.
We met again at the University of Port Harcourt when I went for my undergraduate degree. That was where the relationship began. He took interest in me because I was a brilliant and smart student. It was love at first sight on his part. But it never crossed my mind that it would lead to a serious relationship. My first impression of him was – this tall, dark. handsome young man – Further interaction with him revealed that he came from a good Christian home, just like I did. His humble and gentle disposition caught my attention; and most importantly, his intelligence."
They also explored the dynamic of their relationship despite the political pinnacle which they have attained – "I still cook for my husband; you remember I went to the market the other day to buy things for myself. I was at the Utako Market to buy foodstuff and soup ingredients. This is one thing I enjoy doing. I will prefer to go to the market by myself if I have the opportunity. I cannot, because my primary role as a mother and as a wife. There are dishes that my husband prefers which only I can prepare for him."
Her children – "First and foremost, I must let you know how much I love children. I love my children. I am very close to them. I still prepare them for school and assist them in their assignments. Remember, I am not a political appointee, so I have ample time to take care of my children and attend to their needs"
Public Speaking – "Some people see public speaking as an act or a performance. In acting or performance(s), you act or mimic someone's style or manner of speaking. I speak naturally.
And because I speak straight from my heart, it comes naturally. While growing up, my parents encouraged sharing of views. They did not impose their views on us. They only gave us guidance. So, I found myself growing up as a free human being, free to express my views on anything at any time. And I don't hold back my opinion when I feel strongly about anything."
Her Non-Profit work – "I have two NGOs namely the A. Aruera Reachout Foundation and the Women for Change and Development Initiative"
The first lady also spoke about how both foundations are self sustained as illustrated by the A. Aruera Reachout Foundation which she founded while she was the First Lady of Bayelsa and it continues to operate independently today. Both foundations are audited quarterly and have a Board of Governors.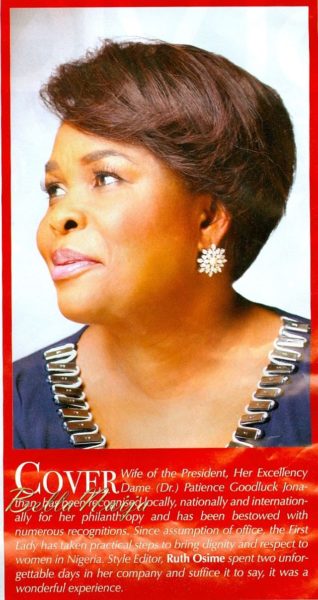 The accompanying photoshoot shot by Ty Bello was so stunning! Wearing pieces by designers including Nigeria's Tiffany Amber; Dame Patience Jonathan, Ruth Osime of ThisDay Style and Ty Bello definitely scored an A+ on this!
Photos & Interview Excepts: ThisDay Style