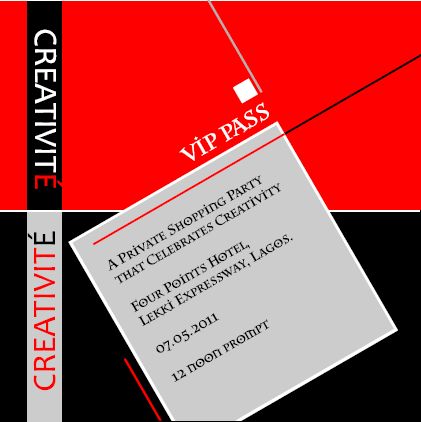 Creativite –'celebrating creative minds', is the first private shopping party of its kind, bringing together a dozen creative people, each distinct in their chosen field, in a subtle yet interactive environment.
The shopping party will give each participant the opportunity to exhibit and also sell their creativity in a different and stylish way.
The event which will take place at the Blue Bar, Four Points Hotel by Sheraton, Oniru, Victoria Island on Saturday May 7th 2011, starting from 12noon prompt, will feature the following creative minds:
9 YARDS – Cocktails & Smoothies
ADELA'S HAVEN – Décor & Accessories
BELLE D'JOUR – Couture
DAINTY AFFAIRS BEAUTY – Make up & Makeovers
EXOTIQUE CAKES – Cakes
I.O.N – Jewelry
NEO KREATIONZ – Art
O'ECLAT – Handbags & Purses
TARYOR GABRIELS CLOTHING – Bespoke Suits
THOTS ON TEES – Tee shirts
TM ILORI – Photography
YES!!!! FOR THE AWWWWW MOMENTS – Love/Lifestyle
Entry & VIP Passes
Entry to the event is free; complementary VIP Passes are however available, which entitles the first few guests to free champagne/wine, fruits, cheese and other munchies!
Makeover Corner
There will be a 'Makeover Corner' where the ladies can get a quick makeover by make-up studio, Dainty Affairs Beauty and thereafter take part in a quirky & fun photo shoot – photographed by professional photographer, TM Ilori!
Fashion Show
Fashionistas, Belle D'Jour (Couture) and Thots-on-Tees (Tee-shirts) will also 'have their stuff strutted on the runway' as they show off some of their creative designs!
Contact
For more information about the event, please send an email to [email protected] or call 08054734778. We hope to see you on Saturday!
Creativite – Private Shopping Party
Date: Saturday 7th May 2011
Venue: Blue Bar, Four Points Hotel by Sheraton, Oniru Estate, Victoria Island, Lagos
Time: 12Noon
___________________________________________________________________________________________
Sponsored Content