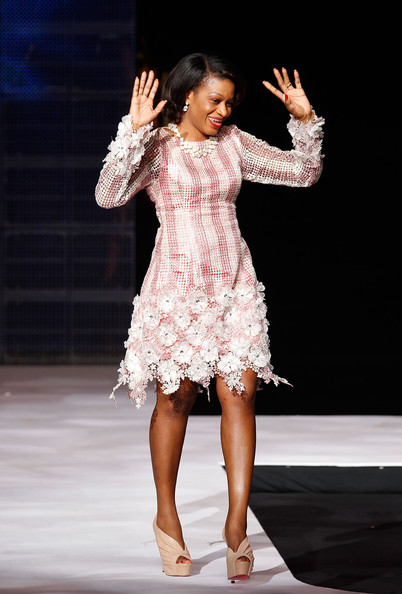 Blessings come in different forms!
The Spring 2012 Mercedes Benz Fashion Week wrapped up in New York a few days ago and many of the models, bloggers and fashion press have moved across the Atlantic for the London Fashion Week.
One African designer who showed at the New York Fashion Week is still garnering press inches across the world, it's Nigerian design star – Lanre DaSilva-Ajayi.
Lanre presented a stunning collection titled "Labour of Love" as part of the ARISE Made in Africa collective – Click HERE to view her collection. Her collection was well received and according to our NY fashion spy, there is significant interest from buyers and mainstream fashion press. After her runway presentation, Lanre strutted out to take a bow but unfortunately she fell off the stage. She was helped up by Lola Ogunnaike and Saran Kaba-Jones who were seated nearby.
This incident has been covered by various news outlets including the UK Daily Mail and ITN News.
We are glad Lanre was uninjured and bravely strutted onstage a few minutes after the incident. She then received a rousing standing ovation from the audience!
Great lesson from Lanre this morning – embrace missteps as opportunities to shine, dust yourself up and try again!