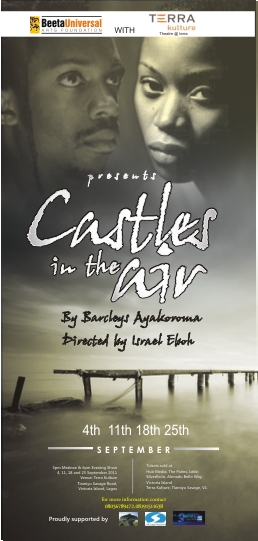 Beeta Universal Arts Foundation in conjunction with  Theatre at Terra Present a play titled Castles in the Air.
Beeta Universal Arts Foundation was set up in 2009 by Bikiya Graham-Douglas and the main objective of the foundation is to rejuvenate the culture of theatre by creating opportunities and platforms for performing artists to exhibit their talents and advance their skills.

Beeta Universal Arts Foundation is producing this play in continued effort to rejuvenate theatre in Nigeria. BUAF aim to bring contemporary dynamism to the Nigerian theatre with superb theatrical performances integrating popular culture in classic and modern dramas for audiences.
So many people might wonder what the play is all about, well BN is giving you exclusive details :
The Play Castles in the Air was written by Barclays Ayakoruma and it centres around a Muslim couple that desire their son Aminu to get married and become a more responsible adult. They fail to succeed with their bid until they receive a letter from a great uncle offering a huge amount of money to the family with conditions that Aminu must marry and father a child within a year. All seems well and preparations begin on how the money would be spent to upgrade the family lifestyle, until Aminu decides to marry the girl of his dreams who is from southern Nigeria and the conflicts begin. Caught up in the chaos they fail to realize that they are building Castles in the Air.
This very well written comedy has been produced in different parts of the country and went on tour to USA. It was received very well by audiences  and it has been used for educational purposes in Universities, this would be its debut to the Lagos theatre scene and BN is bringing it you live and direct.Do you want to find out what happens to Aminu, the love of his life, his parents and the uncle, then head down Terra Kulture & find out how it all ends.This play is a must watch for theatre lovers, corporate organizations and the general public.
Dates: Sunday 4th , 11th, 18th, 25th September 2011
Time:  Matinee at 3PM & Evening performance at 6PM
Venue: Terra Kulture, 1376 Tiamiyu Savage Victoria Island, Lagos
Ticket Prices: Regular N2500 | Corporate N 5000
Ticket Outlets: Hub media, The Palms, Lekki, Lagos | Silverbird Galleria, 133  Ahmadu Bello way, Victoria Island, Lagos | Terra Kulture, 1376 Tiamiyu Savage Victoria Island, Lagos
Contacts: Bikiya Graham Douglas 07082726363  [email protected] | Joshua Alli 08036789472  [email protected] | Anne Vincent  08052310518  [email protected] | Log on to Beeta website: www.beetauniversal.org | Visit Beeta Facebook page:     http://www.facebook.com/groups/beetauniversalartsfoundation
___________________________________________________________________________________________________________
Sponsored Content