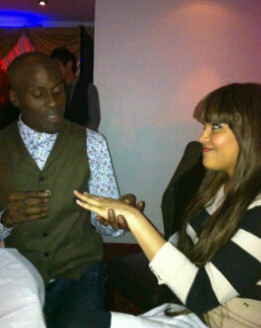 Congrats to Nigerian rapper Ikechukwu and his fiance Sarah Ofili.
Ikechukwu proposed to Sarah on her birthday, Saturday 22nd October 2011 while they were out for dinner at a restaurant in Regent's Park, London.
Ikechukwu and Sarah have been dating for a few years. While Ikechukwu is based in Nigeria, he is regularly spotted in London where his sweetheart, beauty entrepreneur/model Sarah is based.
We are so excited about the forthcoming wedding!