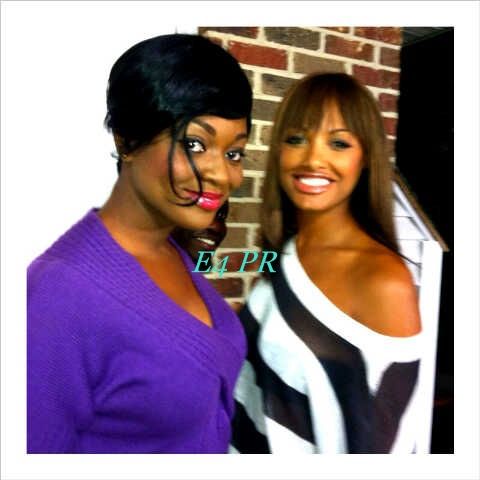 "Turning Point" is a new movie directed and produced by Niyi Towolawi and co-produced by Egor Efiok.
African-American actress Lauren London was originally cast in one of the lead roles but she was replaced by K.D Aubert. K.D joins the US/African cast including Jackie Appiah, Oge Okoye, Enyinna Nwigwe, Ebbe Bassey, Todd Bridges, Ernie Hudson, Joe Estevez and Cynda Williams.
BN caught up with the movie's producers and this is what they had to say.

The Movie Making Experience
Niyi: Shooting "Turning Point" was definitely a magical experience. Hollywood is a huge melting pot of creative talent from all over the world and people struggling to get jobs there would literally command industries elsewhere, so such is the competition and expertise in America. This was evident even at the casting call back when I sat in with the casting director to make a selection. The dedication people had put in to read for small roles was shocking. One of the cast, who was currently shooting with Robert De Niro, auditioned and requested that he had grown his hair for a year for that role and whether we could accommodate it.
The film is a registered SAG (Hollywood's Screen Actor's Guild) project with loads of rigid procedure so I wasn't sure what to expect but I knew I had a film to make so that was my focus. I did expect an element of divaness from the Hollywood stars but no such thing. Everyone was courteous and professional and one would be unable to tell that we weren't making a $100m picture. I quickly concluded that the "diva" is probably someone that's recently "arrived" but still unsure of their status so acts in that manner to test limits.
The crew were great; a hand picked dream team of a "Mission Impossible" style bunch of Hollywood veterans that had worked on huge blockbusters yet took on my humble film with equal gusto.
Working with Nollywood Stars
Niyi: It was an absolute blast working with almost all the actors. There is a visible style difference in how the Hollywood and Nollywood actors approach a character but the end result is the same, bullseye delivery on every take. While the Hollywood actor had perhaps been formally trained, nurtured and grown with carefully managed guidance, the Nollywood talent is pure, explosive energy.
Jackie Appiah is simply phenomenon. I have never seen a case where a subdued, professional crew would break into applaud take after take as Jackie was able to conjure up. There was a highly charged scene that I knew that regardless of how much rehearsal or blocking would have to be largely improvised, and that's where the Nollywood actor owns the stage. Jackie would repeatedly hit marks, while stumbling backwards and in a headlock, all the while making goading noises to be beaten further.
Oge Okoye's character, "Ebony" is very trashy yet complex, and she absolutely owned the character. I had done extensive research of the type of persona but Oge's manifestations were things I had passively observed but could never articulate. She was initially uncomfortable with the character but took it on and it became confusing if she was an African-American ghetto woman pretending to be Nigerian or vice versa.
Ebbe Bassey (though of Nigerian parentage is not a Nollywood star as she) lives in the US and came in from out of state. She arrived on location already in character, with two suitcases full of her own wardrobe. She's been in "Law and Order" and clearly used to working at that level.
Enyinna Nwigwe, asked some deep questions about his character so that he could establish a proper back story of "Steve". He had been living/working in LA for a while so again was well accustomed to the environment.
The experience regardless isn't the sort of expectations you'd have of Nollywood actors who perhaps aren't typically given the opportunity to explore their characters in such depths.
The cast couldn't be better.
Co-Producing as a Rookie
Egor: Niyi has said it all. For me as a first time producer, it was a learning curve and I must admit, not without its difficulties; so I am thankful to have had Niyi (my very own Nerd) to guide me where needed. With this project, we both bring something different and unique to the table to complement each other. The hard work left me lethargic most times but hey, you have to sow to reap.
The best experiences are the ones you learn the most from, so all in all, I am grateful for the knowledge I have gained through this experience and I thank God for the professionalism exuded by all to make this movie a success.
Special kudos as well to Oge Okoye, who despite having had just two days to read the script and study her character, and then being ushered straight on set and into make-up as she arrived tired and flustered from the airport, proved that she was a professional actress by delivering big time.
Nollywood vs. Hollywood
Niyi: It's not exactly a fair comparison as the industries are apples and oranges. Hollywood is a trillion dollar industry with a century's experience in film production and Nollywood is still a growing industry with limited structure and framework.
I think though that Nollywood would be taken more seriously if the quest became one of quality over quantity. If $10m pictures become the norm, all the criticisms and challenges would suddenly disappear. Nigeria has amazing, internationally recognised fictional writers but none of them work in Nollywood. Stephen King, John Grisham, etc, have had all their published novels turned into films. If directors were paid $1m a picture, better films would be made. I would love to offer Jackie Appiah $2m for a role that takes a year to prepare for; that's how Oscars are won. The major film equipment manufacturers, Arri, Panavision, Sony, Canon, Red et al, will set up shop in Nigeria and offer free training to ensure their products get a sizable market share. The industry is big enough and the fan base is even bigger.
Bollywood was in a similar position situation not too long ago but realised the potential and now make $50 million plus films on a regular basis. If every Nigeria marketer, filmmaker and actor commits to just one picture a year, then it'll be a new age already. The cinema sector is thriving and the audience has an insatiable demand that can't met even if the industry was 10 times bigger. I often joke that I'm a Nollywood filmmaker but in my case, the "N" is silent.
Jackie Appiah "banged up and bruised" by Lola Maja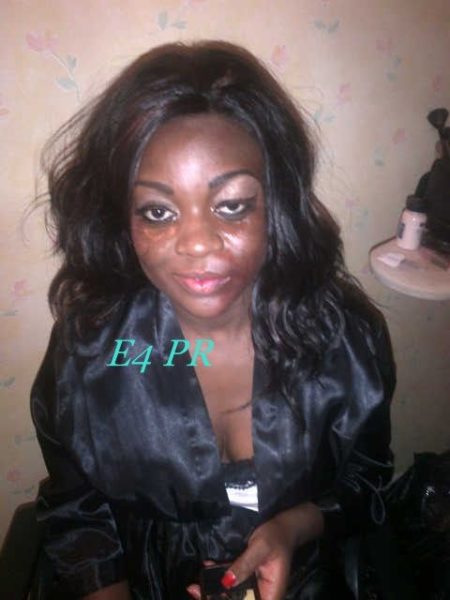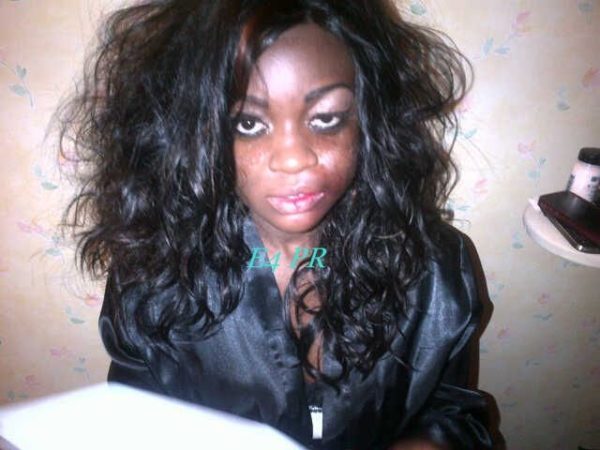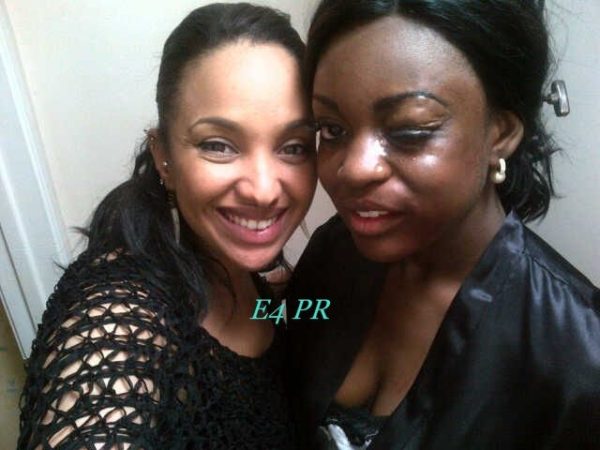 More Photos from the set of "Turning Point"