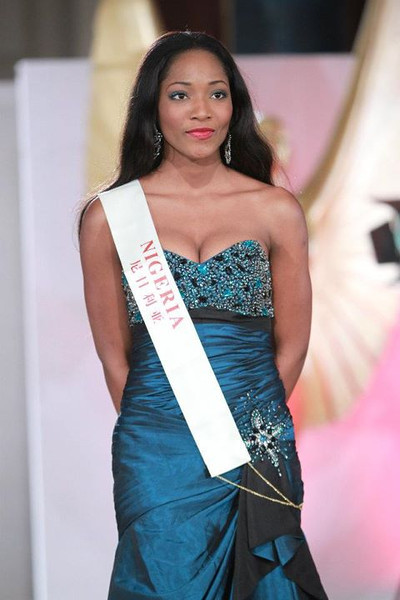 On Sunday 6th November 2011, a beautiful young woman will be crowned as Miss World 2011.
Africa is well represented at this year's pageant with beauty queens from all around the continent participating in the pageant which is being hosted in London this year.
Some of our pre-pegeant favourites such as Miss World Ethiopia 2011 Melkam Michael Endale were unable to participate in the pageant due to visa issues. On the other hand, we are happy that the rest of the beauty queens including MBGN World 2011 Sylvia Nduka made it to London.
So far, the ladies are enjoying the Miss World experience with trips to Cambridge University, a grand charity gala and various pre-finale competitions on their agenda.
So far, Miss Zimbabwe seems to be the leading African contestant as they have been shortlisted for multiple awards including the Beauty with a Purpose award, the Beach Beauty award and the Top Model award. Miss Ghana, Miss Botswana, Miss Uganda and Miss South Africa who also represented her country at the 2011 Miss Universe pageant have also done well so far as they have also been shortlisted for awards during the pre-finale activities.
We'll find out the winner on Sunday!
Check out photos and videos of all our queens below.
More Photos of MBGN World 2011 Sylvia Nduka representing Nigeria at the 2011 Miss World Pageant
___________________________________________________________________________________________________________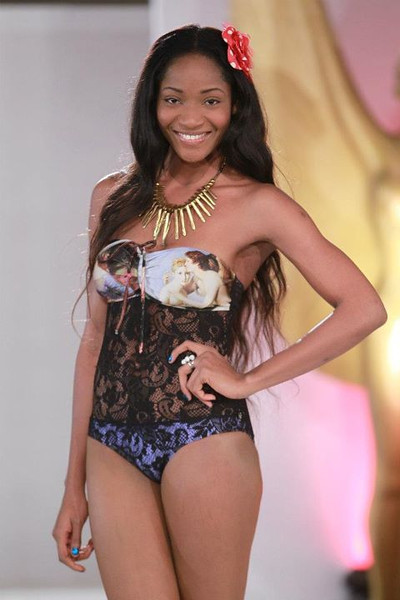 NIGERIA
Name: Sylvia NDUKA
Age: 20
Height: 180
Languages: English & Igbo
Sylvia is the youngest of 5. She is currently a student and enjoys dancing, football and spending time with friends. Her main future ambition is to establish an NGO that will cater for less privileged children.

___________________________________________________________________________________________________________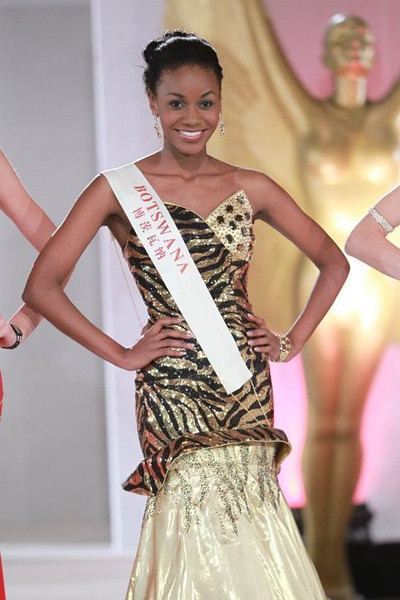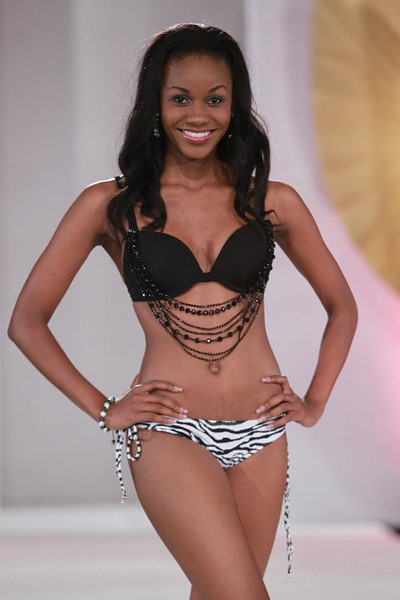 BOTSWANA
Name: Karabo SAMPSON
Age: 20
Height: 171
Languages: Setswana & English
Karabo is currently studying at the University of Botswana. She hopes to have her own television show one day so that she can help and connect with other parts of the world. Karabo's sporting interests are: basketball, tennis, volleyball and swimming.

___________________________________________________________________________________________________________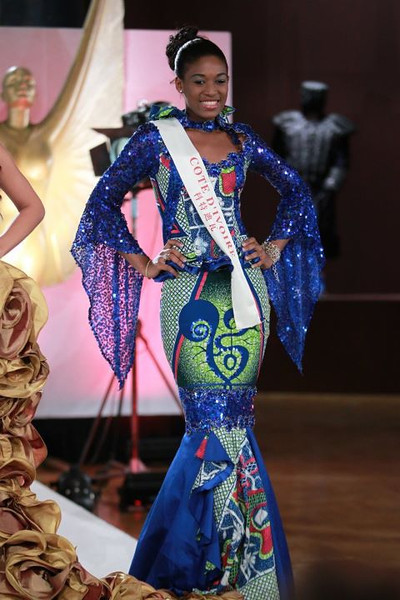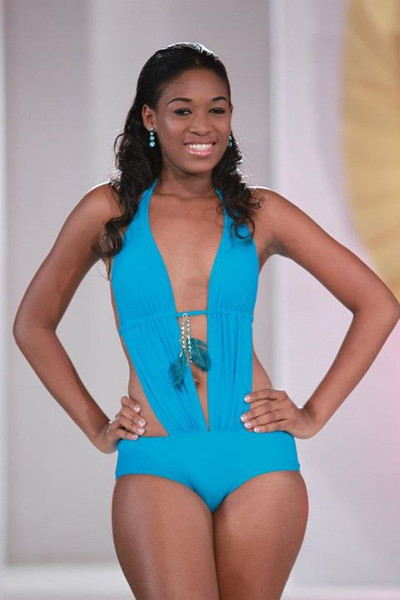 COTE D'IVOIRE
Name: Kohiman Betty Jeanine KOUADIO
Age: 18
Height: 180
Languages: French & English
Kohiman, a current student, hopes to pursue a career in the civil service. Hobbies include: swimming, cooking and socialising with friends and family. Kohiman has four brothers, one sister and a rabbit. She describes herself as a very open and easy going person.

___________________________________________________________________________________________________________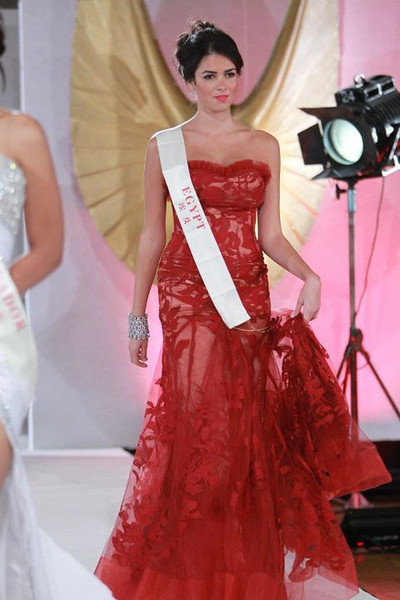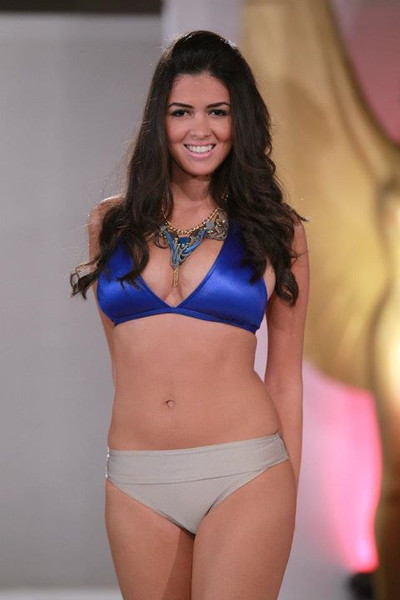 EGYPT
Name: Donia SOLIMAN
Age: 23
Height: 179
Languages: Arabic & English
Donia has an undergraduate degree in Business Administration and her graduation ceremony was one of the proudest days of her life. Donia enjoys dancing, horse riding, listening to music and Egyptian folkloric Dancing. She describes herself as down to earth and laid back.

___________________________________________________________________________________________________________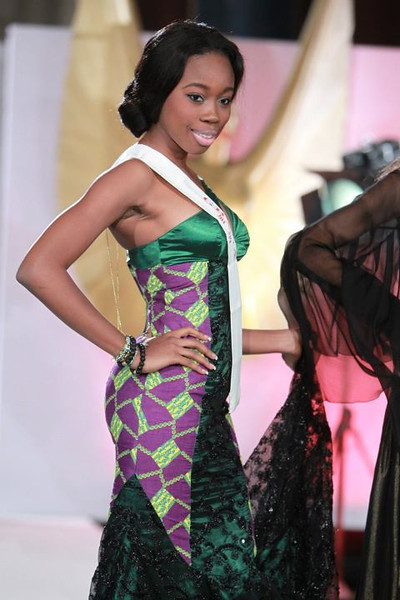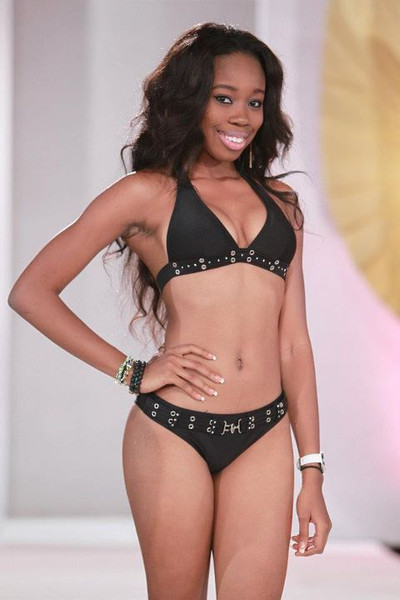 GHANA
Name: Stephanie Adwoa Adjeiwaa KARIKARI
Age: 19
Height: 175
Languages: Twi, Setswana & English
Stephanie is currently a student with an ambition to become a political lawyer and economist. Her hobbies include: swimming, basketball, dancing and interacting with people. Stephanie loves animals and has a pet dog called Mars. She describes herself as generous and fun to be around.

___________________________________________________________________________________________________________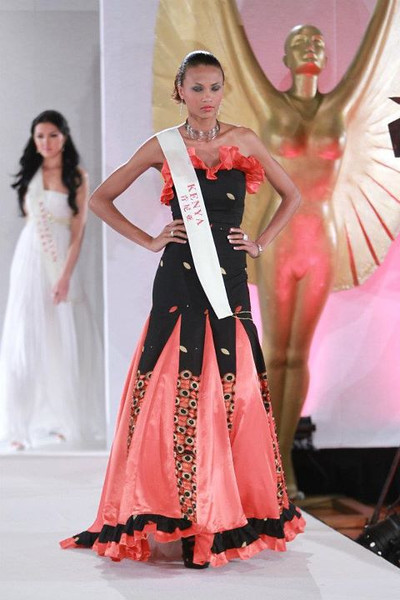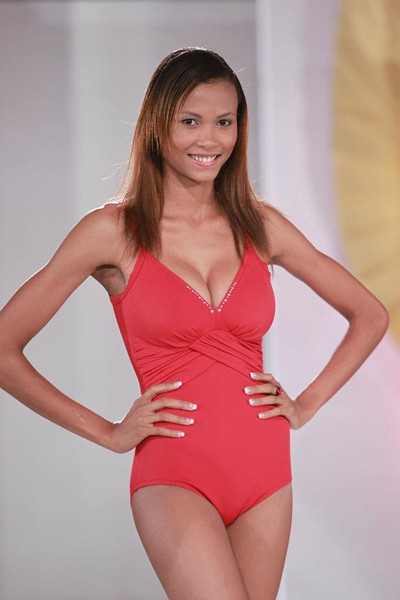 KENYA
Name: Catherine Susan ANYANGO
Age: 19
Height: 182
Languages: Kiswahili, English & Russian
Catherine is currently studying communication and journalism at University. Her future ambitions include starting up a cancer foundation in Kenya and continuing to support the Anti Jigger Campaign. Hobbies: basketball, swimming and reading inspirational books.

___________________________________________________________________________________________________________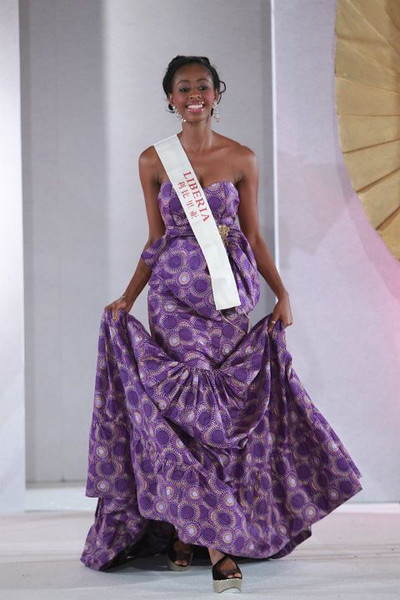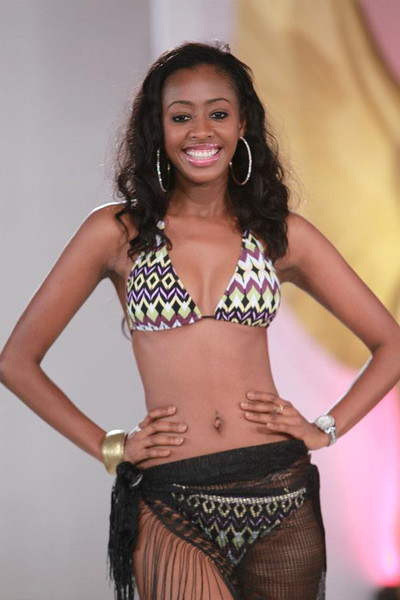 LIBERIA
Name: Meenakshi Monica SUBRAMANI
Age: 23
Height: 172
Languages: English
Meenakshi has a degree in political science and hopes to establish a career in International Relations. Hobbies include: writing, reading, dance and cooking. Meenakshi describes herself as a very good listener and her proudest moment to date is graduating from University.

___________________________________________________________________________________________________________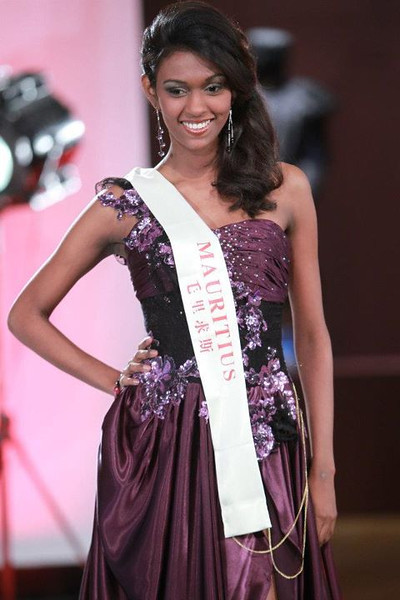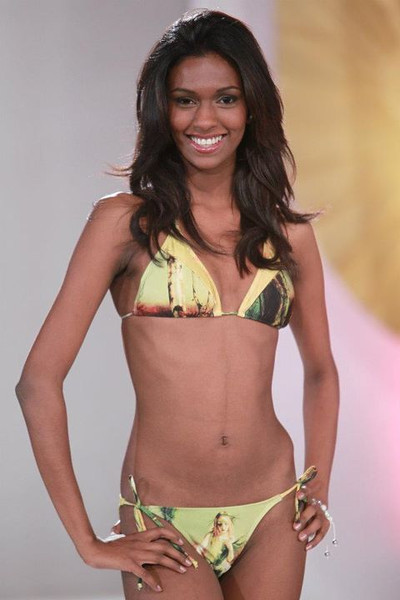 MAURITIUS
Name: Joelle Marie Justine NAGAPEN
Age: 22
Height: 190
Languages: English, French & Mauritian Creole
Joelle has a higher National Diploma in Hospitality Management and currently works as a commercial and marketing assistant. Her future ambition is to become a commercial director of a well known hotel chain. Hobbies include: painting, volleyball, tennis, cycling and watching Disney movies. Joelle's personal motto is: 'Always believe in yourself and never consider failure as an option.'

___________________________________________________________________________________________________________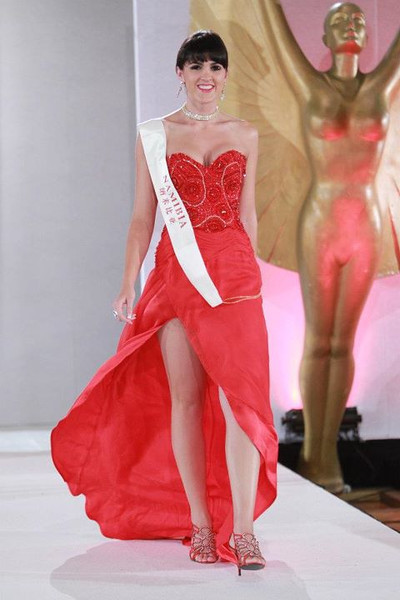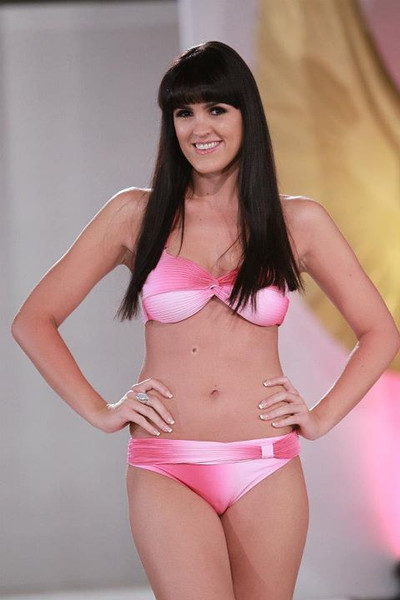 NAMIBIA
Name: Luzaan VAN WYK
Age: 24
Height: 179
Languages: English, Afrikaans & German
BIOGRAPHY
Luzaan has a degree in law and hopes to establish her own legal practice in the future. Hobbies include: netball, squash, dancing, reading and camping. Luzaan's personal motto is 'failure to plan is planning for failure'.

___________________________________________________________________________________________________________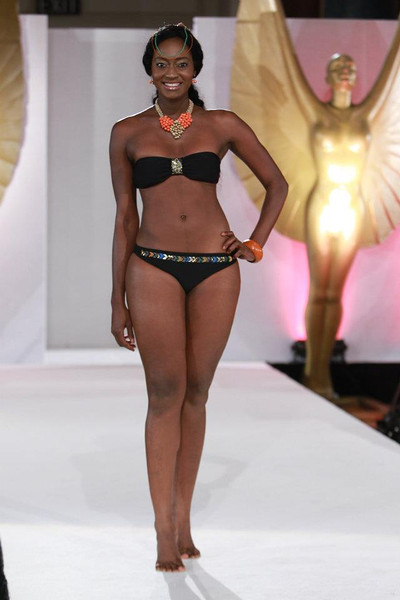 SIERRA LEONE
Name: Swadu Natasha BECKLEY
Age: 24
Height: 182
Languages: English, Krio, Temne, French & Kiswahili
Swadu is currently studying History at University and aspires to work with a Non-Governmental Organisation in the public health sector. To achieve this, Swadu intends on completing a master's degree. Swadu is the proud CEO of her organisation 'sisters supporting sisters'. The company awards scholarships to girls in desperate need of help.

___________________________________________________________________________________________________________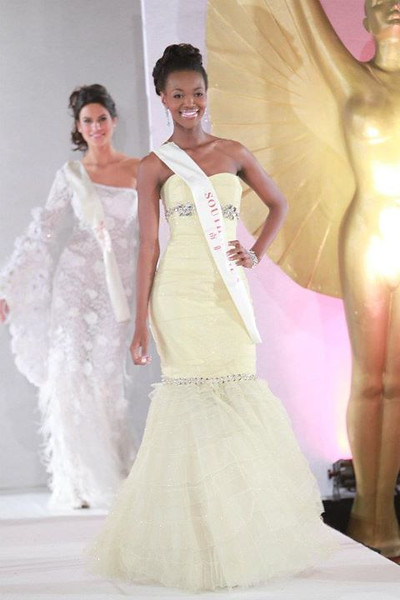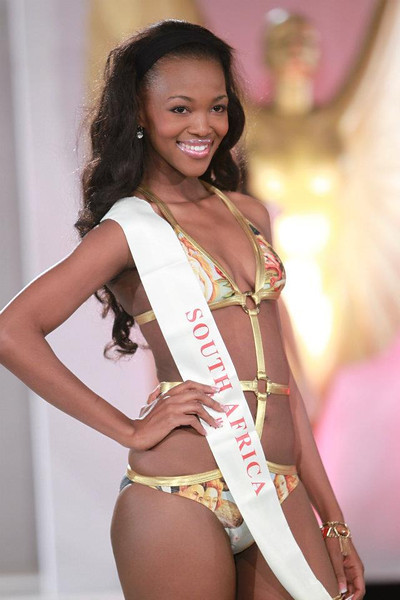 SOUTH AFRICA
Name: Bokang Ramaredi MONTJANE
Age: 25
Height: 174
Languages: English, Sepedi, South Sotha, Tswana, Isizulu & Af
Bokang has a degree in public relations. She intends on using this to run her own talk show tackling social issues. Hobbies include: singing, dancing and giving motivated talks to disadvantaged youth.

___________________________________________________________________________________________________________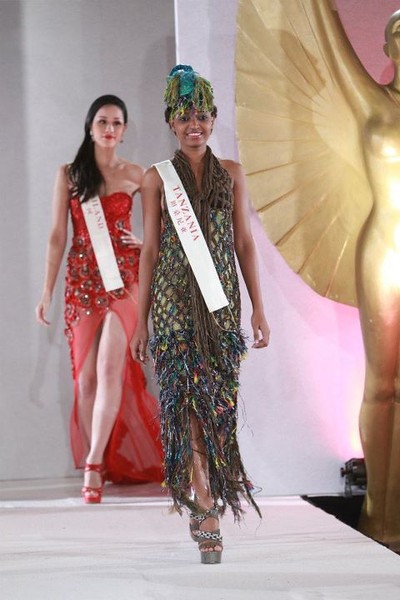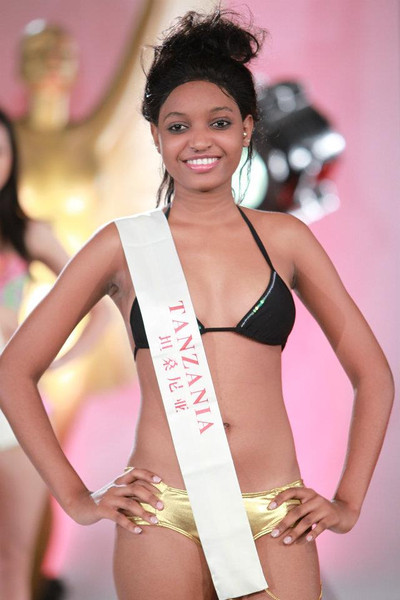 TANZANIA
Name: Salha Israel KIFAI
Age: 18
Height: 180
Languages: Swahili & English
Salha is currently a student hoping to become a lawyer. Hobbies include: swimming, watching movies, dancing and visiting national animal parks. Salha describes herself as courageous and confident and her personal motto is 'Think Big, Dream Big, Achieve Big.'

___________________________________________________________________________________________________________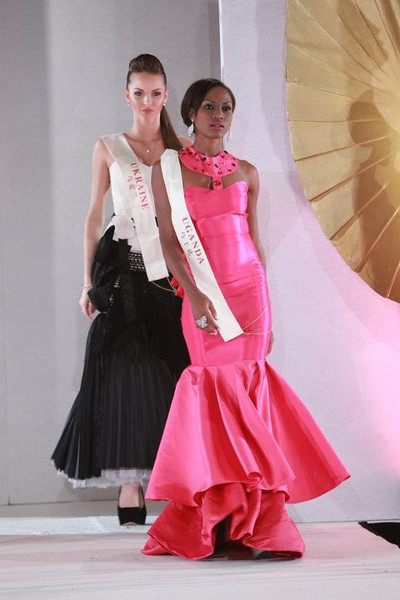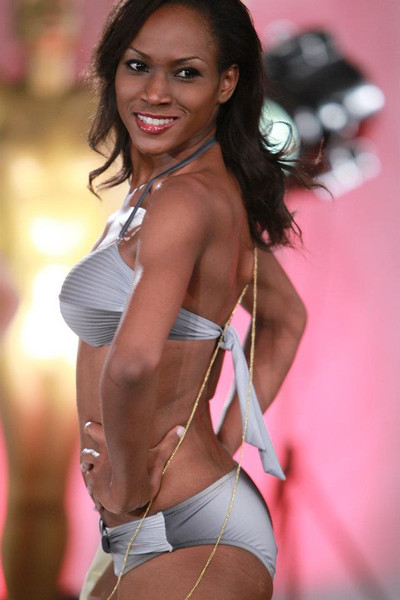 UGANDA
Name: Sylvia NAMUTEBI
Age: 23
Height: 172
Languages: English & Luganda
Sylvia has a bachelor degree in human resource management and currently works as a public relations manager. Hobbies include: watching documentaries, reading, volleyball, nature walks and listening to music. Sylvia's personal motto is 'your dreams and visions are made to be achieved.'

___________________________________________________________________________________________________________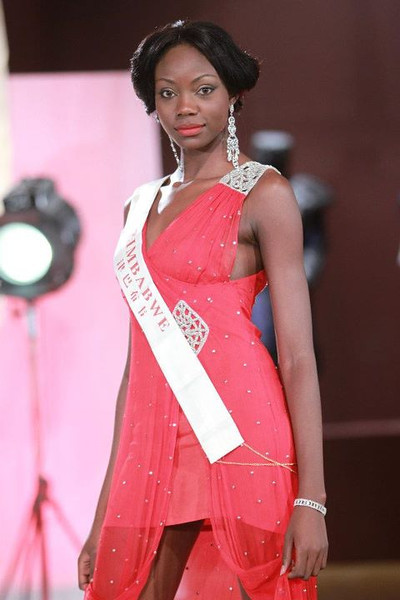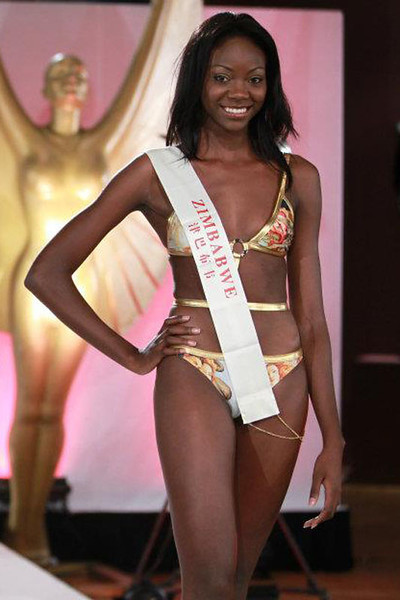 ZIMBABWE
Name: Malaika Maidei MUSHANDU
Age: 19
Height: 182
Languages: Shona & English
Malaika is currently studying motion picture medium and live performance at University. Hobbies include: studying the lives of powerful women, basketball, volleyball and dancing. Malaika describes herself as a fun loving and warm person.

___________________________________________________________________________________________________________
Photo Credit: Miss World via Global Beauties