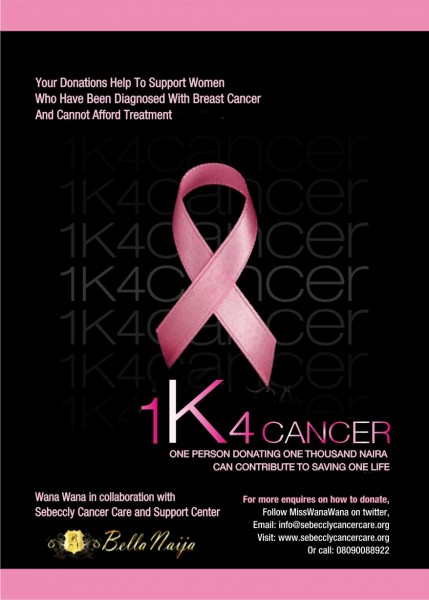 Last month, Wana Udobang, On Air Personality on 92.3 Inspiration FM & BellaNaija contributor, collaborated with Sebeccly Cancer Care and Support Center (SCC), an organization dedicated to ending breast cancer through the power of grassroots action and advocacy by providing information, support, and campaigning for improved standards of care for patients in the 1K4Cancer Campaign.
The 1K4Cancer initiative arises from the dire need to assist breast cancer patients who cannot afford treatment. The idea is that if one thousand people donate one thousand naira each, 1K4Cancer will successfully raise one million naira for breast cancer patients. The funds will go towards chemotherapy and radiotherapy treatment for a few women who are currently under the care of SCC.
Throughout October, Wana spent most of her time canvassing offices, churches and popular hangouts like Silverbird Galleria canvassing for funds towards this worthy initiative. We are happy to report that so far the campaign has raised, One Million, One Hundred and Sixty Thousand Naira (=N=1,160,000.00) and counting! This victory goes to show just how much of a difference we can make if we all come together.
But the fight against cancer does not stop in October. The 1k4Cancer Campaign is gaining momentum, so please help out in any way you can using the details below.
Wana, Sebeccly Cancer Care and Support Center (SCC), we at Bellanaija.com and everyone involved would like to say a HUGE THANK YOU to all who have supported this campaign so far! THANK YOU!
_________________________________________________________________
For more enquires on the Campaign and on how to donate Call 08090088922 | Follow MissWanaWana on Twitter | E-mail – [email protected] | Log on to www.sebecclycancercare.org
To you can also donate into the SCC account Guaranty Trust Bank Account, Account Name: Sebeccly Cancer Care And Support Centre | Account Number 0010849209.