TW Magazine presents its end-of-the-year edition and it's positively bursting with colour!
The cover is the most vibrant one yet, featuring the all-star cast of the Nigerian adaptation of the American stage play, "For Colored Girls Who Have Considered Suicide When The Rainbow Is Enuf".
The cast includes power-houses like Joke Silva, Ireti Doyle, Tiwa Savage and Dolapo Marcy Oni and introduces startlets like Olajumoke Bello, Reanne Opia and Matilda Obaseki. The stars are all wearing colour-popping creations by renowned designer, Ituen Basi and the result is a cover photograph that is so visually arresting, you literally can't tear your eyes away.
Check out some more photographs from the inside spread and while you're at it, don't miss the fashion pages which features another ode to the apparent theme of the edition: "colour me beautiful!"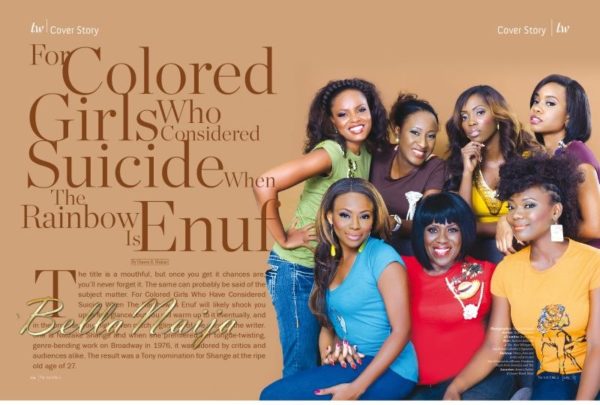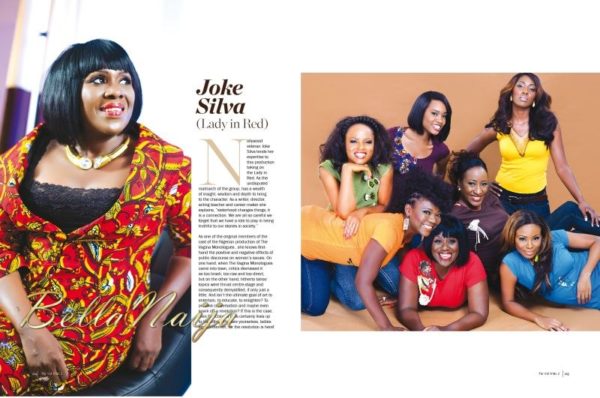 Cover Credits
Photography: Moussa Moussa
Stylist: Tayo Shonekan
Make-up: Zaron
Hair: Aislynn Adewale @ The Hair Whisperer | Roland @ Bobby's Signature
Lace outfits & ankara outfits: Ituen Basi
Embellished t-shirts: Aimas
Fashion Spread
Photography: Moussa Moussa
Stylist: Tayo Shonekan
Hair & Make-up: Zaron
Purple hooded dress: iamISIGO
Green dress: iamISIGO
Peach blouse & cream skirt ensemble: Mi-le