BN Making It! is a BN feature focused on young entrepreneurs.
BellaNaija.com launched BN Making It! in 2009 and we are hoping to spotlight more upcoming entrepreneurs in 2012 and beyond. We will feature young African entrepreneurs both at home and in diaspora who are making an impact in their chosen fields. Technology, Non-Profit, Fashion, Media, PR, Music and everything else. From those who are just starting their first company to young Africans who have their companies listed on the stock market. The purpose of this feature is to promote and encourage entrepreneurship among young Africans. We aim to inspire the next generation to be enterprise builders.
For this edition of BN Making It!,two friends, Busola Akomolede and Bola Anibaba in this in-depth interview with Adeola Adeyemo speak about how they turned their passion into a successful business, Dat-AC, which is making great strides in delivering top quality and beautifully designed wrist watches.
Starting Off
Nine years ago, a friendship between two young ladies – Busola Akomolede and Bola Anibaba was sparked up by a mutual love for wristwatches. As undergraduate students of Babcock University in Ogun state studying Computer Information Systems, they were introduced by another mutual friend and spent the first few weeks of their relationship talking and arguing about wristwatches.
"We've been obsessed with wristwatches for years," Busola said. "There's one thing that we used to do when we were in Babcock. We'd see people with their wrist watches and if it catches our eye we'd say that is fine. If the person is nearby, we would most likely take the person's hand and have a closer look."
Today, what started as a simple, but deep interest in watches by the two friends has grown into a business.
Dat-AC, is a collaborative effort – Busola and Bola design the watches and they are produced by world class watch makers in Switzerland. The male and female watches are made to suit different personalities with a wide range of colours and designs.
Turning the Passion into a Business
Bola, 25, has a Masters degree in Business Administration from Lagos Business School, Lagos, while Busola, 26, has a Masters degree in Corporate Brand Management from Brunel University, United Kingdom. They are both working full-time jobs in Lagos. While Bola works as an Assistant Brand Manager at Procter and Gamble, Busola is a Brand Manager at Vitafoam Nigeria PLC. However, they both feel strongly about their passion which they have turned into a business.
"It's something I like," Bola said. "If I'm going to do a business, I have to be interested in it, if I'm not, then there is no point. I already have a job, I want a hobby that will bring money."
For Busola, she had always wanted to start a business and when she finally made the decision, approached her friend who suggested a partnership. "I said to myself that I actually wanted to be big and not always say 'Yes Sir' to someone so I needed to start something. I've always been obsessed with wristwatches, it's something I wanted to start ages ago but there wasn't that push and drive to start. So in October, I said that no time is the best time, I'm just going to start. And I spoke with Bola, that Bola I need a loan and she was like how much, what do I want to use it for and I told her and she said why don't we go into business together and I was like you know what sharing the burden with someone is always better than you sharing the burden alone and I was like sure, and we started."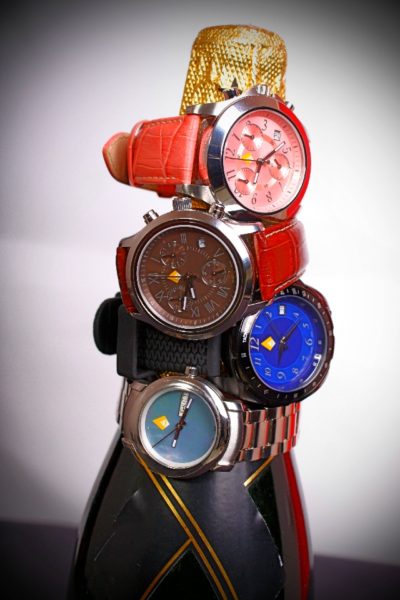 Combining Work and Business
They both agree that their job takes most of their time but use their spare time, nights and weekends to push their business forward.
"My day job takes the most of my time," Bola said. "They are paying me to do something, I have to do it and do it as best I can. It might mean I won't sleep by 10 o'clock but at 12 o'clock, so I can use the remaining two hours to do my own thing. My employment is like a contract and I keep my own side of it and in my free time, I make do with what I can."
"It's difficult because you'd want to give your own personal business a hundred percent, but thank God we are very ethical beings so we know that we have to do our job. So we do our day job and our business at night or at weekends," said Busola.
Roles and Finances
Busola is the CEO and designer, while Bola handles Marketing and Finance. "She is very strict with money so when it comes to money issues like giving discount to someone, buying things, she handles that," said Busola about Bola. "She is more sociable. She comes up with a lot of great ideas and runs them through me," said Bola about Busola.
To start off their business, they pulled funds from their savings. "I'm very frugal. I save half of the money I earn and I've been doing that for a while, and I had shares so all I had to do was pull them up together," Busola said.
The Journey So Far
The decision to import the watches from Switzerland, they say, was borne from their knowledge that Swiss watches are the best in the world. As Busola puts it, "they are the kings and queens of watches, so why not go for the best?" Through emails and phone calls, they built a relationship with the Federal Horology of Switzerland who recommended manufacturers to them and already have an impressive collection despite having never met their business partners. "People keep saying who trusted Nigerians like that? And I am like, how do we trust our money with somebody we've never met before? We just took the leap," Busola said.
They were impressed with the quality of watches that was sent to them and say it was very instrumental in making good sales. "The day before, she called me and told me it has arrived and I told about three people in my office that I have watches, my brand, and I'm bringing it to the office tomorrow. And that morning, within 15minutes I had sold 3 watches. I was a bit shocked and it kinda built a confidence because people liked it and were interested in it," Bola recalled.
They don't have any retail outlet yet but plan to partner with some stores soon where people can purchase the watches from. Currently, they use their website, social media and word of mouth to market their watches. "What we did was that we put it up on our Blackberry and we just started getting requests upon requests," Busola said. "In the first week we sold about ten and we were like wow! It was exhilarating. It was nice, it was good. But I will still not sink into the joy until I've sold like 1000 pieces."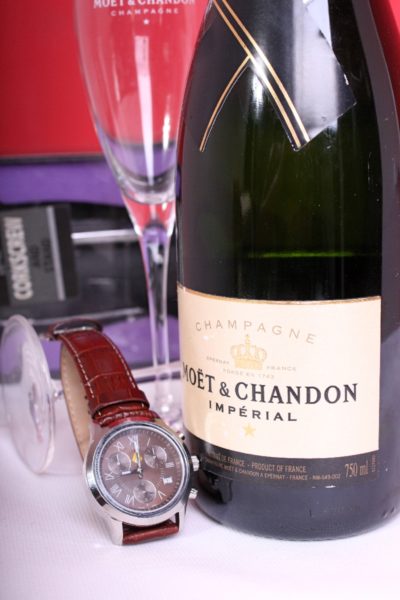 Aspirations
But their dreams are much bigger than partnering with retail stores. Ten years from now, Busola (imagining conditions are much better by then with constant electric supply) wants to have her own factory in Nigeria because "it's actually very expensive to import so not everybody can afford it." But sooner than that, she wants to have quit paid employment in five years hoping the business would be lucrative enough to stand on its own. For Bola, she wants Dat-AC to have their own retail shop in the next few years. "I want someone to be able to enter a Dat-AC shop and get a Dat-AC watch that would express you. Just enter there and feel like you are in a watch heaven. In West Africa, I want us to get to that point when you think of local content, awesome quality, you think of Dat-AC wrist watches. Chris Aire started from US and came down to Nigeria, we are starting from Nigeria and working our way out internationally."
They also offer customized engravings on the watches. For instance with an additional charge of N2,500, the words 'I Love You Forever', 'Forever Yours', 'Number One Boo' or any phrase of your choice can be engraved on the side of the watch. Watches with special stones, crystals, diamonds can also be ordered.
Getting Support and Overcoming Challenges
The young ladies say they have gotten immense support from their parents and family, and are inspired by the success stories of other entrepreneurs and professionals. For Busola, she admires Donald Trump for his daring attitude. "I like Donald Trump, mostly because he says I can do this, I will do this and I don't care what anybody else says. Not many people like him because he is very obnoxiuous and full of himself but all I see is just the confidence to say I know what I can do, I know my limitations and I can work around it. I really see him as a model from afar, someone I could watch."
Apart from funding, which they say has been one major challenge in their business, the acceptability of the brand has provided a bit of a hitch because it is new. "There is this mentality that if you are not a popular brand, then your wristwatch should be cheap," Bola said. "On the other hand, we are trying to get quality materials. We looked round and saw that there were no quality wristwatches being sold at that kind of price. We found out that we were actually kicking ourselves in the arse because we wanted to bring in quality goods at a good price, but people are more concerned about the name. That is the biggest challenge."
While they agree that doing business in Nigeria can be quite tasking due to several factors, Nigerians' love for fashion and style provides them a big opportunity to sell their watches.  "We offer quality stylish and functional goods so that is a good thing for us. The truth is that in every condition, there are always opportunities. Yes, life is hard in Nigeria, but from the hardship, you always find something good. It might be hard, but there are always opportunities," Bola said.
Advice
For them, their age has never been an issue in relating with their customers and they are not deterred being young. They rather seek to improve their knowledge of wrist watches as Busola mentioned plans of going for training in Switzerland later this year. Her advice to anyone hesitant about starting a business is "just do it." "Don't think about it too long if not you keep second guessing yourself and panicking. The fact is that there is never a right time, you'd always find an excuse to push it."
Bola says she is happy when she sees a colleague wearing one of her watches. "I forget whatever might have happened at the office and I smile, because I'm seeing it on somebody's hand, just the fact that I've done something, and it makes me want to continue." However, she adds that quality should never be compromised and people's opinion should be respected. "Be open to feedback, take it and run with it, use it for yourself. Be ethical, give the best of yourself."
Contact: To get in touch with Dat-AC
Call 08033460018 | 08135209298
BB Pin 22EE5DB2 | 26B2619B
Log on to their Website