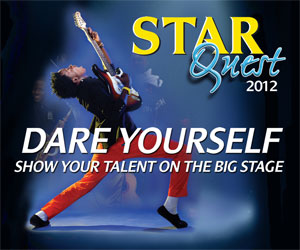 After eight exciting days touring various cities in the country, the 2012 edition of Star Quest – Nigeria's first and only band based music talent hunt /reality TV Show Lagos audition will take place from Sunday 4th March 2012 to Thursday 9th March 2012 by 2 PM at National Theatre Iganmu, Lagos.
Auditions were held in Makurdi, Enugu and Benin from February 21 to Thursday 1st 2012 and the city that never sleeps – Lagos will be last stop for the Star Quest Train and the event promises to be more competitive and intense as the commercial nerve centre prepares to host the auditions.
Speaking on the forthcoming audition, Obabiyi Fagade (Star Brand Manager) expressed optimism that the Lagos auditions will be more successful than other regions saying "The auditions have really been exciting from Makurdi, Enugu and then Benin. We have had so many talents discovered as we moved through the cities. But we believe that Lagos is going to surpass the other cities. If you follow the trend, you will see that Star Quest Lagos Auditions have always been explosive. We hope that tradition will continue in this year's edition".
Judging contestants at the Lagos audition are the delectable songstress – Waje, Paul 'Play' Dairo and KC of the KC Presh Fame. This trio also judged contestants in Makurdi, Enugu, Benin.
Contestants who qualify from the four audition venues, will go head to head in a grand audition for the 36 tickets into the Star Fameland.
Inside the Fameland, the 36 contestants will be split into 6 bands comprising of six members. Each band will be groomed by top music professionals to enhance their performance.
The six bands will battle it out for the coveted title as they perform various genres of music in the Star Fameland to determine who goes all the way. The winning band will emerge via audience SMS votes and will win a recording contract worth N7.5 Million, a cash prize of N3.6 Million (That is N 600,000 for each member of the band) and a year accommodation in a choice location in Lagos which will also come with a studio stocked with the latest musical instrument.
The 2012 winning band will also perform in two of Nigeria's biggest musical concerts – Star Trek and Star Mega Jam. For more info on registration the Lagos audition and general enquiries, Log on to their Website – www.Star-Nigeria.com/Quest/HomePage.php
_____________________________________________________________________________________________
Sponsored Content