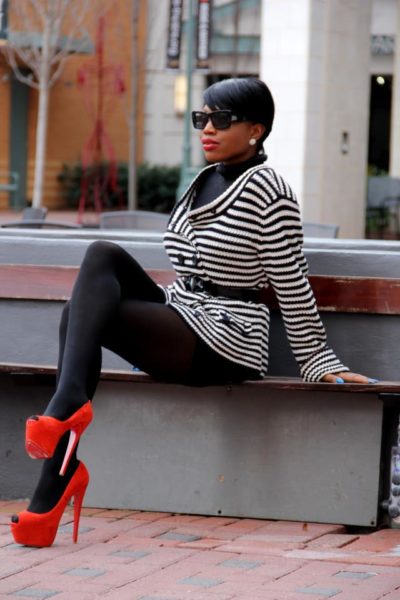 It has been a long while since our last My Style feaure and I am certain I am not the only one who has missed it!  My Style is one of our favorite features on the BN Style page, and judging from the responses it gathers, I can safely say, it has our readers interested. This year, we would like to have our fashionable BN readers featured regularly, so I encourage you all to please send in your entries.
If you are interested in appearing on My Style, simply send two pictures of yourself or that of a friend depicting a typical Day and Night Look with a short summary of your style to my email box: [email protected]
When your entry is approved, you will be required to send in more pictures and personal commentaries on your style or that of your friend as the case may be! Thanks to everyone who has participated so far, keep the emails coming.
Let's remember that this feature is about appreciating an individual's expression through clothing!
Sierra Leonean BellaNaija reader, Fashion Blogger and Editor of  www.becauseiamfabulous.com, Sai Sankoh has a closet that is "to-die-for" and a style that is far from safe!
Sai Sankoh's Style:
My style is definitely confident, fun and sexy. I'm not curvy, but I certainly love to accentuate my feminine attributes. My signature look consists of sunglasses and my "rich chic" pout. Fashion is supposed to be fun, and enjoyable. I love collecting great pieces. I love vintage pieces, but it is the details that attracts me to them. I love sequins, and anything beaded and glittery.
Why I Love My Style:
Because it is ME! I own my style.
Style Philosophy:
Being fabulous is simply owning your own style. From rocking a thirsted displaced Africana to an Oscar de la Renta piece, its all about how you wear it. NOT the price tag.
How it Expresses Sai's Personality:
I can express myself, my mood, my feelings in whatever I am wearing. I love incorporating colours especially on a dreary rainy day. It brightens my mood up!
Favorite Clothing Stores:
I love Net-a-Porter for shoes! I get most of my Louboutins from there. The usual Saks, Neimans, Bergdorf's. For Maxi dresses, there is nothing hotter than a flowy chiffon BCBG dress. You can't go wrong with it. For great bargains, I check out Outnet.com, Outlets, and consignment stores.
Hair:
I am so lazy when it comes to my hair. Normally, I have it in bangs for edgier looks. I enjoy really short low cuts as well, and when I travel, nothing is sexier than long layered big hair. No! You won't catch me in natural hair unfortunately 🙂
Make-Up:
Umm…I wish I knew how to do it but I am not great at it. I try to put on a bit of mascara once in a while, I love the Mac Mascara. I stick to foundation, for a clean, flawless look and red lips both day and night!
Sai's Closet:
Sai's Looks-Day & Night:
Fav Clothing Items:
"Maxi dresses are some of my favourite items, they are so easy to style  and accessorize"- Sai Sankoh
Yes! I repeat my favorite pieces and here are 3 ways I wore this maxi dress.
Visit Sai Sankoh's Fashion Blog-www.becauseiamfabulous.com