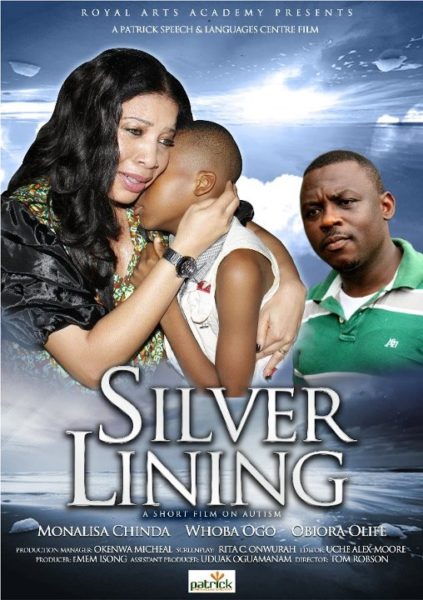 In September 2011, BN featured photos and details from Monalisa Chinda's birthday visit to the Patrick Speech & Languages School, an educational centre for children with Autism Spectrum Disorders, Asperger Syndrome and other related developmental disabilities.
Now, a short film titled "Silver Lining" presented by the Patrick Speech & Languages Centre & Royal Arts Academy is set to premiere on Sunday, 27th of May 2012.
According to a news report on NollywoodUncut.com;
'Silver Lining' is a short film about Ama, a doting mother of an only child, Junior who harbours a painful secret; Junior is severely autistic and displays classic signs, causing Ama and Femi her husband to run from pillar to post, taking him from school to school, seeking help in all sorts of places. Can there be any hope for the boy? Is there any solution to Ama's struggles? Find out in this touching and emotionally charged short film.

The film was produced by award-winning producer Emem Isong for Patrick Speech & Languages Centre. The film was assistant-produced by Uduak Oguamanam, directed by Tom Robson and screenplay was by Rita Conwurah.
According to Dotun Akande, proprietress of the centre; "We decided to put this message on film because film is a very powerful medium. This is a tool we intend to use to touch people and let them know that Autism is not a death sentence however early intervention is key."
"Silver Lining" also stars Whoba Ogo and child actor Obiora Olife.
Photo Credit: Facebook | Nollywood Uncut
_____________________________________________________________________________________________
For sponsorship, contributions and information contact: Patrick Speech & Languages Center, Ikeja, Lagos – http://www.pslcautism-ng.org/