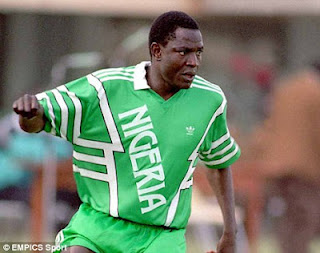 Sad news reaching us is that Nigeria's football legend Rashidi Yekini has died.
He was reportedly sick for a while before passing on this evening. One of Africa's greatest footballers, he was said to have suffered mental illness for the past two years. The two-time African footballer of the year was said to have been walking the streets of Ibadan barefooted, and suffered delusions.
As a footballer, he brought victory to Nigeria by scoring Nigeria's Ever FIFA World Cup goal, clutching the goal net thereafter behind the Bulgarian goalkeeper in a scream that reverberated around the world. He scored a total of 34 goals in 58 Appearances for the Super Eagles.
Additionally, Yekini also helped the Super Eagles win the 1994 Africa Cup of Nations, where he also topped the goal charts, and participated at Olympic level, in Seoul 1988. He was part of the team that participated in the 1994 FIFA World Cup and the 1998 World Cup.
Yekini was born in Kaduna. After starting his professional career in the Nigerian league, he moved to Cote d'Ivoire to play for Africa Sports National. From there he went to Portugal and Vitoria de Setubal, where he experienced his most memorable years, eventually becoming the Portuguese first division's top scorer, in 1993-1994, as his performances (32 matches, 34 goals) earned him the title of African Footballer of the Year in 1993, the first ever from the nation.
In the 1994 summer, Yekini was bought by Olympiacos FC, but did not get along with teammates and left. His career never really got back on track, not even upon a return to Setubal, which happened after another unassuming spell, in La Liga with Sporting de Gijon. He successively played with FC Zurich, Club Athletique Bizertin and Al-Shabab Riyadh, before rejoining Africa Sports. In 2003, at 39, he returned to the Nigerian championship with Julius Berger FC.
In 2005, 41-year old Yekini made a short comeback, moving alongside former national teammate Mobi Oparaku to Gateway FC.
Rashidi Yekini's name would forever be remembered in the history of Nigerian football for his great achievements. He was aged 49.
May his soul Rest In Peace.
Biography: Wikipedia