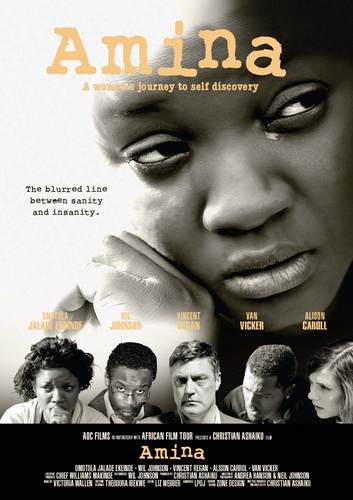 She has been known to push the envelope when it comes to acting and top Nollywood actress – Omotola Jalade Ekeinde is surely not disappointing in this soon to be released flick – Amina where she plays a woman with a mental disorder.
The movie which was shot in London, was written, directed and produced by Christian Ashaiku. Also rendering brilliant performances in this movie are Ghanaian actor Van Vicker, Wil Johnson (Adulthood, In A Better World, Pimp), Vincent Regan (Troy, 300, Clash of the Titans) and Alison Caroll (The Kids, Doghouse, Lara Croft Model)

Amina Story line
Amina is an emotional charged film about loss, love and redemption. It follows the tale of Amina , a British woman (played by Omotola Jalade Ekeinde), who after a series of emotional turbulences, suffers a breakdown and ends up in a mental institution.
It all started with an unplanned pregnancy at 16 which left Amina devastated, bewildered and in disarray. Amina stumbles, falls and rises as a single mother but as more and more tragic incidences become a daily occurrence, her state of mind becomes unstable.
However, with the careful guidance of brilliant psychiatrist (Played by Wil Johnson), Amina ultimately confronts her tormented past.
Watch the Trailer

Credits: AminaFilm.co.uk