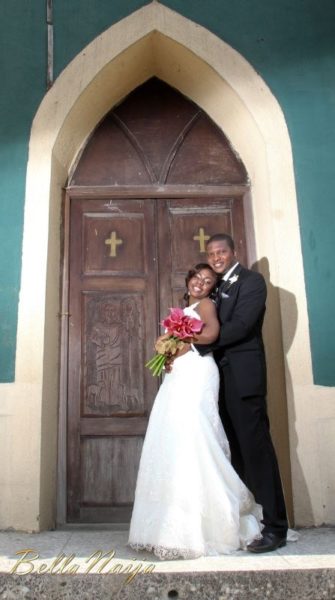 The BellaNaija Weddings team has something really special planned for you this week!
All through the week, we will be celebrating BN at 6 (It's our sixth anniversary this month, but you should know that!).
We have delved into our BN Weddings vault and scooped out 6 fabulous proposal stories. From simple romantic proposals to dramatic productions, you'll love it.
We kick things off with biotechnologist Uche and IT professional Pola. The couple tied the knot in December 2010. Uche tells us how Pola popped the question and of course, "She Said YES". Also view a selection of photos from their beautiful wedding in Calabar.
Enjoy.
Before She Said Yes…Uche & Pola's Love Story
We both went to college together but were just friends…
Like "Hi" "Hello" type of friends… I guess we can say "acquaintances" We had a few friends in common but that was about it!
After school we both travelled to different countries for graduate school, we never saw, met, asked after each other or kept in touch.
4 years Later…
A friend of mine/neighbor (a dude!) went to London for a summer vacation and somehow somewhere their paths crossed and they both ended up hanging out through out the vacation, somewhere in the middle of the hangout…my name came up!
He said, "I know her! We went to school together!"
Then other questions like, "Is she single?! Can I get her Number? How is she these days!? What is she up to?" went down (guy gossip!).
12 weeks later….
Life couldn't feel easier, less complicated, playful, genuine, funny and yet still filled with love.
I knew this was no ordinary love.
We caught up on old times, he was darn straightforward about his intentions and all I asked for was "baby steps". I wasn't about to give up a man that knew what he wanted and when he wanted it…I just wanted time to absorb it ALL.
Months Later….
I ended up on "Engagement Avenue" then a right turn on "Wedding Boulevard"
The Proposal
Okay, this is a little tricky!
Because I already knew this was coming :), so that takes away the "Surprise! Surprise" element!
He was pretty straightforward with his plans and accomplished projects as he set on; so I knew it was coming! I even knew which trip it was happening on…
The only thing up in the hay was which of the 5 days on our trip it would happen!
We travelled to Windsor Castle to celebrate Valentine's Day…Fun! Fun!! Fun!! The most fulfilled vacation I have had in my life! (That is until we went to the Maldives for our Honeymoon!)
Saturday came…. that day he had set up dinner reservations at an Italian restaurant in the city; we both got dressed and headed out. In my mind, I knew it was going down at the restaurant (assumption is the mother of all…)
We got to the spot; everyone from the doorman was extremely smiley! I thought to myself- ehen! We got to the reception we were ushered to our already prepared table…. I sat and crossed my legs waiting for the moment! (moment in time!)
Entrees…No show! Main Course…No show! Appetizer…No show! After-appetizer talk…No show! I thought to myself "Hmm….we are about to leave OKKAY!". I went to the bathroom and got back out…No show!
(it is important to say that we are very fond of trying to outsmart each other…and I thought to myself for the umpteenth time "What does dude have up his sleeves?")
We left the restaurant…No show!
We drove off…. (by this time, I had given up! I needed to brush up on my skills).
We got back to the hotel, relaxed, started playing and being silly as usual!
Next thing dude gets all serious on me.
In the middle of me being silly he starts to give me this really cute speech and then he got down with the ring.
I busted out laughing real hard and even harder (if you know me, my laughter is so infectious); dude didn't laugh back, he was dead-on serious and had this look that seemed to ask, "Is that a yes"??… I was still laughing and said "Yes! Boo Yes!" Then we both started laughing. (Then I shed a few happy tears.)
***
Awww so lovely! Now check out photos from Uche & Pola's wedding.
***
White Wedding – Holy Trinity Anglican Church, Calabar, Cross River State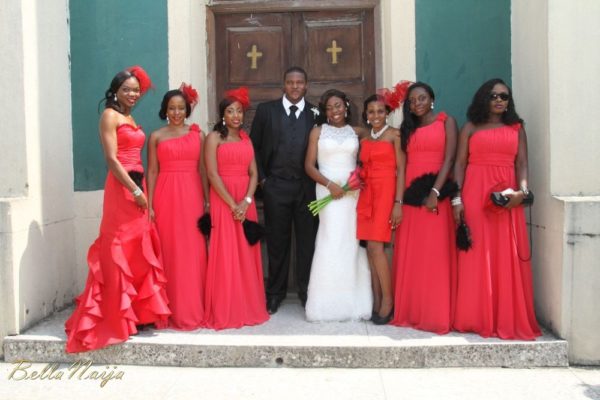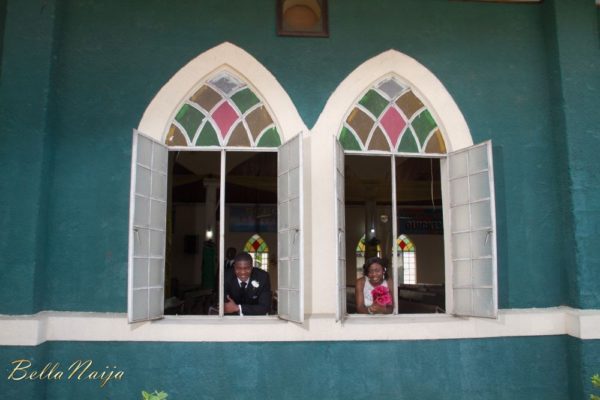 Traditional Wedding – Bride's Family Compound – Enugu State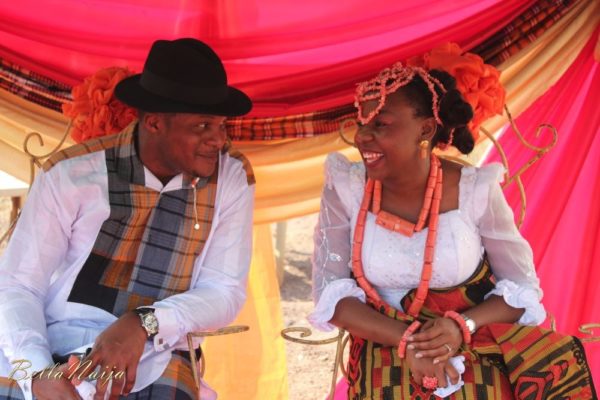 _______________________________________________________________________________________________
Want your wedding on BN? Email weddings (at) bellanaija.com