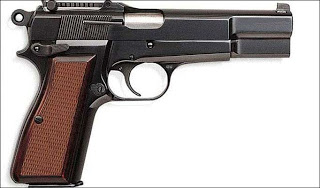 The shortcomings of the Nigerian police have been highlighted in a vivid way this past week, following the gruesome murder of four students of University of Port-Harcourt. Testimonies from the family members of the victims, including one who watched her brother lynched, have proven that police men were present at the scene of the murder and did nothing to stop their death.
While Nigerians are still recovering from the shock of that news, it has been reported that a 20 year-old sales girls simply identified as Lucy was shot dead by policemen in the Apo area of Abuja yesterday
.
Punch
reports that the girl was hit in the chest by bullets fired into a photography shop where she worked as a sales girl. This happened when policemen stormed the area yesterday morning with officials of Development Control Department, who had come to demolish illegal structures. However, some residents who felt that the government had no right to demolish their houses when they were yet to be resettled, resisted the operation.
As the policemen shot indiscriminately to control the residents, bullets penetrated into one of the shops and Lucy was hit in the chest. She was rushed to Garki Hospital, but she was confirmed dead on arrival. Her body has been deposited in the mortuary. The sales boy at the shop where she worked also sustained gunshot injuries during the incident.
Pictures of her lifeless body with a gunshot wound on her chest have circulated the internet, leaving us with heavy hearts.
This incidence reminds me of a similar demolition exercise which turned bloody in the Makoko area of Lagos few years ago. The police, while carrying out the demolition, shot dead a man whose wife was pregnant at the time and injured several others.
It is really sad that the people who are charged with the responsibility of protecting lives and property in the country are rather doing the opposite. While giving excuses for their inability to prevent the lynching of students of University of Port-Harcourt, they said that they didn't have enough bullets in their guns. Now with one bullet, they have snuffed out the life of a promising young lady.
May her gentle soul rest in peace.