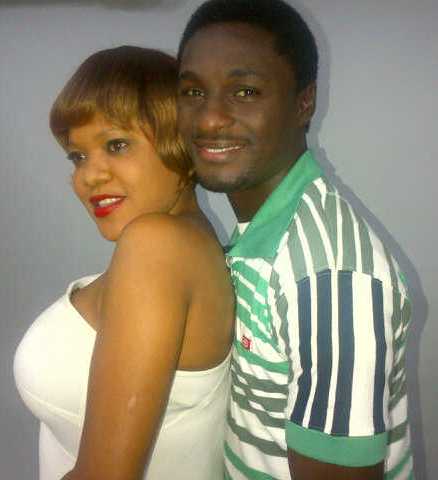 It's set to be another year of celebrity weddings! Nollywood actress Toyin Aimakhu is a leading star in the Yoruba movie sector of the Nigerian movie industry. On the 31st of December 2012, fellow actor Adeniyi Johnson proposed to Toyin.
The actress shared love story including details on how they met and how Niyi proposed in a recent interview with Ademola Olonilua of Punch Newspaper.
Click to read the extensive interview via Punch Newspaper online
On How Niyi Makes Her Feel
When you ask me about Niyi I feel like flying. I love him, he is my joy, and my friends make jest of me a lot with him. If I want to eat I call him; if he wants to do anything he calls me. We talk all the time.
How Toyin & Niyi Met
Niyi is my junior colleague but three years older than I am. I saw him in a movie and I was impressed by his acting. As seniors in the industry, when we see upcoming acts we make our observations. There is a tradition in the Yoruba movie industry, even if you are a 50-year-old person and I am 20-years-old but I got to the industry before you, you give me my respect. That is Yoruba culture. I am 29-years-old. By looking at him I knew he was older than me.
The "First Attraction"
He wanted to talk to me but I was not interested because he is my junior colleague. Fortunately, Funke Akindele called me for a job, "Oro Omo". On getting to the set, he played my boyfriend. I would not lie, I liked him. When I saw him on set he came to me and said he is playing my boyfriend, I did not sound excited about it. I kept my cool. I asked him to walk me to my car, he was talking to me and I know he liked me, he took pictures with me. On set we were supposed to kiss, he had opened his mouth but I did not indulge him.
The Next Level – How They Got Closer
When they stole my car, it gave everybody a reason to talk with me. He started talking to me and I was impressed by his intelligence. I told him I had seen him in Tinsel and he does a lot of soaps. His command of English is beautiful and that attracted me more to him. I saw a book with him and I loved it because I also love reading books. When he told me he likes me and wanted to date me I asked if he was on cheap drugs. He just sent me a text, 'I did my findings and I am three years older than you, I know you don't date for money and you don't do married men. I love you'. I was like who is this and I disregarded the text.
The First Kiss
We later became friends and on my birthday, we were the only ones in the sitting room, people were outside. He told me he wanted to use the toilet so I had to take him, as we were going; he just dragged me to himself and kissed me. I could not resist him. He confessed to me that he liked his movies.
The Proposal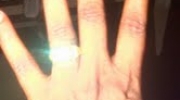 On December 31 2012, we were coming from Moji Olaiya's movie location. He told me to allow them take the car away, giving several excuses. He told us to take a ferry, and on the ferry he proposed.
That was the sweetest thing that could ever happen to a woman. He asked and I said YES. I told him that he should have told me so I would have hired people to shout "Yes" on my behalf. We came back and there was a cab waiting for us.
Very romantic! Looking forward to this and many more BN Celebrity Weddings in 2013.