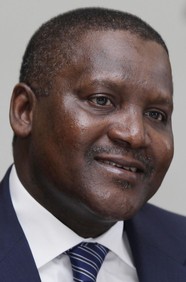 Nigerian billionaire business mogul, Aliko Dangote has moved up in the latest Forbes world's richest ranking from the 76th position which he maintained in 2012 to the 43rd position.
According to the list which was released on Monday by Forbes, Dangote – President of Dangote Group and Chairman of Globacom, Mike Adenuga were the only Nigerians on the list.
With a net worth of $16.1 Billion as of March 2013, Dangote retained his position as the richest man in Africa. Meanwhile, Adenuga ranked 269 on the list with a net worth of $4.7 Billion.
Here's what Forbes had to say about Dangote:
Nigerian Cement tycoon retains his position as Africa's richest man for the third year in a row. The past year has been eventful for Dangote. In October, he sold off a controlling stake in his flour milling company to Tiger Brands of South Africa. He pocketed $190 million in cash. In February, his Dangote Sugar Refineries acquired a 95% stake in Nigerian sugar producer Savannah Sugar in a bid to maintain its dominant position in the Nigerian sugar industry. Dangote stepped up his philanthropy in the past year, giving over $100 million to causes ranging from education to health, flood relief, poverty alleviation and the arts. He also acquired a yacht, which he named after his mother, Amiya. Dangote started building his fortune more than three decades ago when he began trading in commodities like cement, flour and sugar with a loan he received from his maternal uncle. He delved into full production of these items in the early 2000s and went on to build the Dangote Group, West Africa's largest publicly-listed conglomerate, which now owns sugar refineries, salt processing facilities and Dangote Cement, the continent's largest cement producer. A fitness buff, Dangote jogs everyday.
Carlos Slim (Mexico) maintains his position as the world's richest man with a net worth of $73 Billion followed by Bill Gates (United States) with a net worth of $67 Billion. Amancio Ortega (Spain) takes the third position with a net worth of $57 Billion, Warren Buffet (United States) ranks fourth with $53.5 Billion while Larry Ellison (United States) ranks fifth with $43 Billion.