Good Morning BellaNaijarians, it's Thursday!
As you know it's that day of the week when BellaNaija.com, keeps you updated on all the most buzzed about events and places of interest to be spotted this weekend. Do have fun, stay safe and keep dreaming big.
See you all next week!
Ciao!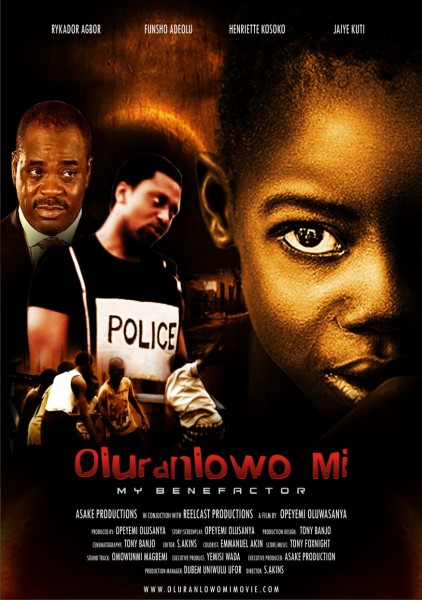 Oluranlowo Mi (My Benefactor)
Oluranlowo Mi is a short film which depicts the true stories of 4 street children. How did they get there? What dangers are they exposed to? How does it affect how they turn out? How can we help out? You an find out this Friday at the Silverbird Galleria, Lagos. BN in collaboration with the organizers are giving 3 pairs of tickets to the screening. To win, simply leave a comment stating "I want tickets to Oluranlowo Mi (My Benefactor)"
Date: Friday 15th March 2013
Time: 6 PM
Venue: Silverbird Galleria, 133 Ahmadu Bello Way, Victoria Island, Lagos
__________________________________________________________________________________________________________
Little Necessities Easter Trunk Show
Make it a date with Little Necessities this Easter 2013. The exclusive Abuja boutique will hold an Easter trunk show in Lagos this weekend. The event taking place at the Southern Sun Hotel, Ikoyi, Lagos, will feature on display a collection of personal accessories including wrist watches, authentic perfumes and fragrances and custom designer jewelry as well as designer home accessories including exclusive wall art and home accent pieces. Admission is free for all.
Date: Friday 15th March 2013 – Saturday 16th March 2013
Time: 12 Noon – 7 PM Daily
Venue: Oduduwa Hall, Southern Sun Hotel, 47 Alfred Rewane Road (Kingsway Road), Ikoyi, Lagos
_____________________________________________________________________________________________________
Afropolitan Vibes
Life House and Pako Productions cordially invites you to an evening of live music and palm wine tagged Afropolitan Vibes taking place at Freedom Park, Lagos. There will be guest appearances by Siji and Aduke. Admission is free for all.
Date: Friday 15th March 2013
Time: 7 PM
Venue: Freedom Park (Amphi Theater), 1 Hospital Road, Old Prisons Ground, Adjacent to St. Nicolas Hospital, Lagos Island
_____________________________________________________________________________________________________
Zumba Fitness Dance Class
Are you looking to improve your cardiovascular system, lose weight, improve your coordination or simply boost your mood, then Zumba Dance Fitness may be the right choice for you. Join the fun dance fitness class today for more fitted and energized 2013.
Date: Saturday 16th March 2013
Time: 9 AM
Venue: The BMS Spa, 3 Magbon Close, off Macpherson Avenue, Ikoyi, Lagos
Fee: N 2,000
_____________________________________________________________________________________________________________

Watersworth Art Brokers
Encourage your child's creativity by registering them now for Watersworth Art Brokers' training in art. Drawing inspiration from the works in the gallery's collection students will create hands on projects while the master artists help them in learning and creating their own works in different media and styles. Registration fee is N 10,000 while adults will pay the sum of N 20,000.
Date: Saturday 16th March 2013
Time: 9:30 AM
Venue: Watersworth Gallery, 3B Unity Close off Africa Lane, Lekki, Lagos
Contact: For more info and general inquiries, call 0809999092 | 07030799683 | e-mail[email protected]
__________________________________________________________________________________________________
Watersworth presents Fit, Fun & Flair
Do you love to dance and are you looking for a fun and fab way to lose weight? Then Fit, Fun and Flair is for you. Watersworth Art Gallery in conjunction with Gbenga Yusuf of Maltina Dance All competition, presents you dance classes that will make all the difference. The offer package/fee is N 15,000.
Date: Saturday 16th March 2013
Time: 9:30 AM
Venue: Watersworth Gallery, 3B Unity Close off Africa Lane, Lekki, Lagos
Contact: For more info and general inquiries, call 0809999092 | 07030799683 | e-mail [email protected]
___________________________________________________________________________________________
Peers Academy's Free ICT/Telecoms Training for the less privileged 
You are invited to take part in Peers Academy's organized free ICT/Telecoms training for the less privileged in the society. The objective for this training is to help orphans and less privilege to develop a means of livelihood as well as build a career track that they can pursue for a lifetime. This week will be a hands-on training. Admission is free for all.
Date: Friday 15th March 2013 – Saturday 16th March 2013
Contact: For more info and general inquiries, call 08033462964 | e-mail [email protected]
_____________________________________________________________________________________________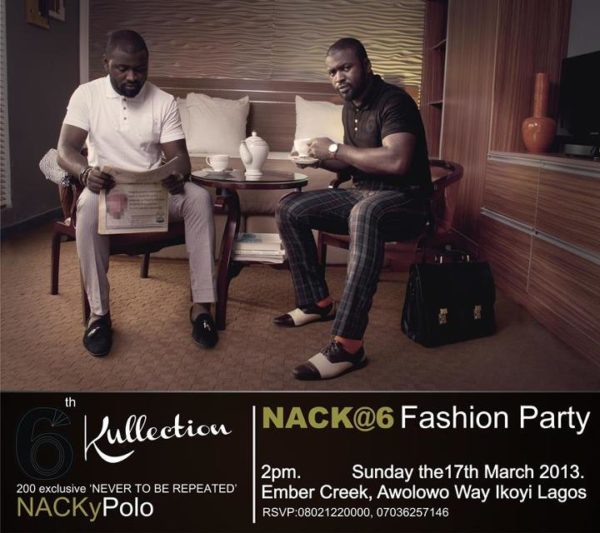 [email protected] Fashion Party
N.A.C.K (Nigerian Articulate Culture Kullection) will be celebrating its 6th anniversary this Sunday at Ember Creek, Lagos. It promises to be fun with lots of 200 exclusive Nacky polos to shop for. To attend, RSVP by calling 08021220000 | 07036257146.
Date: Sunday 17th March 2013
Time: 2 PM
Venue: Ember Creek, 32 Awolowo Road, Ikoyi Road, Lagos
_________________________________________________________________________________________________
Onions Around Lagos
Onions Make Us Cry is a winning play for the national theatre studio London African project. Directed bySegun Adefila and written by Zainabu Jallo, the show creates a fresh style with poetic dialogues and brilliant use of metaphors. The stage play will take place at the Bogobiri House, Ikoyi, Lagos.
Date: Sunday 17th March 2013
Time: 3 PM
Venue: Forx n Fingers, 25 Opebi, Ikeja, Lagos
Gate Fee: N 2, 000
_____________________________________________________________________________________________________
Theatre at Terra presents A LAPA Production: Sefi Atta's The Naming Ceremony
Theatre at Terra Kulture is back with another interesting stage show, Sefi Atta's "The Naming Ceremony". Directed by Seke Somolu with Olu Jacobs and Joke Silva on board as executive producers, the event will take place this Sunday at Terra Kulture, Lagos.
Date: Sunday 17th March 2013
Time: 4 PM & 7 PM
Venue: Terra Kulture, Plot 1376 Tiamiyu Savage off Ahmadu Bello Way, Victoria Island, Lagos
Ticket Price: N 2, 500
Ticket Locations: Terra Kulture, Plot 1376 Tiamiyu Savage off Ahmadu Bello Way, Victoria Island, Lagos | Online at Jumia.com.ng | Call 07069771347
___________________________________________________________________________________________________
BellaNaija.com is not responsible for the organization or further promotion of these events, neither do we have a stake in their sales or popularity. Inclusion in "Events This Weekend" is Free. Contact – adsales (at) bellanaija.com on or before Wednesday every week if you will like your event to be included. Note that BN reserves the right to choose which events are featured. "Pay to attend" parties attract a fee