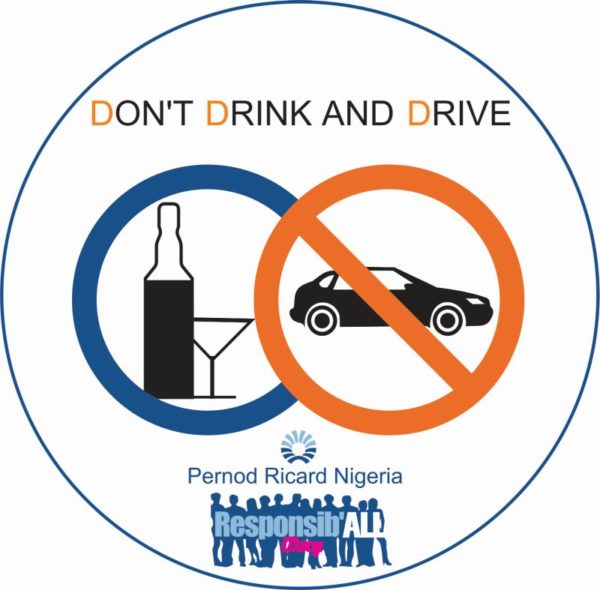 "Responsib'All" day is an initiative created by Pernod Ricard dedicated to combating underage drinking and drunk driving. On June 5th every year over 18,000 employees of Pernod Ricard in 70 countries chant one message in one voice – Responsible Drinking. And this year their newest addition to that list Pernod Ricard Nigeria along with their partners will be part of that campaign.
The aim of this day is to introduce the culture of responsible drinking across all ages in Nigeria from the point of retail to purchase. According to Patrick Ricard "We want to deliver a message of moderation so that alcohol consumption remains a pleasurable experience synonymous with festivities and conviviality".
This week Pernod Ricard Nigeria will spread the knowledge on alcohol ad safe driving for Nigerians of all ages in partnership with FRSC, The Palms Shopping Center, CFAO, Smooth 98.1FM, BellaNaija, Lost In Lagos, Maestro Media as well as celebrity advocacy and many NGO's like the YMCA. On the mainland in Lagos they have mapped out the Ojota Motor Park to promote the "Don't Drink and Drive" campaign although there will be activities in Ibadan, Abuja and Port Harcourt on the same day.
Pernod Ricard Nigeria along with volunteers, partners and celebrity friends invites all who have lost loved ones to drunk driving, whether they were behind the wheel or hit by a drunk driver to immortalize our friends and family whom we have lost. We will sign personal messages to them on the "Canvas of Memories" at The Palms shopping centre Lekki and Silverbird Mall in Abuja.
Date: Wednesday 5th June 2013
Time: 4PM
Venue: The Palms Shopping Center, Lekki, Lagos
____________________________________________________________________________
Sponsored Content