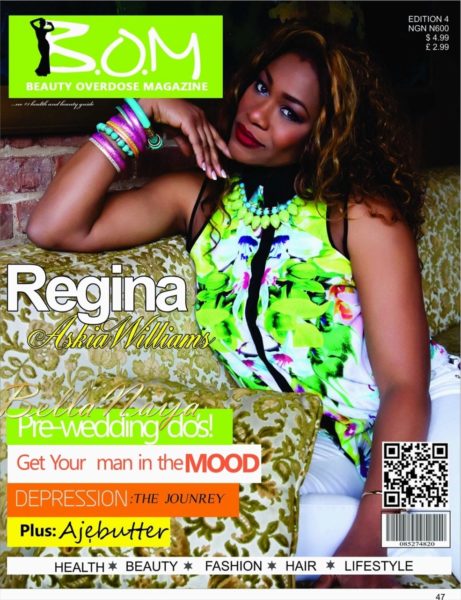 Former Nigerian beauty queen and Nollywood star Regina Askia Williams  is pretty in a print top and white pants on the cover of the June 2013 issue of Beauty Overdose Magazine.
The leading Nigerian actress in the 90s and early 2000s who moved to the U.S for over a decade to start a family, speaks to the publication at BUKA in New York on her life, family and what she has been up to over the years.
In the editorial spread, Regina is seen lounging on a Victorian-era inspired sofa. She also poses in a red top and white skirt while clutching a glass. Cheers!
This edition of the beauty magazine focuses on Health and Lifestyle for today's woman. Also in this edition, B.O.M introduces its new international cover contributors and team as well as the introduction of new contributing doctors on the B.O.M team and health related articles to follow.
This issue will be available from Monday 10th June 2013.
Credits
Photography: Nanneth Leigh
Cover photo shoot location: BUKA New York, USA
Stylist: Bhoranie
Editor: Eni I. Fagbemi-Balogun
www.beautyoverdosemag.com | e-mail [email protected]