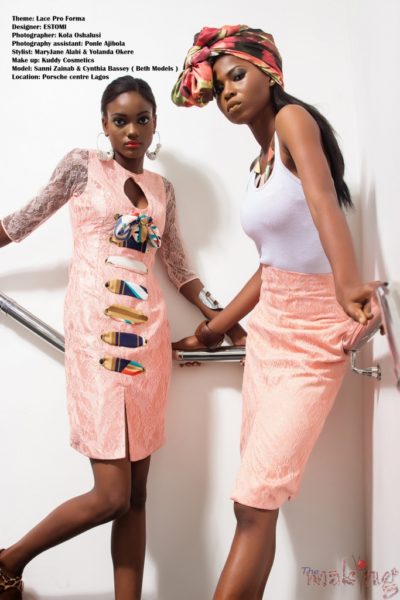 After a successful premier edition, BellaNaija Style presents another edition of The Making, a fashion and photography project initiated in 2011 to provide visibility for unknown creative designers and open up distribution and retailing channels for their brands.
For its second edition, the creative team behind the project Insigna and the BN Style team will bring you designs from 10 designers. At the end of the season, one out of the 10 designers will walk away with a cash prize as well as retail and sponsorship contracts.
Brief Bio of Èstömi
Established by Tomilila Adewoye, Èstömi is a brand for the fashion forward and upwardly mobile young lady, and middle-aged woman. This collection is called "Lace pro forma". It's about a fashionable, fun-loving working lady who wants to look appealing and presentable.
All the pieces have lace incorporated into them and can be worn as formal and semi-formal outfits. The lace emphasizes the feminine appeal.
The theme is Lace Proforma. Check it out!
Credits
Designer: Tomilila Adewoye
Photographer: Kola Oshalusi
Photography Assistant: Ponle Ajibola
Stylist: MaryJane Alabi and Yolanda Okere
Models: Sanni Zainab and Cynthia Bassey (BETH Models)
Location: Porsce Centre, Lagos
Contact
T: +2348064283291
SN: Twitter @tomelorla | @estomiclothing | Facebook – www.Facebook.com/Estomi.Clothing
Also check out;
The Making Season 2 – Shoot 1: "Edge of Fame" by Telvino Couture
The Making Season 2 – Shoot 2: "Lure of the Exotic" by Chechi Arinze
The Making Season 2 – Shoot 3: "The Gracian Collection" by Kholyns Couture
The Making Season 2 – Shoot 4: "Genesis 2" by sEKu
The Making Season 2 – Shoot 5: "The Fraternity" by J Reason
For more info on The Making project, log on to their website – www.TheMaking.com.ng