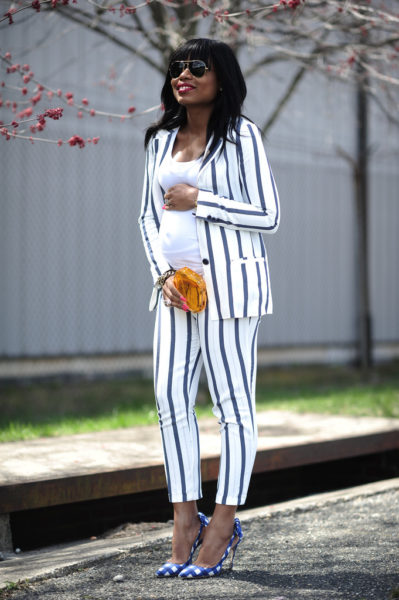 "Know what works for your body structure and wear it with confidence" – Stella Uzo
My Style is one of our favourite features on the BN Style page, and judging from the responses it gathers, I can safely say, it has our readers interested.
BellaNaija reader Stella Uzo is our My Style focus for this edition. She was born in Enugu state, Nigeria, graduated from Nursing school, obtained a Masters Degree in Business Administration and just became a mother. Sounds like a lot right? Well, in addition to that, Stella loves fashion and styling, and has a style blog titled J'adore Fashion – www.jadore-fashion.com where she gives style advice to her readers and shares her fun and edgy style with her readers. 
My Style Is
Classy, edgy and fun. My style has definitely evolved over the years. I love to experiment with prints, patterns and colours.
Where Style Meets Personality
Even though I am quite a shy person, my style becomes the avenue with which I express myself, my thoughts and creativity.
Where I Shop Till I drop
I usually shop at Zara, JCrew, Madewell, Asos, H&M, Shopbop, Net-a-porter, Saks & Fifth, River Island, BCBG, Virgos Lounge, Aqua by Aqua and just about anywhere that has a style that appeals to me. I tend to buy more statement and classy pieces that I can style in different ways.
My Tresses
Most of the time I keep to one or two looks. I have a love for bangs and once in a while I do braids.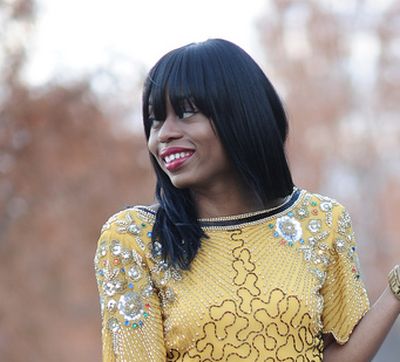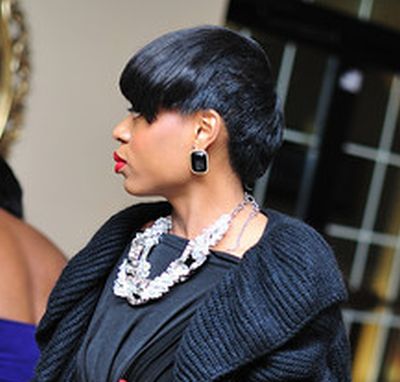 How I Accessorize
When it comes to accessories, I am a big shoe fan. I believe a great pair of heels can transform a simple outfit. With regards to sunglasses, I am a bit obsessed with ray ban aviators.
Feet & Shoes
Styling My Pregnancy
With my pregnancy, I think styling has been interesting. This is because due to my constant body changes while being pregnant, I had to adjust and create new styles for myself.
Transitioning from my pre-pregnancy wardrobe to clothes suitable for pregnancy wasn't that difficult for me. I didn't buy many maternity clothes except 2 or 3 pairs of jeans. Since I could fit in most of my old clothes, I used a 'belly band' or 'belly belt' to extend the buckles of my pants. Towards the later stages of my pregnancy and as the weather warmed up, I wore flowy dresses and I went up a dress size just to accommodate my growing belly.
My Go-to Pregnancy Style
I always go for comfortable clothes, fun prints and colours that reflect my style. I wore heels during my pregnancy but none that was uncomfortable. Most times, I wore heels for short periods of time.
What I Though of Kim Kardashian's Pregnancy Style
Every pregnant woman is different with regards to body structure. It is often difficult to find items that compliment one's style during pregnancy and I give her props for her style decisions. What matters is she feels good with whatever she wears.
My Advice for Other Pregnant Women
Every pregnant lady is different. It is important that we embrace the beautiful experience of pregnancy and wear clothes that accentuate the growing bump. Always wear something that is comfortable and fun – it is okay to be a fashionable pregnant lady.
My Advice for other Stylistas
Find out what works for you, embrace it and wear it confidently.
On a Regular Day
My regular day look can go from a pair of jeans to mixed prints and heels depending on the season.
My Prints & Me
Getting My 'Working Class Girl' On
For work, I love pencil skirts and ankle pants in plain colors and prints. I am a big fan of JCrew pants and skirts for work.
I Own The Night
For a night look, I tend to lean towards edgier and glam outfits.
I Think Every Girl Should Have
Great pair of jeans, v-neck tees, a statement necklace and a pair of heels and red lipstick.
If I Could Steal a celebrity's Wardrobe
It would be a mix of Gwen Stefani and Victoria Beckham's because of their classy and edgy take on styles. They kept fun styles through both their pregnancies.
My Style Philosophy
Know what works for your body structure and wear it with confidence.
Thank you to Stella for sharing her Style with us. For more information on her style you can find Stella on her style blog JadoreFashion . Twitter . Instagram.
______________________________________________________________________________________
If you are interested in appearing on My Style, simply send two pictures of yourself or that of a friend depicting a typical day and night look with a short summary of your style to style(at)bellanaija(dot)com. When your entry is approved, you will be required to send in more pictures and personal commentaries on your style or that of your friend as the case may be!