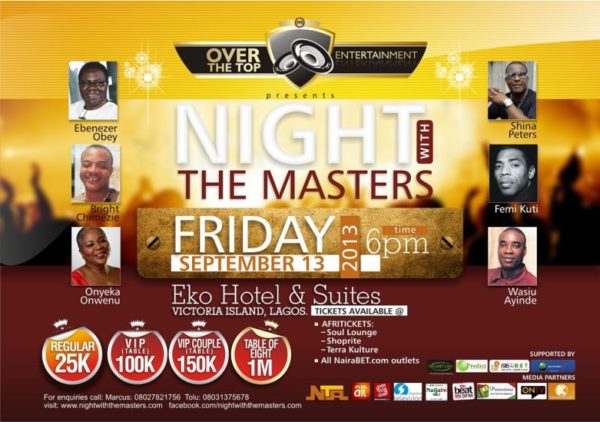 Get ready Lagos! For the first time ever, six legends in the Nigerian music industry will gather on stage for a concert tagged Night With The Masters. Ebenezer Obey, Femi Kuti, Bright Chimezie, Wasiu Ayinde, Shina Peters and Onyeka Owenu will perform, under one roof for a never before seen concert.
Taking a break from the hip hop scene, Over The Top Entertainment (the organizers) have described this concert as one aimed at those that love the music of the old masters of the game.
Announcing the concert, the Chief Executive Officer of Over The Top Entertainment, Otunba Akin Alabi stated that a lot of Nigerian music lovers are being left out of the entertainment scene as a lot of events are targeted to only lovers of hip hop music. he went on to say "Everywhere you turn to, you will see events that target the lovers of hip hop music in Nigeria. While this is a positive sign that the Nigerian music industry is growing in leaps and bounds everyday, there is no doubt that a lot of people, especially the lovers and followers of the music of the grand masters of Nigerian music, are being left out. 
That is why we have put together six legends of Nigerian music to perform in a special concert… to satisfy the yearnings of their fans."
There is already of lot of frenzy and anticipation from fans on social media platforms, They have already expressed their intention to be part of this concert as can be seen on the concert's official fan page at www.facebook.com/nightwiththemasters. Have love for the classics? Then don't miss out.
Date: Friday 13th September 2013
Time: 6PM
Venue: Eko Hotel & Suites, Victoria Island, Lagos.
Night With The Masters Concert Promo Video

Shina Peter speaks on the Night With The Masters Concert
Wasiu Ayinde K1 speaks on the Night With The Masters Concert

Bright Chimezie speaks on the Night With The Masters Concert

Ebenezer Obey speaks on the Night With The Masters Concert

______________________________________________________________________________________
Advertorial – Sponsored Content