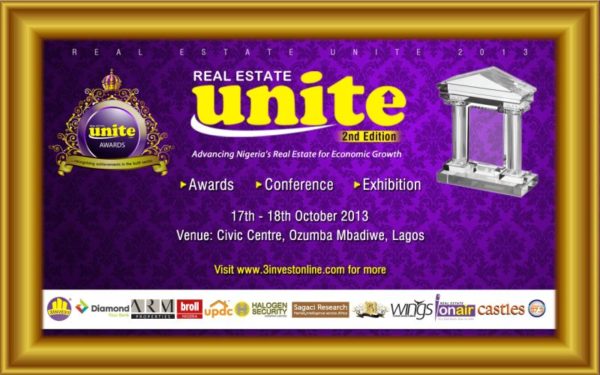 Top real estate companies joins 3Invest Limited as nominations for the second edition of the Real Estate Unite Awards 2013 opens from Friday 23rd August 2013. 3Invest Limited, of the awards, in its quest to make the awards more competitive, objective and standardized has partnered with Sagaci Research, Europe, as the official research partner for the Real Estate Unite Awards.
The awards is an annual industry award designed to elevate standards, expose the potentials in the Nigerian real estate industry, as well as encourage industry-wise best practices to further attract investment into Nigeria's real estate market.
Speaking on this year's nomination, Managing Director of 3Invest Limited, Ms.Ruth Obih said she is convinced that the first edition of the awards did not go down as a jamboree. She further said to foreground the credibility of the awards, some of the leading Real Estate Companies who won last year have prided themselves as one of the winners of the most prestigious Real Estate Awards in Nigeria. "That tells you that it does not matter that the awards debut in 2012, the credibility and prestige is infectious", she said.
She further said, "being the first of its kind in Nigeria, that is, a real estate awards event that covers all aspects of the industry, it was not a perfect outing. Thus, this year, we have designed a template that will accommodate the ideas and pieces of advice from concerned experts on the 2012 edition. I can confidently say that this year, the template is robust and we have widened the views".
"First we have increased the awards from 10 last year, to 15 this year in order to cover more grounds. Also, as I have said, the clout of the awards secured us an audience with one of Europe's leading research houses, Sagaci Research founded by Former Boston Consulting Group associates, whom have accepted to partner with us to deliver a more credible and competitive nomination, selection, voting and adjudication process".
"I must be quick to also mention that as an organisation given to the advocacy for Real Estate in Nigeria, we have come to recognize the pivotal role of the media and its personnel. Hence, we have reviewed our Media Award to the Journalist on the desk. We did this especially because of the media houses that are not specialized in Real Estate reporting. However, we still recognize that an award for a journalist automatically rubs on his/her organisation".
Speaking after the signing of the Term of Agreement with 3Invest, Partner and Managing Director of Sagaci Research, Mr. Julien Garcier said a credible award competition will ensure that successful players are publicly recognized for their excellence. This will send clear messages to other players and investors in the market, increasing the investment confidence.
He further said that Sagaci, "being the research partner for this leading event in Nigeria will allow us reinforce our credibility in Nigeria and in the African real estate sector in general and to build prime relationships with leading market players. This step also demonstrates our commitment to grow our business in Nigeria across a wide range of sectors", he concluded.
Nomination for Real Estate Unite Awards will open on Friday 23rd August 2013 and close on Tuesday 17th September 2013.
The different categories of the awards are:
1. Best Residential Project
2. Best Commercial Project
3. Most Active Real Estate Funding Company (Equity)
4. Leading Property Finance Company (Debt)
5. Property Construction Company of the Year
6. Developer of the year (2013)
7. Most Innovative Architectural Design Company
8. Affordable Housing Development of the year
9. Best Real Estate Support Service Firm (Residential)
10. Best Real Estate Support Service Firm (Commercial)
11. Best future Project
12. Real Estate Journalism of the year
13. Real Estate Person of the year
14. Architecture Design of the Year
15. Outstanding Public Private Partnership Project
The Real Estate UNITE Awards eligibility and evaluation indices plan to create an investible market for Nigeria's real estate by setting defined standards through ownership, disposure and development of income-producing real estate that will form widely acceptable market standards. Entries will be for active projects or projects delivered in the past 5 years.
The Nomination and adjudication process will be on projects that contribute to economic growth and development of the country, projects that improve social and environmental performance, projects with level of investment desirability and accessibility with excellent concepts, innovative expertise and sustainable delivery.
It is designed as a carefully managed process of identification, nomination, screening, adjudication and recognition aimed at engendering healthy competition in the quest to make Nigeria a conducive and habitable haven for investment, living and business.
Real Estate Unite 2013 is supported by Diamond Bank PLC, ARM Properties, Broll Nigeria, UPDC PLC, Halogen Securities, Pison Housing, Media Partners includes Bellanaija, Castles, Reconnect Africa, CNN, Classic FM, Arik Wings, and Real Estate On Air.
______________________________________________________________________________________
Bellanaija.com is an official media partner with the Real Estate Unite 2013.