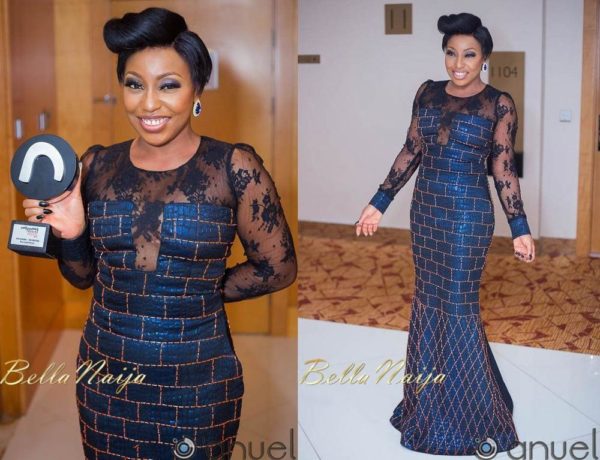 The 2013 Nollywood Movies Awards took place on Saturday 12th October 2013 at the InterContinental Hotel, Lagos.
The awards ceremony was hosted by Nollywood stars Dakore Akande and Segun Arinze. BellaNaija Events will bring you ALL the photos, just before then check out the full list of winners.
Kunle Afolayan's Phone Swap as well as Rita Dominic and Mildred Okwo's The Meeting took home the top honours.
Best Movie
1. Hoodrush
2. Journey to Self
3. The Meeting
4. Phone Swap
5. Udeme mmi
6. Mrs Somebody
Best Lead Actor
1. Bayo Alawiye – The Gods are still not to blame
2. Gabriel Afolayan – First Cause
3. Iyke Adiele – Broken
4. OC Ukeje – Hoodrush
5. Moses Armstrong – Udeme mmi
6. Wale Ojo – Phone Swap
Best Lead Actress
1. Rita Dominic – The Meeting
2. Nse Ikpe-Etim – Mr & Mrs
3. Mercy Johnson – Dumebi
4. Funke Akindele – Maami
5. Bimbo Akintola – Hoodrush
6. Uche Jombo – Mrs Somebody
Best Supporting Actor: Afeez Oyetoro – Phone Swap
Best Supporting Actress: Ada Ameh – Phone Swap
Best Actor Indigenous
1. Ekere Nkanga – Kokomma
2. Wole Ojo – Maami
3. Segun 'Lanko' Ogunremi – Odasan
4. Imeh Bishop Udoh – Udeme mmi
Best Actress Indigenous
1. Tope Brass – Odasan
2. Belinda Effah – Kokomma
3. Obonganwan Bennet-James – Udeme Mmi
4. Funke Akindele – Maami
Best Indigenous Movie
1. Udeme mmi
2. Odasan
3. Maami
4. Kokomma
Best Director
1. Mildred Okwo – The Meeting
2. Lancelot Imasuen – Udeme mmi
3. Dimeji Ajibola – Hoodrush
4. Kunle Afolayan – Phone Swap
5. Tope Oshin Ogun – Journey to Self
Best Editing
1. Paul Apel – Mr & Mrs
2. Yemi Jolaosho – Phone Swap
3. Victor Ehi-Amedu – Adesuwa
4. Dimeji Ajibola – Hoodrush
5. Okey Benson – The Meeting
6. Kunle Adejuyigbe – Journey to Self
Best Sound Design
1. Obi Emelonye – Last Flight to Abuja
2. Semiu Adewuyi – Kokomma
3. Carl Raccah – Journey to Self
4. Olukunle Adegbite – The Gods are still not to blame
5. Alex Njuguna – The Meeting
6. Dimeji Ajibola – Hoodrush
Best Cinematography
1. Alfred Chia – Heros & Zeros
2. James Costello – Last Flight to Abuja
3. Shalom Uyi Enabulele – Broken
4. Yinka Edward – Phone Swap
5. Jim Bishop – The Meeting
6. Byron Ene – The Gods are still not to blame
Best Original Screenplay
1. Tunde Babalola – Maami
2. Mildred Okwo/ Tunde Babalola – The Meeting
3. Rita C Onwurah – Udeme mmi
4. Dimeji Ajibola – Hoodrush
5. Tchidi Chikere – Dumebi
6. Kemi Adesoye – Phone Swap
Best Costume Design
1. Jaiye Owolabi – The Gods are still not to blame
2. Titi Aluko – Phone Swap
3. Ekene Okoye Mpon – Kiss and the brides
4. Yolanda Okereke/ Aminat Olateju – Journey to Self
5. Wanger Ayu/ Rosaline Ijejem – Mr & Mrs
6. Iyen Agbonifo – Adesuwa
Best Make-up
1. Temisan Etsede – Adesuwa
2. Touch of Glamour/Tobi Jeje- Phillip & Korede Olowoyo – Journey to self
3. Tracy Iyoha – The Gods are still not to blame
4. Jennifer Alegieuno – The Meeting
5. Olivia Obasi – Broken Jennifer Alegieuno – The Meeting
Best Set Design
1. Pat Nebo – Phone Swap
2. Adeoye Bakare – Heros & Zeros
3. Hilary Patrick – The Meeting
4. Sango B' Song – Last flight to Abuja
Best Soundtrack
1. Truth – The Meeting
2. Luke Corradine – Last Flight to Abuja
3. Patrick Mathias – Hoodrush
4. Slam – Udeme Mmi
5. Truth – Phone Swap
6. Oludare Olateju – The Gods are still not to blame
Best Diaspora Movie
1. Man on Ground
2. Alaalo
3. Turning Point
4. The past came calling
5. Secret Past
Best Short Movie
1. Unspoken
2. 15 Minutes
3. Epitaph
4. Ogondah
5. Blink
6. Till Death do us apart
Best Rising Star (Male)
1. OC Ukeje – Hoodrush
2. Ifeanyi Kalu – Kokomma
3.Bobby Obodo – Mrs Somebody
4. Uti Nwachukwu – In the cupboard
Best Rising Star (Female)
1. Linda Ejiofor – The Meeting
2. Belinda Effah – Kokomma
3. Ijeoma Agu – Hoodrush
4. Rachel Isaac – Daisy
5. Tehila Adiele – Broken
6. Tess Abubakar – In the cupboard
Top Box Office Movie: Kunle Afolayan – Phone Swap